September 11, 2017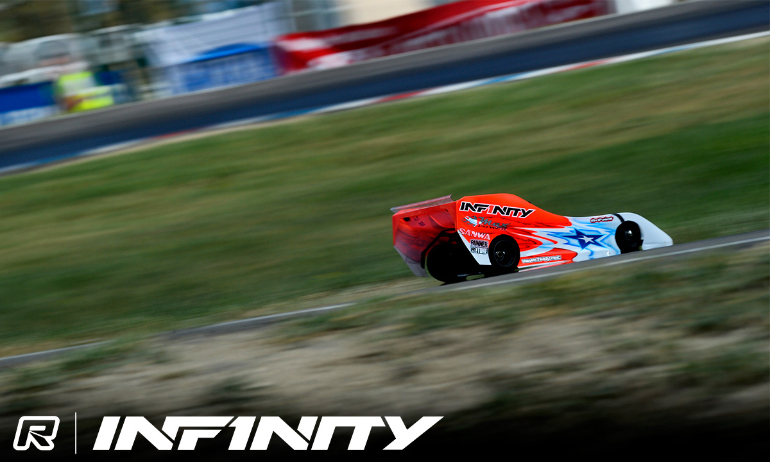 After 2 days of practice it is Dario Balestri who is fastest at the 1:8 Onroad World Championships in France.  The Italian led a 1,2,3 for Infinity setting the fastest 3-consecutive laps around the RC Circuit Jean Nougier track which drivers have unanimously described as difficult.  With Balestri's fastest time posted in yesterday's fifth & final run, the main improvement of today came from reigning champion Simon Kurzbuch who would manage to break up the Infinity domination, them having held the Top 7 times for most of the day. Despite engine issues in the 9th round of free practice he would end his curtailed run with 3-laps that where good enough to put his Shepherd driver fourth fastest. The only other non Infinity drivers in the Top 10 would be new Mugen signing Shoki Takahata in 7th and Bruno Coelho who took his Xray to 9th.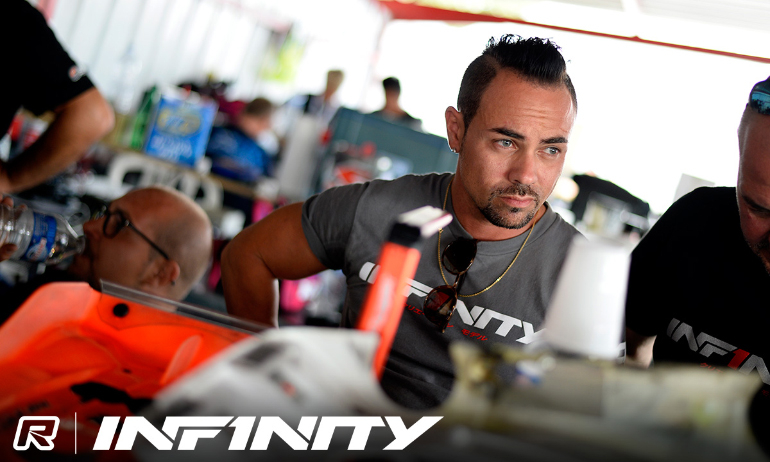 A very pleased Balestri said his car was in race set-up when he posted his time yesterday and content with how his car is working he opted to use today's four 9-minute runs to test some new set-up changes, different engines and also different body positions. Top Qualifier at last year's 1:10 World Championships in Italy but suffering a diff failure just 7-laps in, he is a fan of the track describing it as really fun to drive but added its very hard on engines.  He said with the sweeper taken at almost full throttle the temperature goes up making tuning very important.  He added, 'running 16% nitro doesn't help and I think they should check this rule for the future.  In my opinion 25% would be much better and more safe for the engines'.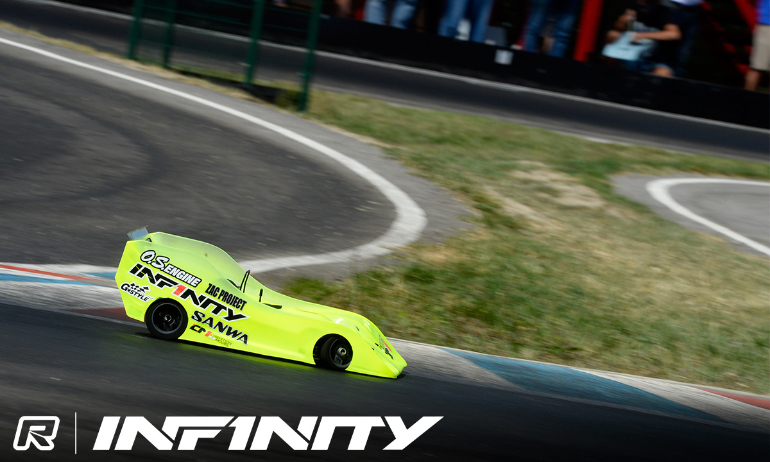 Making his 1:8 Onroad Worlds debut, former Electric Touring Car World Champion and reigning multiple 1:12 World Champion Matsukura said, 'so far it is not a bad start for my first Worlds'.  The Japanese driver, who only made his first and originally unplanned competitive 1:8 race debut at the opening round of the Euro Nitro Series n France qualifying 4th, posted his quickest time in the 8th round.  He said the improvement came after they made his car easier to drive and he hopes the can make it even more easy to drive for tomorrow when after a quick 4-minute final free practice the four rounds of controlled practice will commence. Describing the track as 'super difficult' he said it is also 'very tight' with 'no room for error' and so an easy to drive car is important especially if the wind, which caused drivers a lot of trouble yesterday, picks up again as it started to do during today's final practice heats.  Behind Matsukura, 2013 Finalist Carmine Raiola would complete the Infinity Top 3 declaring his performance as 'not bad' but for tomorrow he plans to try a shock oil change to try get more steering.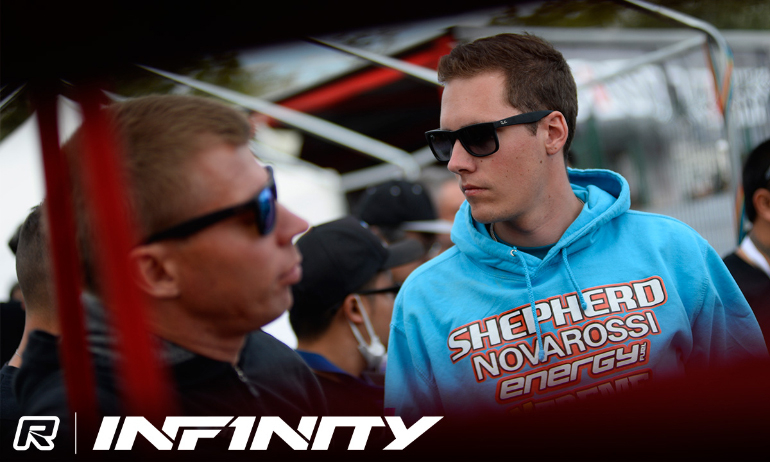 Kurzbuch said 'today we made some good steps in the right direction'.  The Swiss driver said, 'the car is there and I am now getting the right line as a driver so we just need to improve some small details to get on top'.  On his final and fastest run, he said, 'we tried something different with the engine but broke a plug and we lost some minutes with two flame-outs but at the end I just wanted to push and get some hot laps because I didn't want an Infinity 1 to 7 again'.  Happy to do that despite his time almost 4/10th quicker than that of the next fastest driver, he concluded, 'nothing is decided yet, we still have 1 more practice and 4 controlled practice tomorrow to get were we want to be'.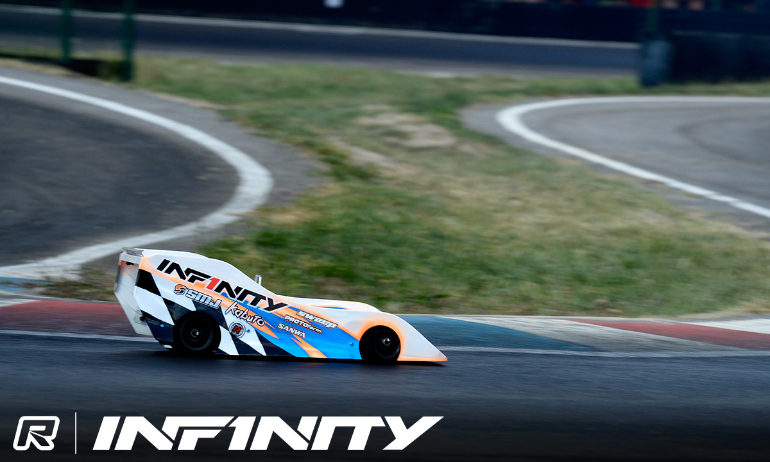 One of the Infinity's drivers to not travel to Monteux for pre-event testing, opting instead to use ENS Austria to prepare for the race, Jilles Groskamp said 'only the first run this morning everything works'.  Posting the 5th fastest time, he said he ran a new engine and with this his car was 'really nice to drive'.  Changing to a different but slower engine to save this good one, he said the track temperatures also went up making for slower conditions. Using the rest of the day to test set-up changes he said they know what to do and what not to do in terms of the car but added a good engine is really important. With an uphill section to the sweeper he said with a good engine you can go through it in one flow where as a slower engine its not possible so you 'lose a lot of time'.  The former Electric Touring Car World Champion says he feels 'confident for the up coming days'. He added 'our car is good here and all our guys are competitive.  I'm surprised it is going so well but the week of testing the rest of the team did here has really helped and we are all running pretty much the same set-up to which I have just made a few changes to suit my own driving'.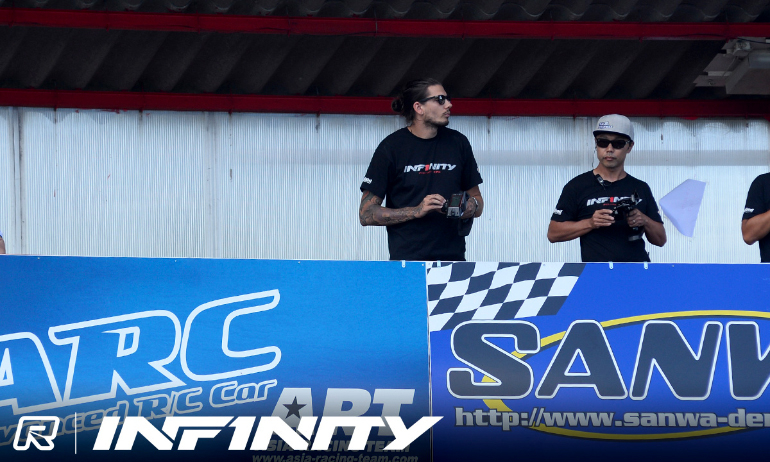 Making a rear shock adjustment for the final run of the day, Jesse Davis said afterwards 'that one went pretty good'.  While he fastest time was in FP5 yesterday, the Australian was the closest to Kurzbuch's final practice topping time. He said the shock change made his car more settled leading to better consistency and he feels the consistency is there for 7-minutes, the new length of the qualifiers for the 21st running of IFMAR original World Championship.  Asked his thoughts on the track he said, 'I like it with no wind but with wind it is really bad'.  According to one French racer who knows the track and area well the wind is going to be a factor throughout the event making for very unpredictable driving conditions.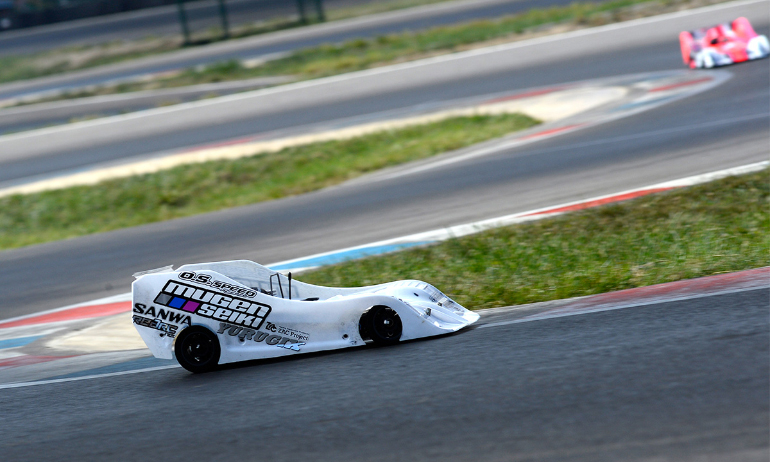 Takahata is one of the few drivers who is openly not a fan of the track. Describing his practice performance as 'so so', the Japanese driver said the track is something completely new for him as 'there is nothing like this in Japan', the big difference being the banking.  Making many changes to his Mugen set-up, 'some good, some bad', he said today they were mostly good and now his car is 'much better' with his P7 time coming in today's penultimate run.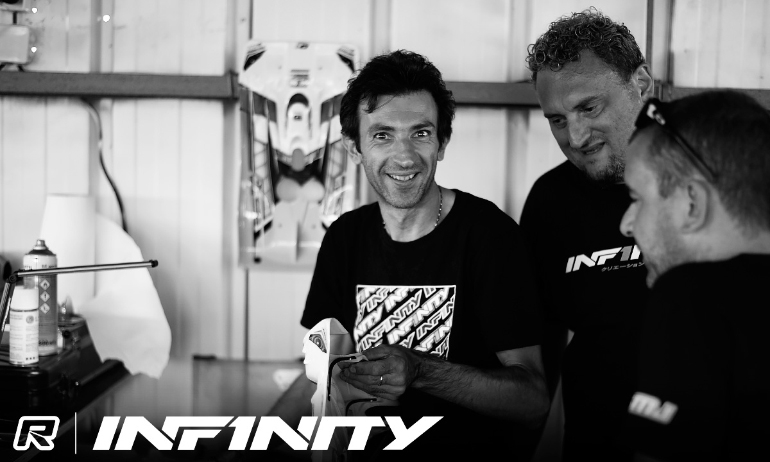 Looking to achieve his 10th World Championship title here in France, a country where Adrien Bertin, sitting P11, ended his first run of world titles in 1999, Lamberto Collari declared himself 'happy for now' adding 'the base is good'.  Another who set his best time in the final run yesterday, which leaves him eighth fastest he said, 'the track is difficult but exciting to drive'.  Overall the Italian said the biggest problem so far has been the wind as 'you try stuff for a run but the wind makes it difficult to drive and you don't get the full feel of what the change did'.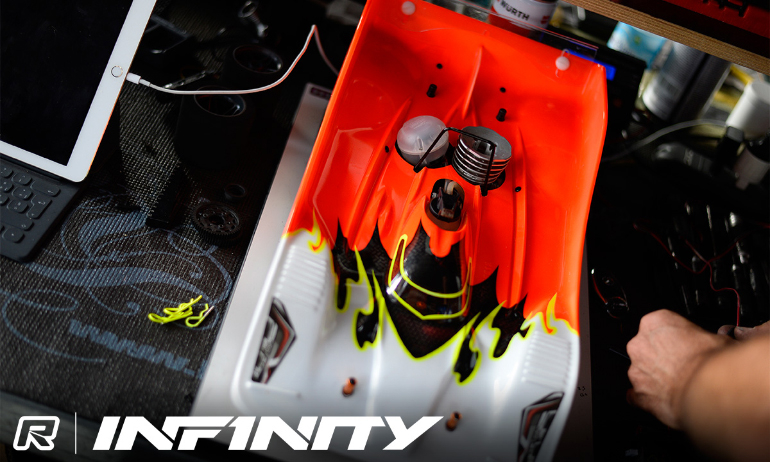 The man to cause the biggest surprise of the 1:8 Onroad scene this year as he takes the ENS title challenge to the championship's reigning champion Kurzbuch, Coelho summed up Day 2 of practice as 'very good' adding 'it was better than yesterday, it was strange with the wind'.  The Portuguese driver continued, 'we improved the car a lot today, the track is super particular.  We are changing all the time but we need time to learn how to adapt for the condition and I think everything is looking good.  Asked about the track he replied, 'it is good but difficult.  Its super fast so it is easy to make mistakes. Qualifying is going to be interesting'.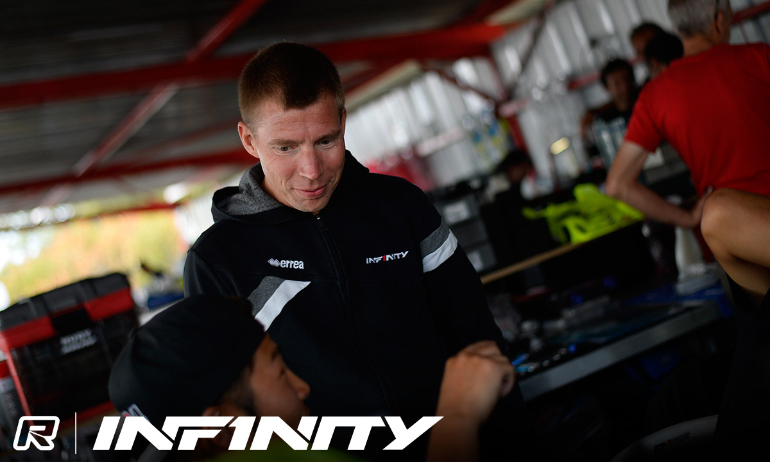 'Up & down, sometimes good, sometimes not but we are trying something different every time' was how Teemu Leino summed up his practice as he completed the Top 10.  The Finn continued, 'the car is easy to drive which is the most important thing'. He added, 'I like the track and its a good track to hold the Worlds. You can make time in sections and it nice that it goes up and down'. Despite his fastest time coming in FP5, he plans for tomorrow to go back to a set-up he ran earlier today saying 'it was really good that time'.
View complete event results here.
View our event image gallery here.

---