November 17, 2017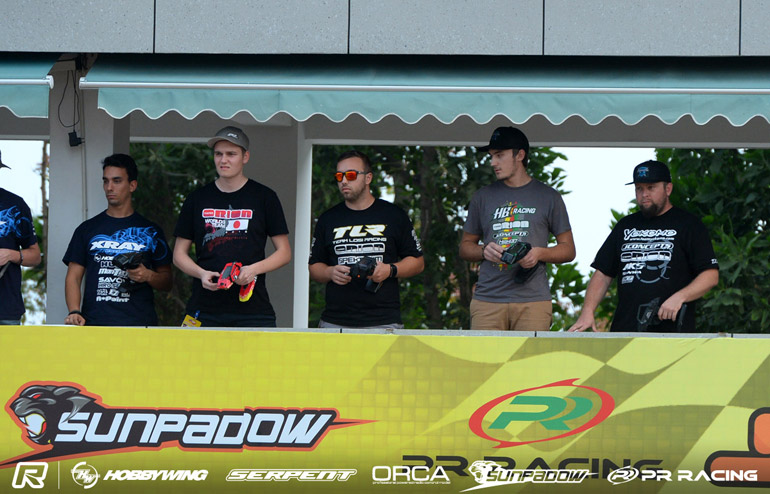 Qualifying at the 1:10 4WD Offroad World Championship produced yet another different TQ as David Ronnefalk took the fourth round despite a last lap tangle with former Champion Ryan Cavalieri that would cost the HB Racing driver over 2-seconds.  Luckily however for the reigning 1:8 Offroad World Champion his predecessor Ty Tessmann would make a 5-second mistake of his own doing on the final lap allowing the Swede claim his first TQ run by 3-seconds over the Canadian.  For Ronnefalk, who hasn't run outside the Top 3 all day, the TQ puts him as the overnight provisional TQ holder over Tessmann.  However, with rain forecast for tomorrow, should the fifth and final qualifier be cancelled reverting the standings to count 2 from 4 rather than 3 from 5, then it is Tessmann who will be declared Top Qualifier due to having the quicker TQ time which explains Ronnefalk's frustration at being obstructed by Cavalieri.  Overall it was a dramatic end to Day 2 of the event with the top heat also seeing Ryan Maifield retire after 3-laps while laying down the TQ pace with a broken arm and reigning champion Bruno Coelho having TQ'd the previous round tangled with Michal Orlowski eventually retiring after a series of crashes.  A clean round from Dakotah Phend would reward the TLR driver with third, his best qualifier, ahead of Joern Neumann, also having his best run of the day, Spencer Rivkin and Dustin Evans.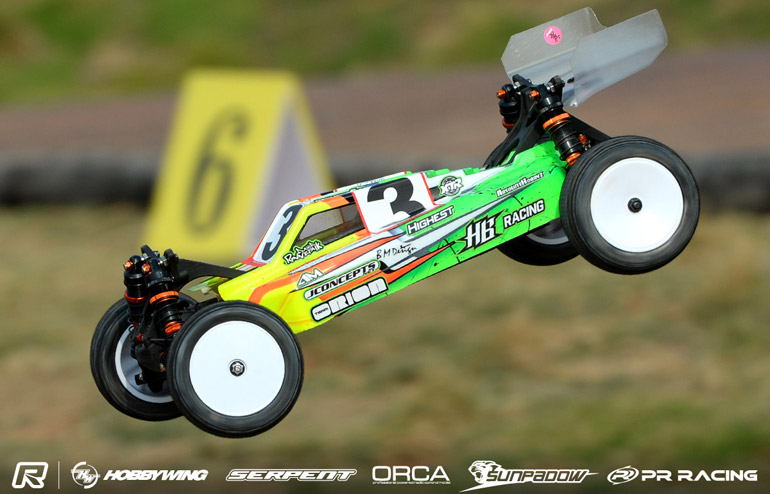 'I'm still pissed because if it rains tomorrow Ty will be TQ.  Cavalieri cost me the best time on the last lap so that (Q5 being rained off) would suck', was Ronnefalk's response when asked about Q4.  He continued, 'Cavalieri spun around at the chicane and I thought he was going to let me by but he didn't.  Luckily I got the TQ because Ty crashed on his last lap'.  Claiming his first Electric Offroad Worlds Championship podium 2-years ago in Japan, he concluded, 'I am happy anyway because the car has been great so we'll just have to wait and see what it is going to do to tomorrow'.  Currently organisers are working off a forecast that will see it ran from 06:00 to 07:00 in the morning which should mean no delays to the timetable a round of free practice scheduled at 08:35 ahead of the final round of qualifying.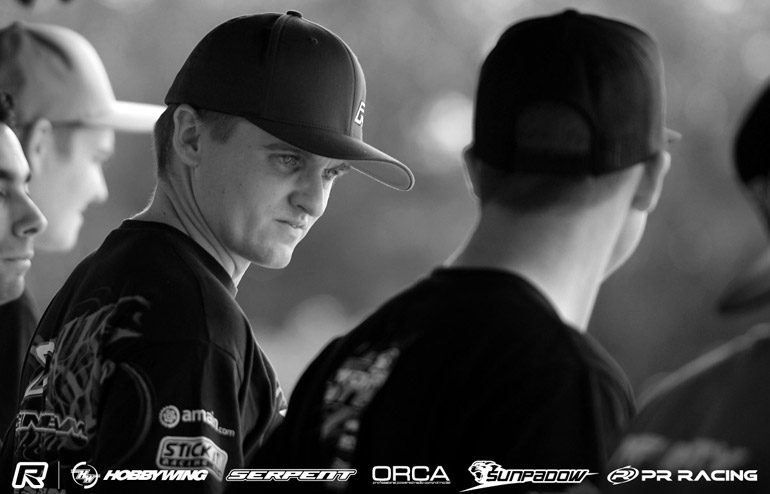 Summing up his Q4 attempt, Tessmann said, 'It was good until the last lap'.  The Xray driver continued, 'the track is really difficult to get around but I was just pushing too hard to try catch David'.  Asked about his error in the centre section, most onlookers missing it having been distracted by Ronnefalk's tangle with Cavalieri, he replied, 'I don't really know what happened, the car just tumbled about 15 feet'.   The result of the error was a 29.5 lap time compared to his previous 24.6 lap.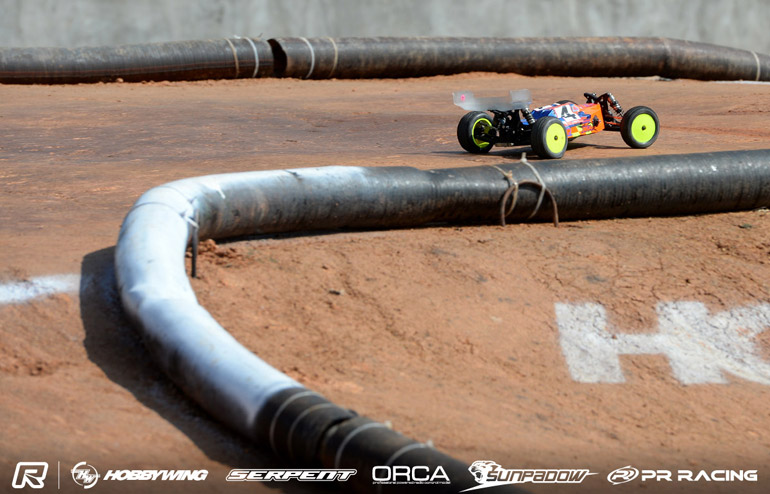 'I ran the whole time without a mistake. I was quite a bit slower but I was more consistent and it paid off', was Phend's reaction to his best run of the day, his overall time 6-seconds quicker than his previous best of P8 in Q1.  Having made changes to his car for the round, he said they had made the car 'a lot safer to drive but slower'.  Also going more safe at the controls driving at a 'half decent pace', he said 'nearly everyone made two mistakes, it is getting harder every run out there but this time our approach paid off in the end'.  Feeling they might have gone a bit too far with the set-up changes he plans to 'go back a little to gain a little more speed for tomorrow'.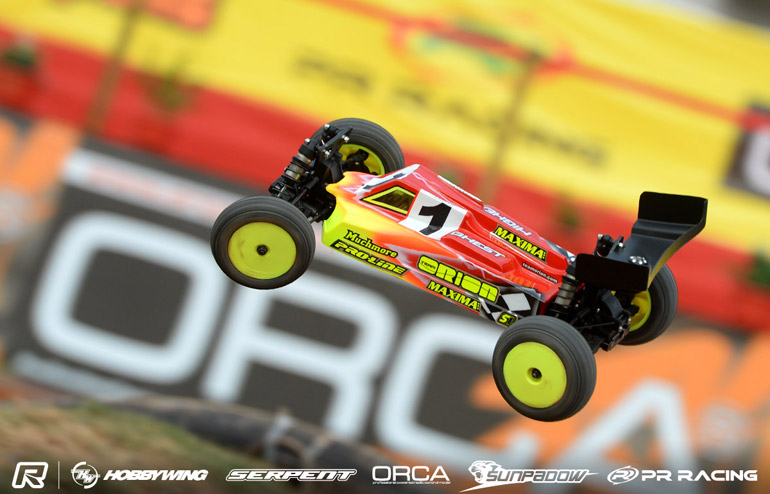 'So so, two times I had to single the double and one time I had a big mistake', was how top seed Neumann summed up the penultimate qualifier.  The German, who is racing without a chassis sponsor and has opted to use an Xray, continued, 'today the track is more difficult to drive than yesterday'.  Sitting 6th in the overnight ranking he added, 'I hope to end up Top 5 after qualifying because I think the finals will be wide open.  Four different drivers have TQ'd which shows just how tough it is'.  Behind Neumann, Spencer Rivkin would continue to be the best of the Associated drivers with fifth for the round combined with his Q1 TQ leaving him holding 5th overnight. AE team-mate Dustin Evans would end his day with a P6, his best result of the day.  Needing to get a good result in Q5 to make the A-Main, he sits 12th overall which is one better than team-mate and former champion Ryan Cavalieri.
View our event image gallery here.

---