May 27, 2018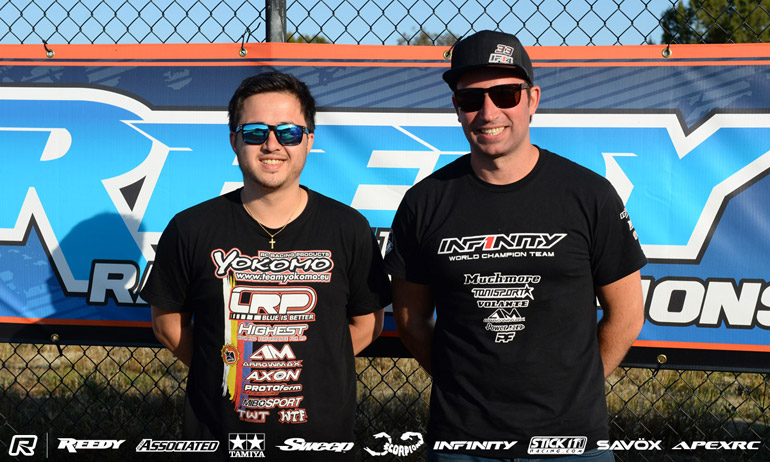 The stage is set for the Reedy Race of Champions to bid a thrilling farewell to Tamiya Raceway tomorrow, with today's action ending with two of the legendary race's most successful drivers tied on points.  Having eked out a one point advantage with a win over Volker in Round 7, the 8th & final round of racing today saw Volker reverse that result but only after an unfortunate Akio Sobue went out of the race while leading.  Starting from pole, the Infinity driver had a comfortable lead over Volker and Rheinard, who both survived separate crashes in the opening corners of the race, but with a minute to go his camber link worked its way loose coming off in the kink to end the Japanese driver's chances of a second win.  This left Volker who started 5th to take the win ahead of Rheinard who started from the back and going into the final four races tomorrow they both have four wins each to share the lead on 8 points although on current tiebreaker it is advantage Volker.  Looking more podium contenders rather than outright title winners, the final race of the day would see Viktor Wilck and Christopher Krapp go up against one another, both starting from the back row. A delighted Jan Ratheisky would get his first win of the event ahead of pole sitter Sam Isaacs with Wilck getting 3rd and Krapp fourth, a result that both drivers have as a counting drop in the latest standings.  In the other race, Ryan Cavalieri added a second win to his tally with a dominant victory ahead of Meen Vejrak and Keven Hebert.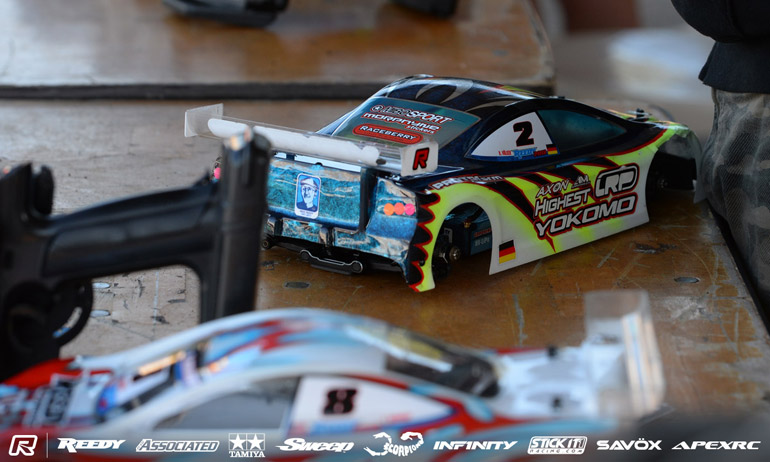 Commenting on his race Volker said, 'I had a good start and went from 5th to 3rd in the sweeper but then coming out of the hairpin Rick's (Hohwart) car (having cleared the boards) hit me head on. It was a big impact so I thought my race was over but the car somehow survived. It just had a minor tweak'.  The 2009, 2014 & 2016 Champion continued, 'I was chasing Akio but then Marc and I got lucky when he had to retire.  Now we are tied so everything is possible tomorrow'.  With drivers only set to find out their starting positions for the final four rounds of racing tomorrow morning, he said, 'the car works well. I'm happy with the performance of the car and the electrics and there is nothing else we can do to prepare for the next day'.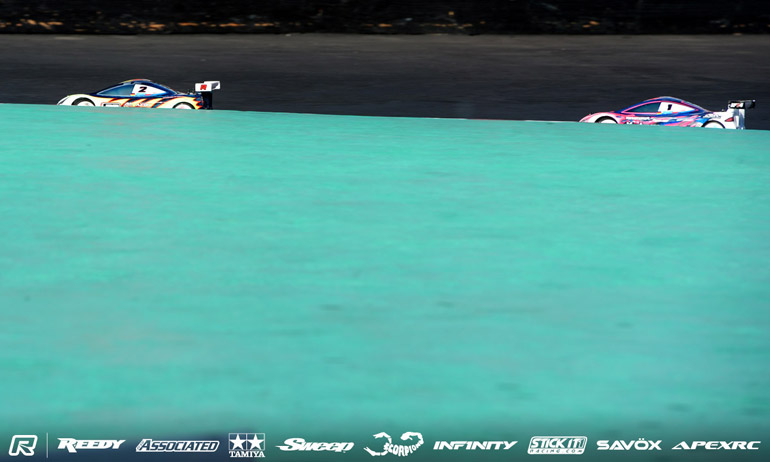 'Normally 2nd from 8th is good but I wish Ronald didn't take the win. It's a pity Akio's camber link came out', was Rheinard's reaction.  He continued, 'I had a crash in the first corner, it was not a big hit but the car didn't feel the same as before and I couldn't catch up to Ronald'.  Asked his thoughts on tomorrow's deciding four races as he chases his 7th Reedy Race title, the reigning champion simply replied, 'we will see'.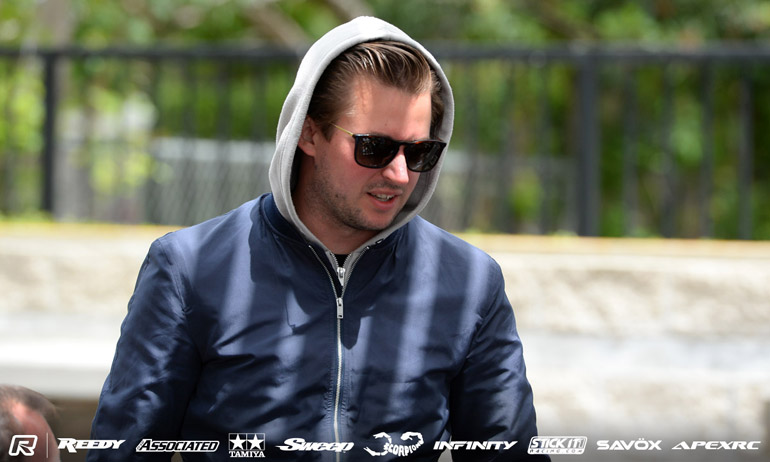 Two points off the leaders, on his latest race Wilck said, 'It was ok points coming from the back.  I had a chance for second but it was too risky to pass him' – him being Isaacs.  Holding the final podium position with a three point advantage over Krapp going into the last day, asked about his chances tomorrow the Serpent driver replied, 'we have to see the starting positions but it will be very hard to catch up to Ronald & Marc, they only need two more results and its over but we will see if something happens tomorrow'.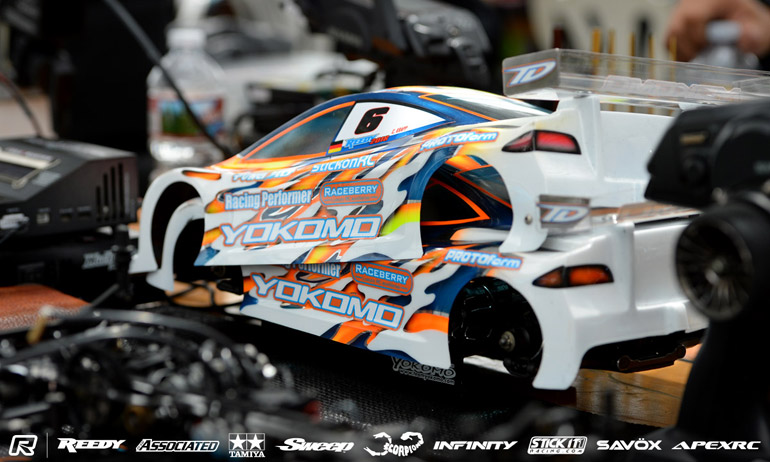 A disappointed Krapp said, 'this was the expected unlucky race you have to have over the 12 races'. The Yokomo driver continued, 'My car was on point so I'm disappointed with 4th. I quickly got up to Viktor but I couldn't take him'. Looking to tomorrow, the former runner-up said, 'I will still fight for the podium tomorrow. I will give my all'.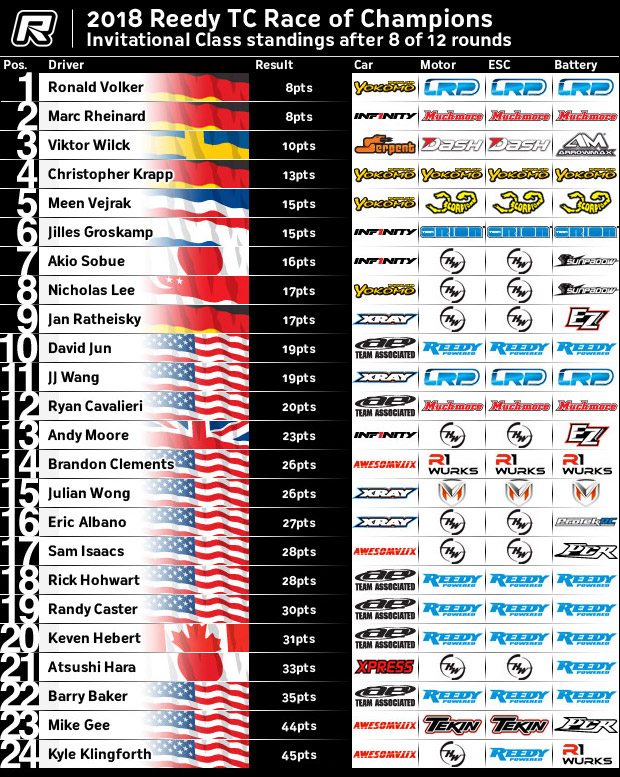 View our complete event gallery here.
---