October 12, 2007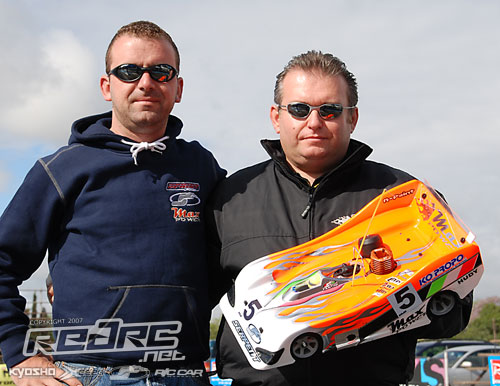 With rain causing the cancellation of the 5th and 6th rounds of qualifying, its Massimo Fantini who will line up first for the 1 hour long main final on Saturday. We talked to the Serpent 960 driver, and owner of Max engines, and he is very confident going in to the final, "To be honest we were very confident because my team mate Fabio and Andrea went for testing on the track and said the car works very good and also the engine. We had a big advantage for the 5 minutes we had almost no problem to run the qualification without any additional refueling stop. I could push stronger in the heats and the car was good and the important thing is making no mistakes and i was able to make the top qualifier in all the rounds". When asked about his chances for the final he said "we are checking our strategy and to be honest we are quite confident, the only thing is the final is very long and anything can happen, also the other competitors are strong, so i need to be cool and make no mistakes". "I was already in the main final of a World Championship several times and what it is, is hardcore racing".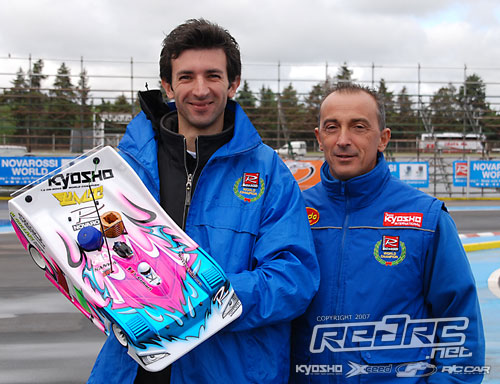 The 7-time World Champion Lamberto Collari, racing for Kyosho, lines up in 2nd spot and despite ending up 3 seconds behind Max on pole position he was obviously very confident going into tomorrows final, "Its difficult to know now what will happen. The 2nd position means I can do a good final and I am positive because I had one of the best qualifying times". Asked if he feels he could have snatched the pole position if the final 2 rounds of qualifying had been run he was "I think for sure the track should have the possibility to be better and I could have done a better time, the reality is different".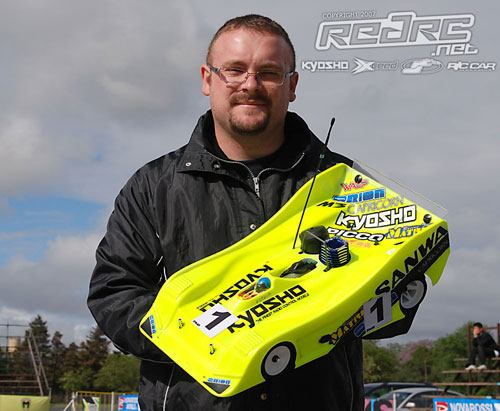 French racer, and former World Champion, Adrien Bertin was very satisfied to make it directly into the final in 3rd position, the Kyosho race stated that "yes, I am really happy because it is now 10 years that I am taking part in the final of Worlds and for me it was very good because in the beginning with preperation (being limited) due the engine matters I am very satisfied and I would like to thank my sponsors and also the Picco company who support me, and hope to bring back a good result tomorrow".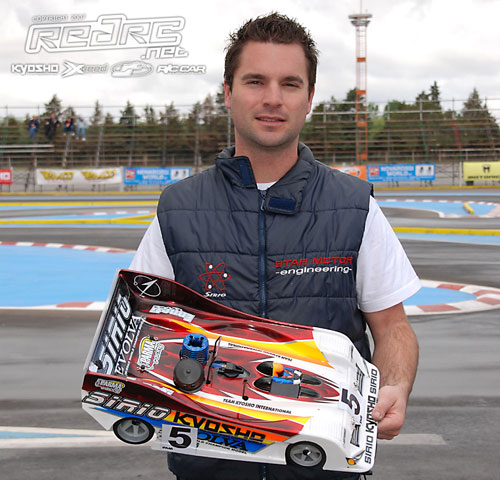 Last of the top 4 racers and first of the American runners, Chris Tosolini is in confident form ahead of the main final and despite not making 34 like he wished, he said "Yeah, I'm happy, I was a little worried if we didnt get the rain that someone could bump me out. I rebuilt the car for the final round of qualifying and found a few mistakes in the car so I think I can do 34. I wanted to make top 4 so I didnt have to have any trouble in the semi thats the most important". When asked whether he was confident of his chances for the final he said yes, "as long as I've been racing I've been confident and having a perfect hour, and I dont get too nervous so I just want to have a perfect hour at a good fast pace and we'll see. As long as we have no problems we have a good chance".
Todays lower finals are just about to begin on a now dry track, and the organisers have put sugar water down to help bring up traction. We will bring you the results as we get them
You can view the sorted finals listing here (.xls).
---