October 10, 2013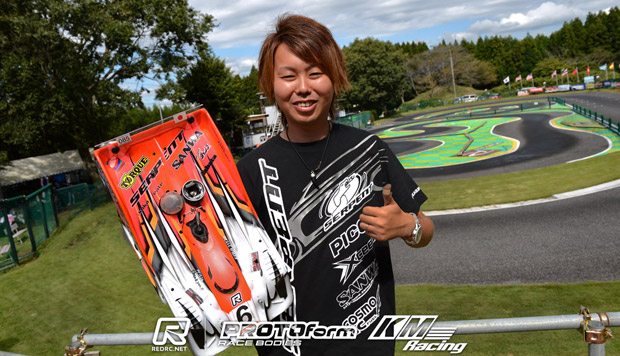 Team Serpent's Tadahiko Sahashi is the Top Qualifier at the 1:8 Onroad World Championships in Japan.  The 24-year-old claimed the honour thanks to his time set on the opening day of qualifying as yet again conditions for the sixth & final qualifier left the Keitune Racing Speedway slower than Tuesday evening's Q2 rocket round.  With Mugen's Takehiro Terauchi the only driver to run 36 laps in Q6, there was no improvement from the top 24 drivers with top US racer Paolo Morganti the biggest mover for the round with a time that moved him from 39th to 25th to book himself a place in the 1/4 finals.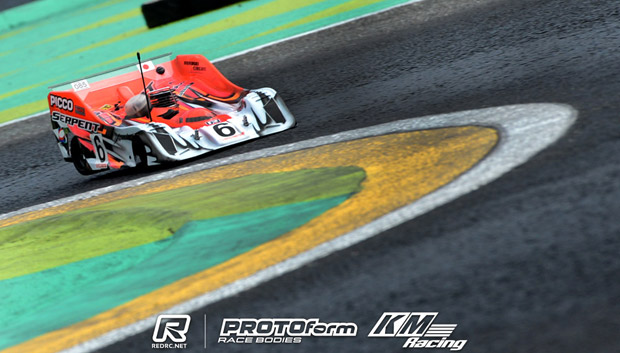 Delighted to claim his first World Championship TQ honours on home soil, Tadahiko said he knew it was going to be a tall order for his rivals to better his 36/10:03.890 in the final qualifier and so he used the run to work on the tune of his Picco engine & clutch for the Semi finals.  Unfortunately having never made a Worlds final before, this year is the first time that the Top 4 qualifiers wont directly get a place in the main, but he is confident in his package for the 30-minute Semi.  Describing tyre wear as being less that normal for this track after IFMAR ruled that the track could not be sprayed as it usual is, he said he hasn't decided yet whether he will change tyres or not in the race.  Very happy with the feeling he has with his 977 he will not making any set-up changes adding that he will instead change his driving style for the longer race.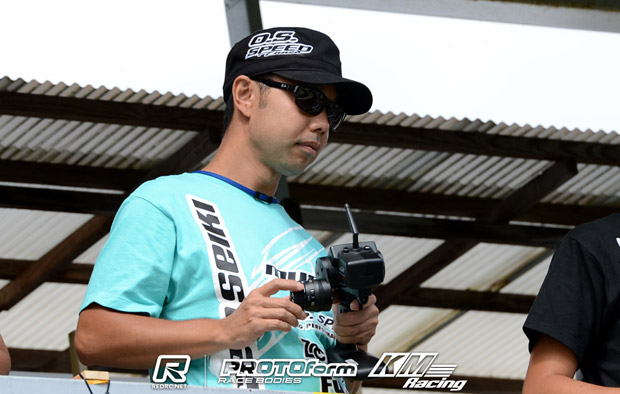 With the 10 drivers who will get to battle it out for the 19th World title of IFMAR's oldest class having to come through Semi-final, qualifying second overall will mean Mugen's Takaaki Shimo starts on pole for his 30-minute encounter.  Having made the final at the last two World Championships, he said considering Q2 was the only round that counted he was OK with qualifying second.  Feeling he has improved his OS Speed powered MRX-5 since discovering a problem with the car while rebuilding it last night.  While suffering a problem with oil from a new bearing causing his clutch to slip in Q6, he said his car feels good and he is confident for his Semi.  With the introduction of controlled tyres for this year's event, he said there are 'no tactics' this time round as all drivers will start with the same diameter tyres for the race. Winning the Pre Worlds when tyre additive was permitted, he said the track conditions this week mean tyre wear is not going to be a big issue.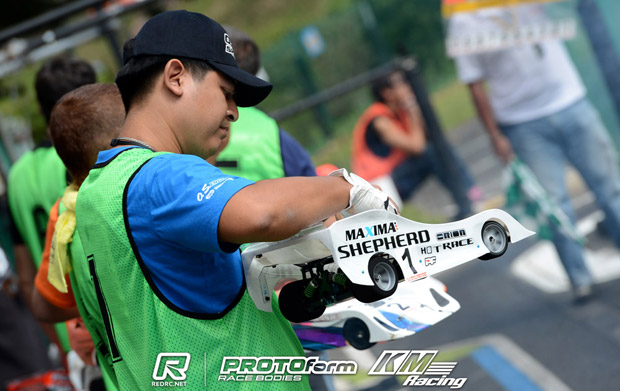 Qualifying third, European Champion Jilles Groskamp used Q6 to run the set-up that he plans to race with in the Semi-final in 2-Days time.  Setting the fastest lap of the top heat, he said his Shepherd was the best it has felt so far. Getting the Velox V8 up on two wheels this cost him being fastest for Q6, but in terms of handling he said it was very consistent and easy to drive.  Changing the clutch set-up on his Maxima engine to be less aggressive he said this helped fuel economy allowing him to do two extra laps over his rivals before making his pitstop.   Running Protoform's 909 bodyshell in Q6 he said he will run this in the final as it suits his driving style better than the R18 as well as giving better tyre wear.  With only his R18 painted up in the Electric Touring Car World Champion signature paint scheme, he said unfortunately he will be racing with a while shell.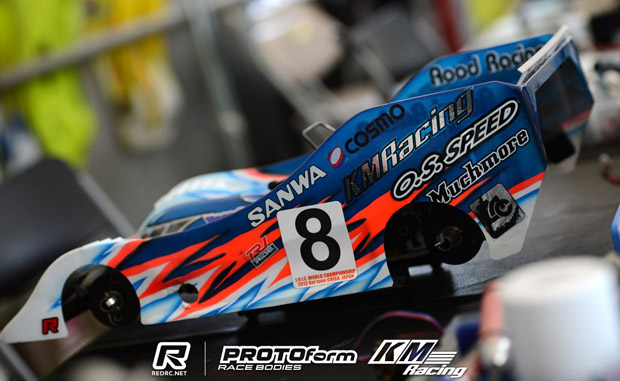 Running out of fuel in Q6, like the majority of drivers with only 3 cars making the full 10-minutes, KM Racing's Meen Vejrak is the fourth qualifier.  Part of the huge PRC team from Thailand, the 200mm World Champion felt he could have been faster had the track presented the same conditions as Q2.  Testing a set-up for his final in Q6, with the timing of the final heat the same as when the Semi will be run, he said it wasn't as stable as he was hoping for so they need to work on something else.  Despite his running out of fuel, he said he has no concerns as it was due to his OS engine having been set rich.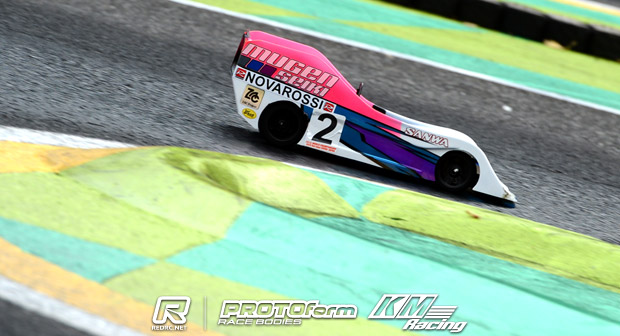 Terauchi, who just crossed the line before the 10-minutes and then ran out of fuel but got fired back up to complete the round in the fastest time, feels he has a better car now than what he had when he set the fifth fastest time in Q2.  The 22-year-old was happy with his Novarossi powered Mugen in Q6 adding that he plans to run it as is for his Semi Final.  A finalist at the last Worlds in Miami, he said his run time is still very tight but with the only option of making it safe giving him less power he will stick with the 'risky' option.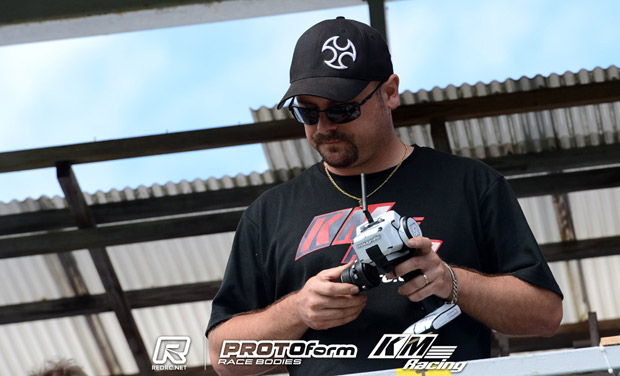 One of three European drivers to directly qualify into the Semis, Italy's Raiola Carmie claiming 8th overall, former Champion Adrien Bertin was very happy with his Q6 performance.  Setting the 3rd fastest time, the French ace said his car was finally good and he had a really good feeling with it.  Adding that the qualifier was a boost for his confidence which was not so high coming to the track this morning.  Ending qualifying 10th fastest, the head of Team Orion engine development, said he believes he can further improve his KM Racing K8 for the Semi final.  Unlike his rivals he feels tyre wear is pretty high adding that he thinks it will be hard to run 30-minutes without stopping.  While finishing the race on a single set of tyres may be possible he said the drop of in pace over the final 10-minute to be too great a penalty to make it a viable option.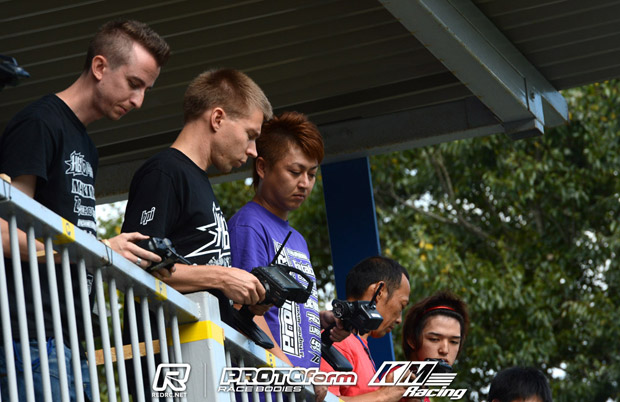 While three of the drivers who made the final in Miami 2-years ago making the Semi, of the 8 drivers who have traveled to Japan the other 5 will start their title hopes in the 1/4 Finals.  Finishing 6th at the USA event, KM Racing's Shinya Shimazaki ended up 18th fastest just ahead of Serpent designer & 1/8th veteran Michael Salven.  Finishing just behind the Japanese driver in 2011 having made the final at the last two world Championships Motonica's Robin D'hondt has qualified 24th.  The Belgian failed to finish the Q2 rocket round setting his best time in Q3.  Making his World's Final debut last time as the only Shepherd in the final, Swiss driver Simon Kurzbuch has ended up 20th fastest.  Signing a last minute deal to contest the event Atsushi Hara, who was a direct qualifier on his 1:8 debut two years ago, had to count on his Q1 time which left him 21st and will see him start in the same 1/4 final as is his former HB team-mate and 200mm Worlds Top Qualifier Teemu Leino.
View the event results here.
View our event image gallery here.
---