September 16, 2017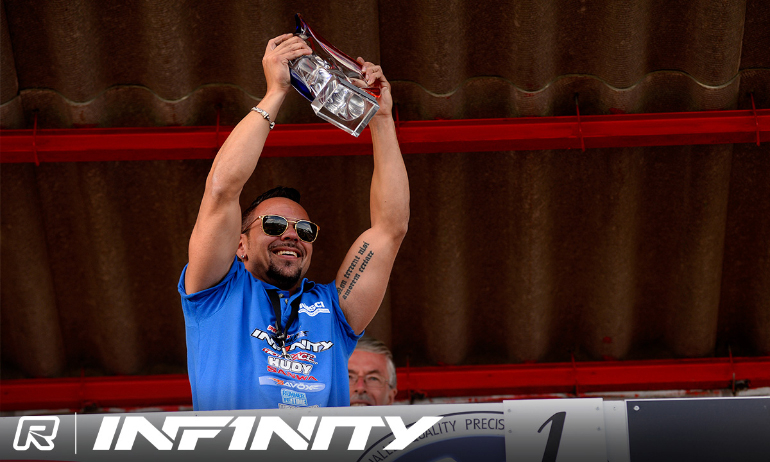 Dario Balestri is finally a World Champion. One of nitro racing's unquestionably fastest & most talented drivers, the Italian delivered a long overdue victory at the 21st running of the 1:8 Onroad World Championships in Monteux, France. Top Qualifier for the 1-hour main, the Infinity driver would waste that opportunity with a very bad start from pole that saw him swallowed up by the pack and off onto the grass. Rejoining a distant last, while new team-mate Naoto Matsukura led from the defending champion Simon Kurzbuch, Balestri set about his recovery eventually going to the front when Matsukura, who he had in his sights, hit trouble. With Matsukura's championship debut ending with a P8 DNF, it was Kurzbuch who would finish runner-up, 5-seconds back after an hour of intense racing. While not the result the Shepherd driver was after it does complete an impressive run of three consecutive 1:8 World Championship podium finishes. Claiming the final step on the podium would be Shoki Takahata, the Mugen driver having a good recovery after an incident with 2015 runner-up Takaaki Shimo cost him a lot of time due to a tucked body.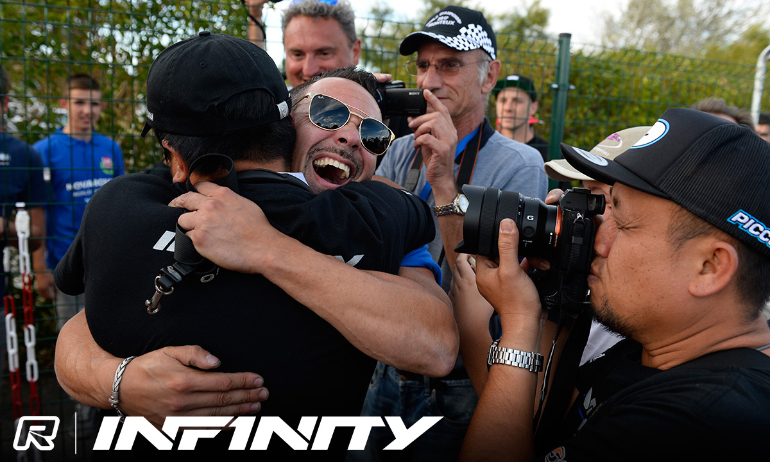 With the enormity of his win leaving Balestri somewhat lost for words to describing the feeling, he said, 'I made a shit start. My fault. I waited too long on the start I was in the middle of the pack and had a big crash which ended in the grass. Then my tyres were dirty but when they got clean the car was unbelievable and I could come back'. A driver who has so many times come close to the World title but come short in terms of his luck, he added, 'this was the best car I have ever driven in a final and the engine too' – his fastest lap over 2/10th quicker than that of Kurzbuch. Making two tyre stops, describing them both as 'super fast', he agreed the win was a monkey off his back and lifted the pressure of finally achieving his life's goal might make him enjoy racing even more. 'I have to thank Kenji San my boss for giving me the opportunity to change my life. He has created a fun and passionate team and for sure it is a nice atmosphere to work in. There is no pressure.' He continued, 'This result is for all the team, they worked a lot for the brand. Nikiado San has done an amazing job with creating this car'. Balestri was also indebted to his engine builder Massimo Fantini, a former Worlds Top Qualifier who never quite managed the title. 'I have no words to describe the engine. Fantini deserves this for all the work & time he has put into the sport'. Having waited so long to get the official status of being the World's No.1 driver, Balestri was making sure he thanked everyone who made it possible. 'My mechanic Antonio (Castellani) put all of himself in the race. He was perfect and of course so was my second mechanic Massimo (Mannucci).'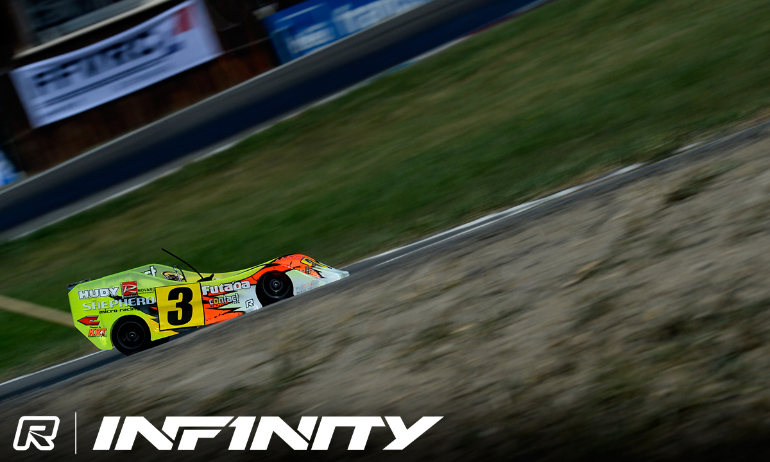 Kurzbuch said, 'I am a little disappointed at the end. We go into a race with the crew to win it but this time we couldn't do it.' He continued, 'I can't say we made big mistakes but we lost a few seconds here and there. Still 3 World Championships in a row on the podium and last year's 1:10 podium in Gubbio is good for a hobby driver'. Being more specific about his final, he said, 'the start was good as I could overtake Dario so it was just me an Naoto.  Apart from two times on the grass I drove a clean final but it wasn't enough in the end. My pit crew did an amazing job. It was hard work under the French sun for 1-hour'. As the reigning Euro Nitro Series champion he concluded, 'we will take a few days off and then prepare for Fiorano because the ENS title is still open and we want to make sure we bring that one home'.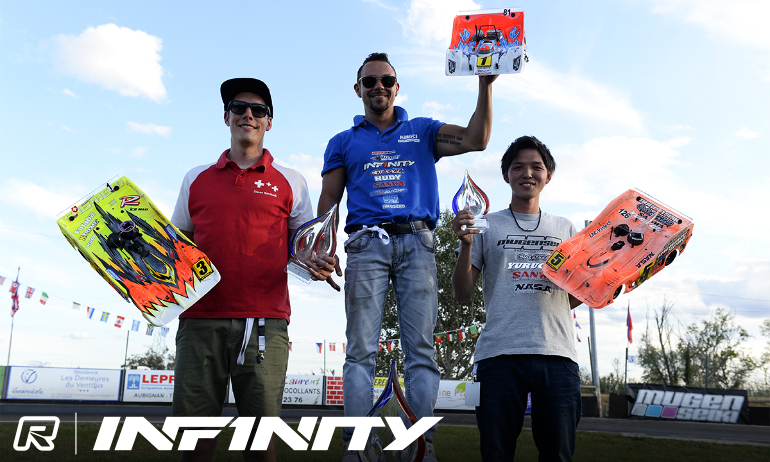 Summing up his first World's final, Takahata said, 'I'm very happy to be on the podium but I think we could have got more'.  Unfortunately his challenge for a better result, was severely hampered when he was hit by Shimo.  With the supplied marshals originally instructed to not touch the cars other than place them back on track, the body tuck was very costly.  Original planning two tyre stops for the race, the 23-year-old's crew would change it and drop the second tyre change to try to recover some of the lost time, his MRX6 not having any issues going the unscheduled extra distance on the tyres.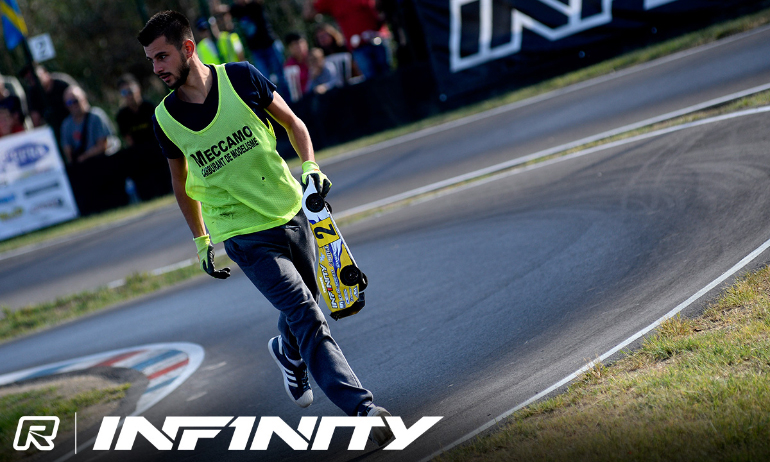 Having left no doubts in the minds of nitro racing's best drivers that he is a new force to be reckoned with, Matsukura was understandably down beat after his impressive performance was brought to an end by a flat receiver battery.  The reigning multiple 1:12 World Champion, only made his competitive 1:8 debut at the opening round of the ENS this year but took control of the race putting a lap on the entire field at the half way mark.  A clean race to that point for the 'full punch' driving style Japanese ace, he would get his entry from the pit lane wrong and make contact with the barrier which would require an extra pit stop next time round to fix the body.  He would have a second mistake also after leaving the pitlane as his car 'had no steering' and he ended up on the grass this time it costing him the lead.  In the end however it was all going to be in vein as his battery died, him saying afterwards, 'I don't know why because I changed it before the race'. He continued, 'My car was super good and my own pace was good I had no mistakes only the one after the pits but still I was on top.  I will come back and next time I'll get the win'.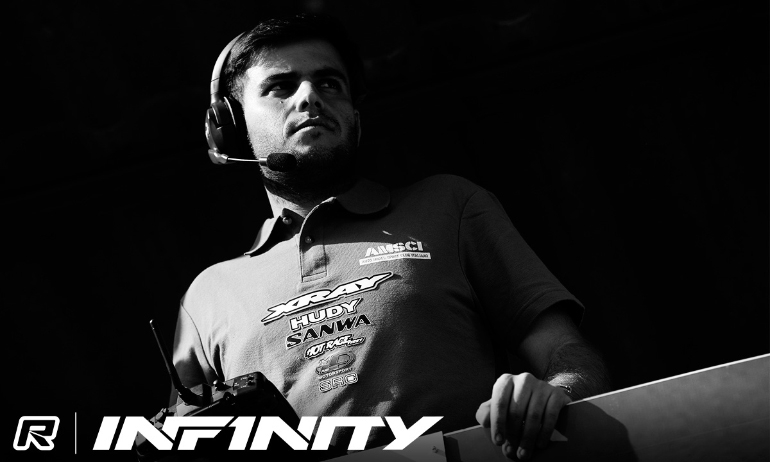 Finishing fourth, last year's 1:10 podium finisher Alessio Mazzeo described it as 'a very hard race'.  The Xray driver continued, 'I made a big mistake the first lap and lost too much time and then I pushed too hard to make back the time. 4th is the correct place for my performance. Dario and Naoto were too fast for me and congrats to Dario, I know the passion he has for this'.  The first 1:8 Worlds the 200mm specialist has contested he continued, 'This is my first 1:8 Worlds and I never imagined at the start of the week I could make the final so for that I am very happy with the result'.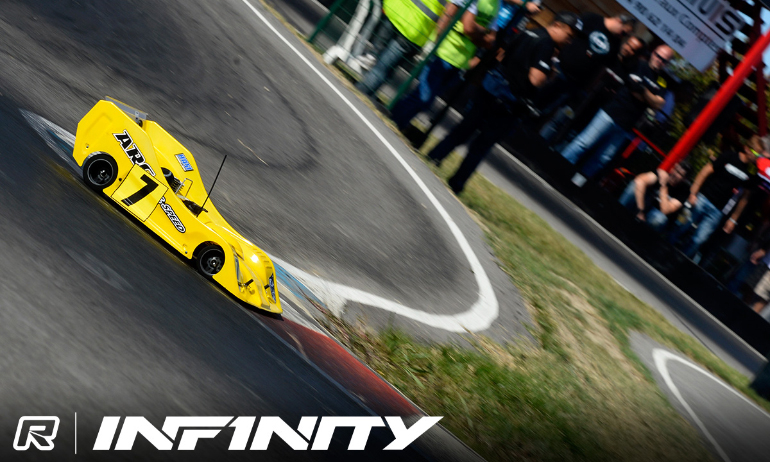 Making it five different manufacturers in the Top 5, ARC's Silvio Hachler said, 'I am pretty happy with 5th.  One week ago I would for sure have taken this but I really wanted 3rd place'. The Swiss driver continued, 'I'm happy with the car and engine but had one small mistake myself when I came into the pits too early and my crew was not ready'.  His second time to make a Worlds final, bettering his P6 in Japan in 2013, he concluded, 'the field was super competitive so to finish top half I'm really happy'.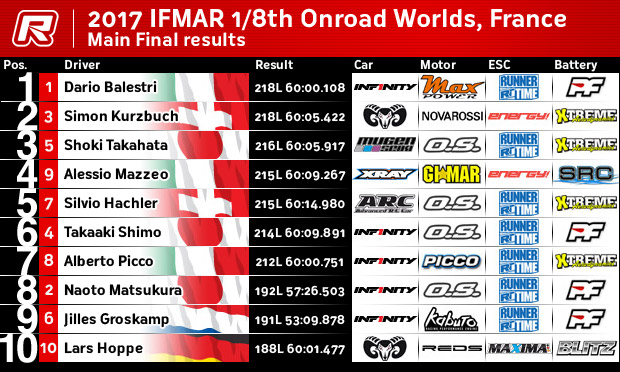 View complete event results here.
View our event image gallery here.

---