November 21, 2009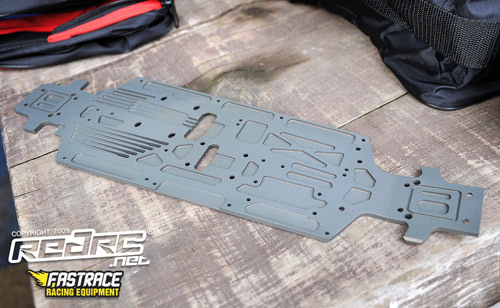 With a break in the action following qualifying we have a collection of new products showing up at the Offroad Meeting in Italy. First up from our sponsors Fast Race is a new range of optional chassis plates for the Associated RC8, Xray XB808 and Mugen MBX-6. Made from 4mm thick high quality aluminium, they are heavily and strategically machined to be lightweight yet retain their strenth and stiffness. Another nice feature is that the plates feature a groove below the front and rear differential casing that can be fitted with an o-ring to retain the transmissions grease as well as keep dirt out. Another nice feature is the use of small steel balls under the downstop screws, that protect the chassis and over time offer a more consistent setting, due to the prevention on wear in this area.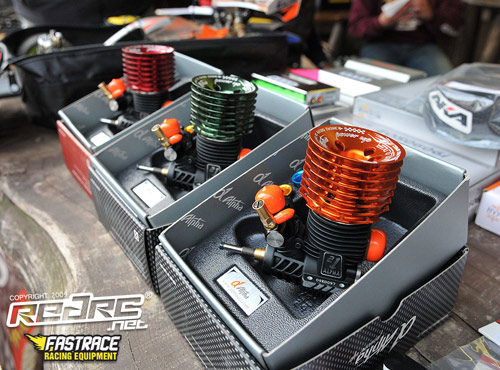 Fast Race also showed us the new range of Alpha engines that they have the exclusive distribution for in Italy. Available in a 5 port and two 7 port versions, they are a good quality and high performance engine. As seen in Austria Fast Race also have new wheels, which are now finally in production and available for sale in both white and fluorescent yellow.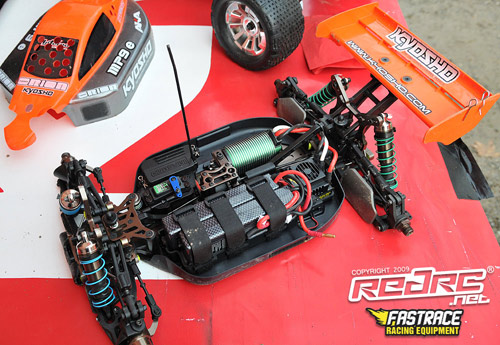 Kyosho are present with the first batch of newly arrived Inferno conversion kits to turn the regular MP9 into the MP9e. The cars did very well on their debut, taking 2nd and 3rd in the Brushless buggy final last night. Also seen on these and the gas powered Kyoshos are the new light blue srings that fit between the current blue and lime versions and new light green springs that fit between the current lime and purple springs.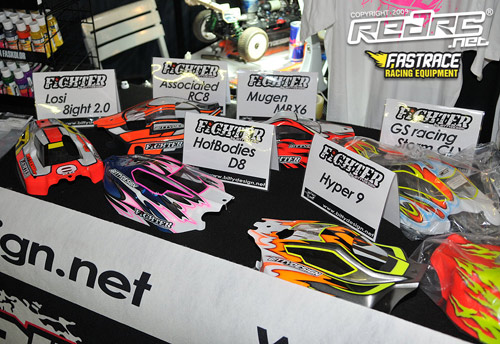 Bitty Design have a big presence here at the event. The Rabitti brothers are showing off their new range of Fighter buggy bodies that we wrote about a few days ago as well as their new range of BD branded clothing. The body painting specialists also have a great selection approximately 100 pre painted bodies, all featuring a unique design.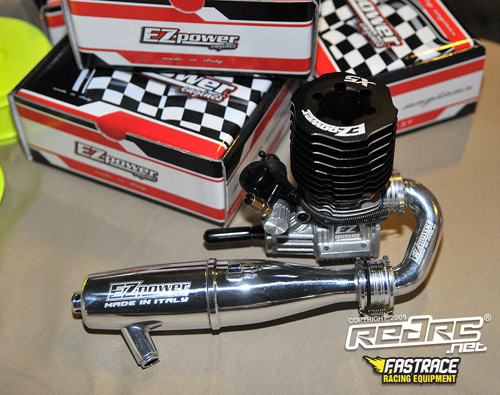 New brand EZ Power from Italy are showing off their wares including this Novarossi made XS engine, a 5 port motor that features their own internal specifications. EZ Power also have a complete range of exhaust systems in the works to go with their new motors as well, with a range of manifolds, fuel tubing and air filters also available. For electric racing, with whom they supply Fabrizio Teghesi, there is a complete and extensive line of LiPo packs, from RX versions all the way up to competition packs for touring cars as well as brushless powered 1/8th scale buggies. They are currently looking for worldwide distributors.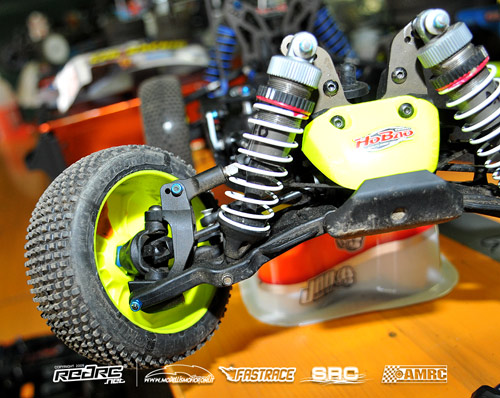 Hobao driver Jon Howell is here with a lot of prototype parts on his Hyper 9. New straight front and rear lower wishbones, as well as new front upper wishbones and steering knuckles, currently in plastic, all help to to reduce low speed turn in and increase high speed turn in by giving the car more caster. Other new parts include new diff casings with extra mounts for attaching rubber boots on the driveshafts, new rear shock tower, new rear uprights and new one piece aluminium shock tops.
View our event image gallery here.
---