July 9, 2009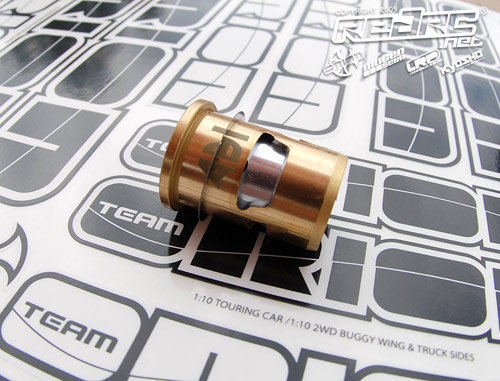 Continuing on from our earlier installment on whats new in the pits, we have come across some other goodies. From Team Orion, Adrien Bertin took us aside to show us some new items for their Alpha line of engines. Firstly there is a new range of shims, that uniquely go under the liner before placing it in the crankcase which helps adjust the timing on the engine to have more lower or higher end power. The shims will be sold in a set of 3 pieces, in 0.1, 0.15 and 0.2mm thick and should be used in conjunction with taking out a shim from under the combustion chamber for every shim you put under the liner.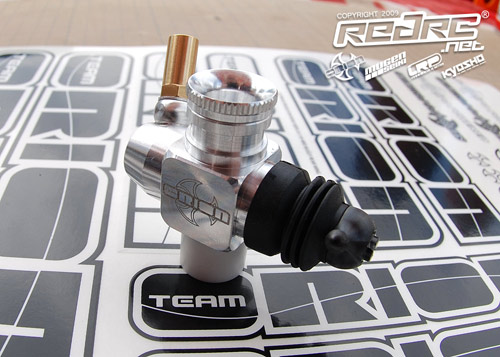 Also from Team Orion is this all new carburettor. Currently machined from aluminium, the final version will be cast aluminium and is said to have close to a perfect idle. To avoid issues like vapour lock, the carb mount will be wrapped in plastic to isolate it from getting too hot. The carburettor will be suitable for all Alpha engines and will also have a new line of venturis available for it.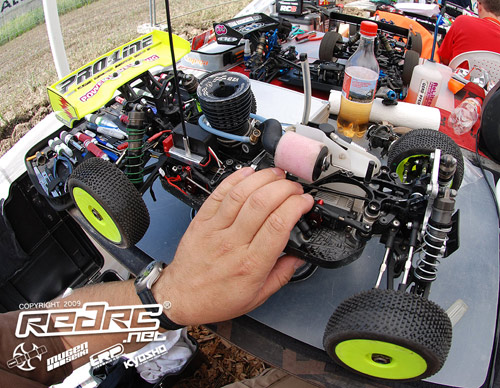 Seen earlier in the week Team Durango have their 1/8th scale buggy here. An evolution of the design by Gerd Strenge, this current version is being tested with a hydraulic braking system, which we were asked not to photograph. A very neatly made system, it is slightly heavier than the standard braking system and maybe an optional part for the car when it is released later this year.
Yesterday's pace setter Miguel Matias is running a prototype CLX buggy from GS Racing that he is developing to suit European tracks better. Using the front end from the older CL1, the car he is running also sports some extra options including the use of dual front shock towers which are supporting Mugen shocks.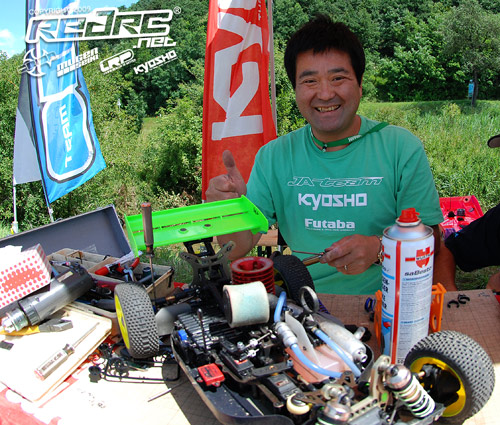 Yuichi Kanai of Kyosho is here and he has brought with him a number of new items that we werent allowed to photograph, including stronger rear uprights and front upper wishbones as well as a number of other updated items that were given to Kyosho drivers.
View our event image gallery here.
---