July 9, 2010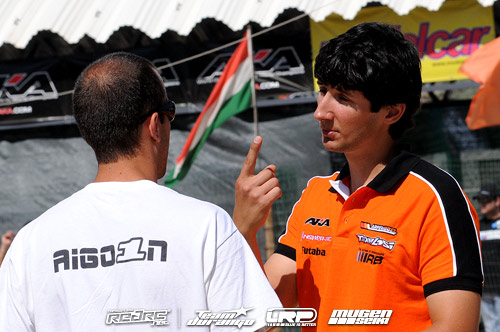 Former Champion Miguel Matias has TQ'd the penultimate round of qualifying here in Portugal this morning ahead of defending Champion Renaud Savoya, ending the Aigoin brothers domination at the top of the time sheets.  The only Portuguese driver to have ever won the European title, he said track conditions were more difficult today but he was very happy to take the round.  Running AKA Crossbrace super soft compound on his Losi he had one stupid mistake as he tried to avoid a back marker who had crashed but other than that the run was good and his RB powered 8ight 2.0EU was working well.
Savoya was slightly disappointed to miss out on TQ'ing a round for the second time but said he is hopeful he can pull it off in the fifth and final round later today.  The factory Mugen driver ran Proline Caliper M3 and was happier with his MBX-6 today having changed sway bars.  Describing his run as safe and clean he said the big challenge are the jumps which have become very unpredictable as the track conditions continually change.
The changing track conditions caught Yannick Aigoin by surprise this morning.  The Losi team driver adjusted the rear roll centres on his 8ight 2.0EU which he said should have given him more rear grip but it didn't, making the car a bit difficult to drive.  Having TQ'd rounds 1 & 3, he still managed to set the third fastest time.  Working now on his race set-up, he plans to leave the roll centres as is and change diff oils as he believes this will suit the track conditions he expects to face in tomorrow's finals.
Kyosho's Jerome Aigoin was fourth fastest despite parking his MP9 on its roof during the run.  The pace setter in Q2 yesterday, he found the track very dusty today but feels a switch from AKA iBeam to Crossbrace worked well in the conditions and for the moment he is happy with his car and just needs to cut out mistakes which have cost him places in the last two rounds of qualifying.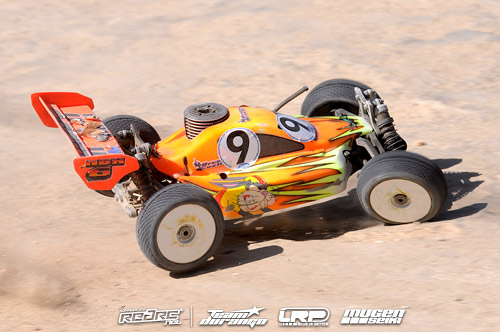 Spain's Borja Hernadez ran the same set-up as yesterday on his RB powered Mugen but the rear suspension was now too high for the very loose conditions here this morning.  A handful in the corners, he ended up making two mistakes as a result and was fifth fastest.  Making it three Mugens in the Top 6, 17-year-old Portuguese racer Bruno Coelho backed up his Top 10 run from Q3 to set an impressive sixth fastest time with his Sirio powered example. An experienced onroad nitro racer this is Coehlo's first full season of off road.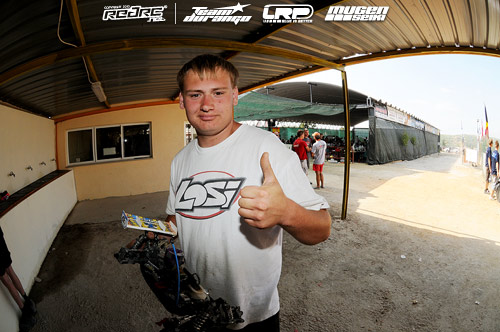 While his older brother Martin had his worst round of qualifying, Czech teenager Ales Bayer enjoyed his best run setting the 7th fastest time.  Jerome Sartel was back in the Top 10 with 8th, joined by Xray team-mate and 2009 finalist Teemu Leino who was 10th.  In between them was Italian champion Riccardo Rabbitti.  A finalist last year in Austria, the Losi driver had a tough opening day of qualifying making a lot of driver errors.
The round wasn't good for the star of yesterday's qualifying David Ronnefalk, the young Swede having a troubled run and ending up only 20th.  2007 Champion Robert Batlle's event didn't get any better since yesterday and he finished well down the order for the round.
Results Round 4 of qualifying
1. Miguel Matias (PT) Losi/RB – 8 Laps in 5:22.095
2. Renaud Savoya (FR) Mugen/RB – 8 Laps in 5:22.933
3. Yannick Aigoin (FR) Losi/Novarossi – 8 Laps in 5:23.002
4. Jérôme Aigoin (FR) Kyosho/Novarossi – 8 Laps in 5:24.388
5. Borja Hernandez (ES) Mugen/RB – 8 Laps in 5:25.415
6. Bruno Coelho (PT) Mugen/Sirio – 8 Laps in 5:26.535
7. Ales Bayer (CZ) Losi/Novarossi – 8 Laps in 5:27.388
8. Jérôme Sartel (FR) Xray/RB – 8 Laps in 5:29.024
9. Riccardo Rabbitti (IT) Losi/Picco – 8 laps in 5:29.158
10.Teemu Leino (FIN) Xray/Team Orion – 8 laps in 5:30.468
View our event image gallery here.
---