June 3, 2011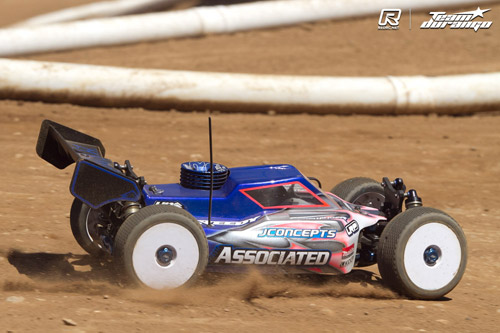 At the end of practice for the ROAR Nationals in Southern California it is Team Associated who controlled today's pace as their drivers where the only ones to record 15 lap runs with Ryan Maifield topping the time sheets from Ryan Cavalieri. Winner of the Warm-up event at Thunder Alley back in April, Maifield ran a stiffer set-up on his LRP powered RC8B in the final controlled practice changing to harder springs and swaybars. Finding the buggy easier to drive following the changes, the Arizona racer says he will run it as is in the morning and that he is feeling positive about the first qualifier.  Drivers will run a total of four qualifiers with two round tomorrow and Saturday.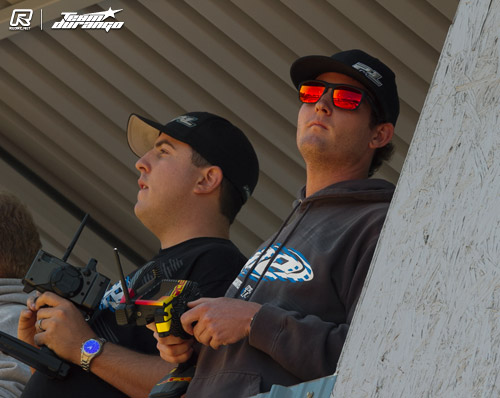 Running Proline's new Blockade tyre in the final practice Cavalieri setting a new fastest lap for the event with a time of 29.108.  The former electric off road World Champion, said the new tyre, which has been designed with finals in mind, gave good forward grip and a really smooth side bite. Cavalieri was happy with his driving saying he was 'hugging some good lines' and he feels 'pretty pumped up' for qualifying.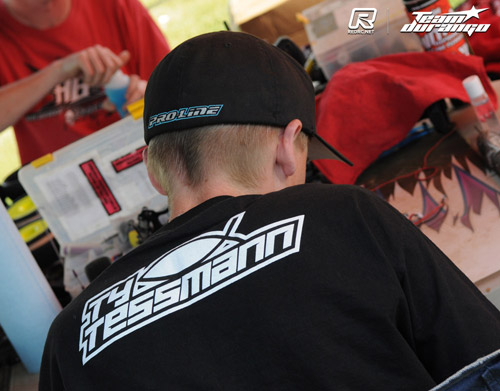 Unable to improve on his morning time Hot Bodies' Ty Tessmann ended the day third fastest.  Running in the last group, the Canadian said track conditions for his second run were slower but he said his OS powered D8 felt good and the plans is to run it that way for the first qualifier.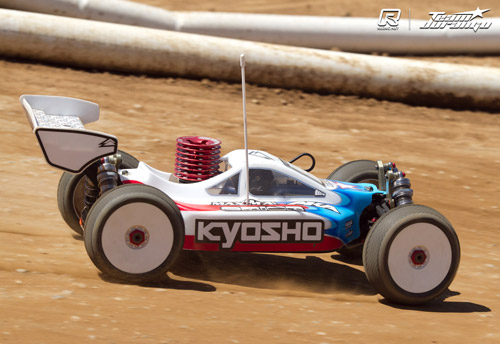 Defending Champion Jared Tebo ended the day fourth fastest having found some time in the final practice.  The Kyosho ace said changes made had improved the feeling of the car and with a few more very small adjustments it should be good for qualifying.  Team-mate and current World Champion Cody King also improved his time in the final practice to just make it into the top 10, behind former World Champion Mark Pavidis, with the 10th quickest time over 7-minutes.
Doing an impressive job to set the fifth fastest time young Dakota Phend was top Losi just ahead of his senior team-mate Adam Drake.  Switching from green to red compound Losi Kingpin tyres the 14-year-old from Michigan said they suited the track conditions but the steering on his Nitrotec powered 8ight was a little aggressive and they will need to make changes for qualifying. Unable to improve his morning time due to the track being wet and in general slower as the sun had gone off it, Drake said tomorrow is going to be about choosing the right tyre for the conditions of the track at the time of your runs.
Jesse Robbers, runner-up to Tebo at last years Nationals, took his new Hot Bodies CR8 to the seventh with his afternoon time, while Travis Amezcua was the quickest Mugen in eight.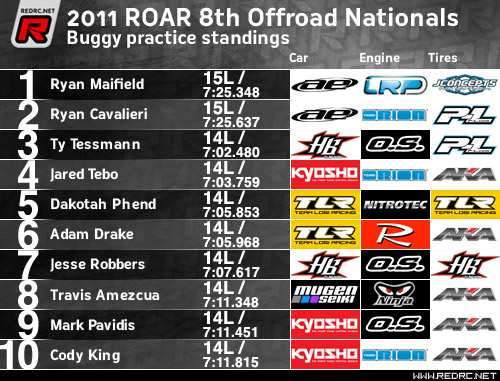 View our event image gallery here.
---