July 3, 2008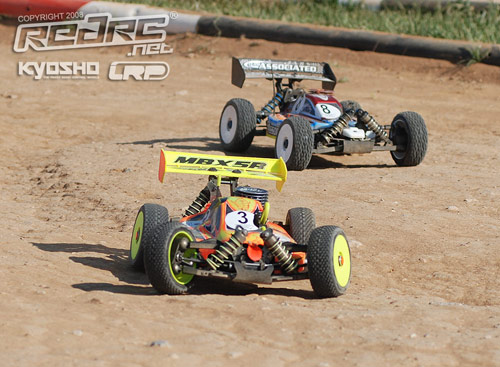 Renaud Savoya has TQ'd the first heat at the 2008 EFRA European Championships here in Crete. The young Mugen driver heads a trio of French drivers with Yannick Aigon and Jerome Sartel producing the second and third fastest times. Fourth fastest at the moment is defending Champion Robert Batlle.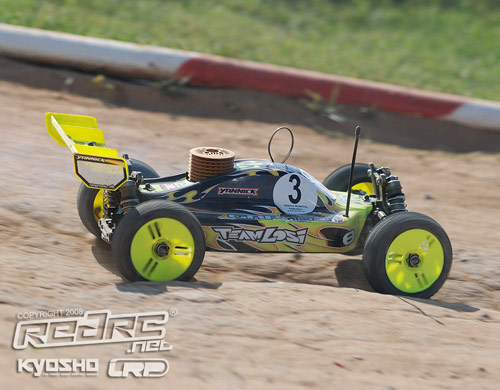 Reigning French Champion, and warm up winner on this track earlier in the year, Savoya was very happy with his car over the 5 minute run so much so he will leave his car the same for the second of today's qualifiers. Running Proline XTR tyres he produced a time of 8 laps in 5:19.490 to go over four second clear at the top.
Second fastest man Yannick Aigon said his car was a little nervous and that he drove a safe run. Having switched from GRP Jolly to Atomic tyres for the 3 minute reseed practice yesterday evening Aigon ran the Atomic option this morning and was pleased with the choice. The Losi driver will change his front diff for Heat two in a bid to make the car easier to drive.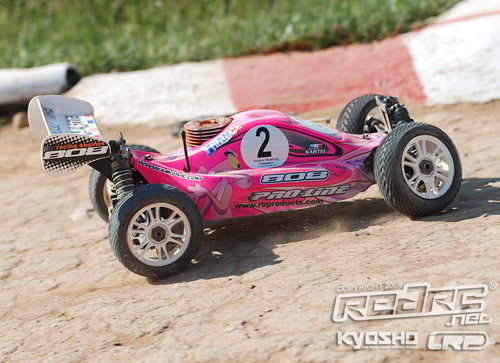 Jerome Sartel who produced the third quickest run joked when asked about how it was saying, 'I am not happy with this there are two French drivers in front of me!'. A friend of both Savoya and Aigon, the Xray driver had had a little too much grip and plans to change his rear anti roll bar for Heat 2.
Defending champion Robert Batlle, who is thought to have suffered from sunstroke yesterday, was feeling better today and was the highest placed non French driver. The Hobao/Ultimate Racing team driver said he had too much grip and the car wanted to flip in all the corners. Running GRP Atomic B tyres the Spaniard will try a smaller wheel for his next outing.
Borja Hernandez, who was second quickest overall in timed practice yesterday, was fifth despite a driver error over the last jump which cost him some time. The Hobao driver will leave his car the same for Heat 2. Swede Linus Thern completes the Top 6 and is the leading Kyosho driver. Darren Bloomfield who was the the pace setter yesterday is 7th and the UK racer has relocated his pit area to the side of the pool at his hotel!
The overnight work carried out on the jumps here at the IMC track have been given a big thumbs up by the leading drivers who all described it as much better.
Top 10 after round 1
1. Savoya Renaud – 8 Laps in 05:19.490
2. Aigoin Yannick – 8 Laps in 05:23.696
3. Sartel Jerome – 8 Laps in 05:25.081
4. Batlle Robert – 8 Laps in 05:25.706
5. Hernandez Borja – 8 Laps in 05:28.880
6. Thern Linus – 8 Laps in 05:29.702
7. Bloomfield Darren – 8 Laps in 05:30.097
8. Ezazian Jerome – 8 Laps in 05:31.586
9. Laffranchi Alessandro – 8 Laps in 05:31.928
10. Vray Guillaume – 8 Laps in 05:32.613
Check out our event image gallery here.
---