July 8, 2009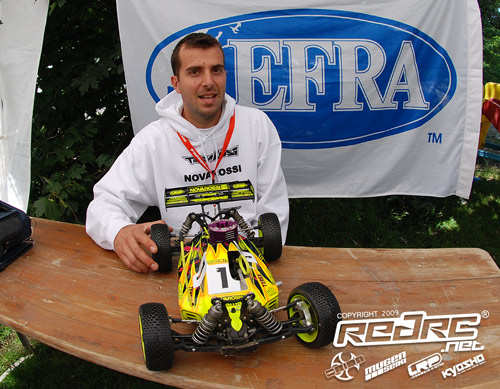 Yannick Aigoin is the pace setter here in Austria after the first full round of timed practice followed by another former European Champion Miguel Matias.  Aigoin described the run as OK but he would like more steering on his Losi and will try a lighter oil in his front diff for the final timed practice.  Portuguese ace Matias, who briefly topped the time sheets having knocked Jerome Aigoin from the No.1 spot, said he was pleased with his Ninja powered GS Racing CLX which is a completely different car to that which he used at the Warm Up.  Like fellow GS Racing driver Borja Hernandez, he is running the front end from the older CL1 model but is also running a Fiorano front diff and Mugen shocks.  He too will also make some changes in attempt to get more steering.  The other big mover late in the first timed practice round was Czech driver Martin Bayer. Using a Losi/Novarossi combination he was just shy of defending champion Renaud Savoya on overall run time describing the run as safe. Asked how his Caliper M2 shod Eight was working he reply, 'Car is good, its just the driver thats the problem'.
A few drivers worth a mention outside the Top 10 are Darren Bloomfield who is 11th just ahead of former World Champion Guillaume Vray and top Hong Nor driver Richi Gomez.  Neil Cragg looks to have a bit of to do with in 14th ahead of fellow Brit Elliot Boots.  Former double European Champion Davide Tortorici lies 21st with his prototype Crono RS9 while the other double Champion Daniel Reckward managed just a single lap and lies last of the 177 runners to post a time.
Top 10 times for first timed practice
1. Yannick Aigoin – 7 Laps in 5:25.227
2. Miguel Matias – 7 Laps in 5:26.978
3. Jerom Aigoin – 7 Laps in 5:29.506
4. Renaud Savoya – 7 Laps in 5:29.692
5. Martin Bayer – 7 Laps in 5:29.762
6. Riccardo Rabitti – 7 Laps in 5:30.475
7. Robert Batlle – 7 Laps in 5:30.905
8. Alex Laffranchi – 7 Laps in 5:31.403
9. Peter Pinisch – 7 Laps in 5:31.850
10.Fabio Boero – 7 Laps in 5:32.363
View our event image gallery here.
---