January 13, 2008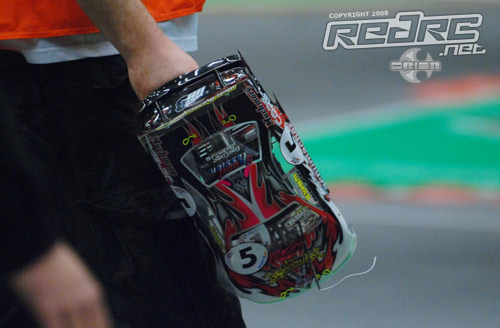 The practice session for the A-main racers in both classes, that is run during the first round of lower finals, has just taken place and there was drama already before the start as front row man Jimmy Maddison had his car collected on the starting grid as a racer failed to slow. The crash took the rear corner off the car but some quick work by his pit crew meant he as able to make the start. Once on the track he was straight on the pace and eventually crossed the finish line first with the fastest lap of the race, a 17.57 second lap, in front of Tommy Bergfelt in 2nd an Dennis Fadtke in 3rd, while on lap times alone, pole man Christoph Thiele was 2nd fastest with Hennig 3rd.
Fastest lap times in Stock A-main practice
1. Jimmy Maddison (GBR) – 17.59
2. Christoph Thiele (D) – 17.67
3. Bastian Hennig (D) – 17.80
4. Marcus Horn (D) – 17.88
5. Marc Assmann (D) – 17.99
6. Tommy Bergfeldt (SWE) – 18.03
7. Dennis Fadtke (D) – 18.04
8. Miek Niemann (D) – 18.06
9. Florian Ring (D) – 18.09
10.Luke Hobson (GBR) – 18.86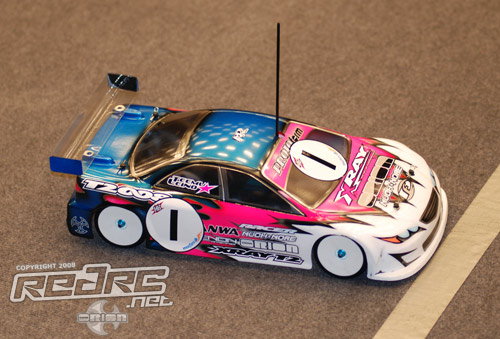 In the modified class, it was pole main Teemu Leino who made his intentions clear from the start leading from the grid being followed closely by Viktor Wilck for the first few minutes. Leino eventually traction rolled coming off the infamous bump on the right side of the track, but he had proven his point, turning a 15.66 second lap, 2 tenths quicker than the joint second fastest, Martin Hudy and Andy Moore. Once passed Viktor was able to stretch his lead over Graversen before slowing in the final moments and letting Steen through to cross the line first. Jilles Groskamp used this run to bed in his tires, which are working better after one run on this track, the reason why he couldnt break into the 15 second lap times.
Fastest lap times in Modified A-main practice
1. Teemu Leino (FIN) – 15.66
2. Martin Hudy (SLO) – 15.86
= Andy Moore (GBR) – 15.86
4. Ronald Völker (DE) – 15.90
5. Viktor Wilck (SWE) – 15.93
6. Marc Rheinard (DE) – 15.94
7. Steen Graversen (DK) – 15.98
= Alexander Hagberg (SWE) – 15.98
9. Jilles Groskamp (NL) – 16.03
10.Juho Levanen (FIN) – 16.05
View our image gallery here.
---