August 14, 2008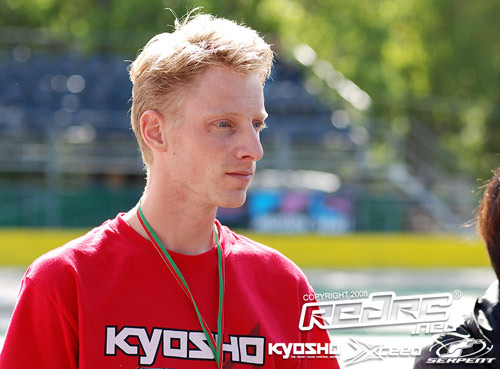 Jilles Groskamp has regained the TQ spot with a superb drive in the penultimate qualifier for the 2008 Worlds here in Portugal. The Dutch ace was delighted with his run saying, 'Finally it worked out for with my engine and fuel.' Groskamp clocked up 32 laps in 10:11.241 giving Team Sirio boss Andrea Rossi every reason to punch the air in delight.
Groskamp was told to save fuel over the last few laps of his run and so had to lift a little but the call by his pitman was well warranted because shortly after crossing the timing loop the Kyosho ran out of fuel. Having had 'Shit' days on Tuesday and Wednesday, this morning's heat is a big confidence boost for the world class electric racer who says he will now go flat out for the final qualifier.
Setting the second fastest time after also having a tough day yesterday was Daniele Ielasi. The Italian driver said his car was now the same as the first day after he reverted back to the same rear diff oil on his IDM powered Kyosho. Asked if he thought this evening's final qualifier could be quicker Ielasi said he thought maybe it could be simliar but not quicker.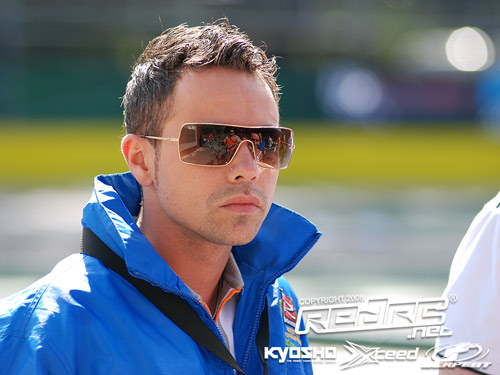 Dario Balestri moved himself up from fifth overnight into a direct Main Final qualifying position after putting in the third fastest time but the run was not a clean one for the young Italian. The Team Magic lead driver made a mistake early in his run which caused him to loose a body clip and this was to cost him further time during his pit stop as the body rose off the car when his pit woman lifted it for refuelling. Happy with the balance of his Novarossi powered G4+, the incidents cost Balestri a very possible TQ run.
With Groskamp, Ielasi and Balestri all going quicker than the overnight TQ time, Japanese driver Takaaki Shimo drops to fourth but the Kyosho/OS driver was quick to put his poor run down to himself saying, 'Good car, Driver not so good'. Just how good the car was is the 18.553 fastest lap set by Shimo which is the quickest lap we have seen in qualifying todate.
Mugen/Novarossi driver Giuseppe D'Angelo finally got to show his true pace as he finished his first heat to record an impressive fifth fastest time. Finishing the run has given the Italian a big boost and he is very confidence he can go fastest later today.
Unfortunately for Adrien Bertin his strong run to record the third fastest time was to be in vain as his Kyosho failed to pass scrutiny with his fuel tank deemed to be too big. Obviously annoyed with his exclusion, the French Team Orion driver was pleased with his car and run despite a number of incidents with Francesco Tironi.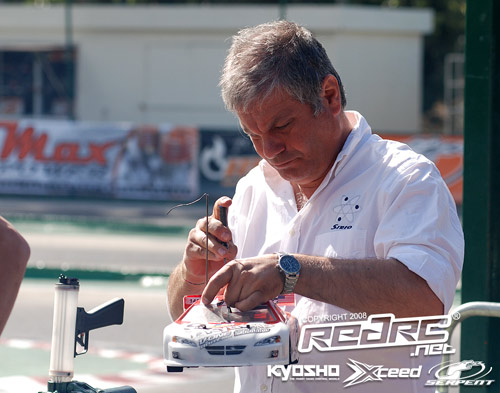 Chris Tosolini who was our Top Qualifier at the end of Day 1 had an interesting time with a bee during his fifth heat. Distracted by the bee which landed on his finger the Kyosho/Sirio said he spent ages trying to get rid of the trespassing insect but with his attention distracted he hit a curb and broke his inside rear tyre. Asked how the run was without the bee Tosolini said, 'If the bee didn't get involved you know were we would have been! I was driving super smooth and the car was great.'
Once again Ralph Burch was setting very fast laps recording the second fastest lap for the round but yet again the RC America driver was dogged by bad luck this time his engine coming to a halt on the back straight. His fellow countrymen also had bad luck with Josh Cyrul's car stopping as a result of a broken tab on his receiver battery while Barry Baker, who was struggling with his engine, clipped a curb coming on to the straight which slammed his Team Magic into the wall pretty much destroying the car.
One of the star of yesterday's qualifiers, Martin Lissau from Denmark was again running a fast pace but his engine ran out of fuel before the finish. Lissau, the current 1:5 World Champion, is really impressing here in Lisbon as this is only his fifth 1:10 nitro race this year.
Top 10 after 5 rounds
1. Jilles Groskamp (NL) – 32 Laps in 10:11.241
2. Daniele Ielasi (IT) – 32 Laps in 10:11.904
3. Balestri Dario (IT) – 32 Laps in 10:13.809
4. Takaaki Shimo (JPN) – 32 Laps in 10:16.393
5. D'Angelo Giuseppe (IT) – 32 Laps in 10:16.657
6. Martin Lissau (DNK) – 32 Laps in 10:16.700
7. Martin Christensen (DNK) – 32 Laps in 10:16.776
8. Chris Tosolini (USA) – 32 Laps in 10:17.428
9. Peter Jovanovic (AUS) – 32 Laps in 10:18.893
10. Martin Hudy (SK) – 32 Laps in 10:19.360
View our image gallery here.
---