July 8, 2015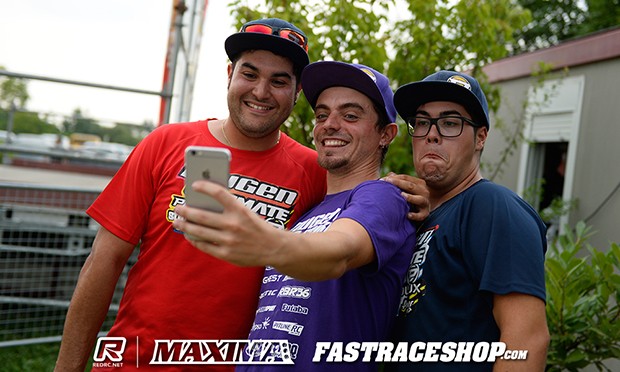 Bryan Baldo has ended Day 2 of the 1:8 Offroad European Championships in Sacile, Italy, as the fastest driver around the Ongaroring but it is fellow countryman & Mugen team-mate Robert Batlle who is the top seed as the event moves into qualifying tomorrow. Baldo put in an impressive 3-consecutive-laps in the second of the day's two timed practice rounds with a time of 1:53.059, bettering Batlle's TP1 topping time by over a second. Behind Baldo, Italian Alex Zanchettin posted the second fastest time of day practice with a 1:53.507 in TP2. However using EFRA's tie-break, points awarded each round, the TLR driver is ranked 4th behind Kyosho's Riccardo Berton.  An improved TP2 would see defending champion David Ronnefalk post the 6th fastest time which was good enough to seed the HB/HPI Racing driver 10th.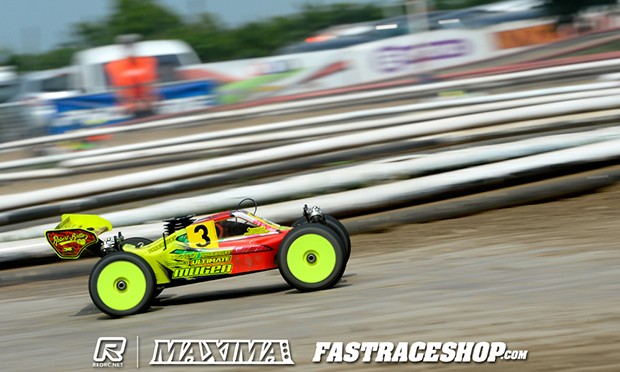 Showing great consistency, his second practice time was only 2/10ths off his opening pace, Batlle said he was going for a better time over his last three laps of the 8-minutes but he ran out of fuel with just one corner to go.  Fitting a softer rear rollbar to his MBX-7R as well as switching to Procircuit's blue compound Hot Dice tyre, the '07 & '11 Champion said he was 'happy with (the) consistency'. Believing he has 'good speed', he is 'confident with the car' and will start qualifying with it unchanged and focus on putting in a clean first round.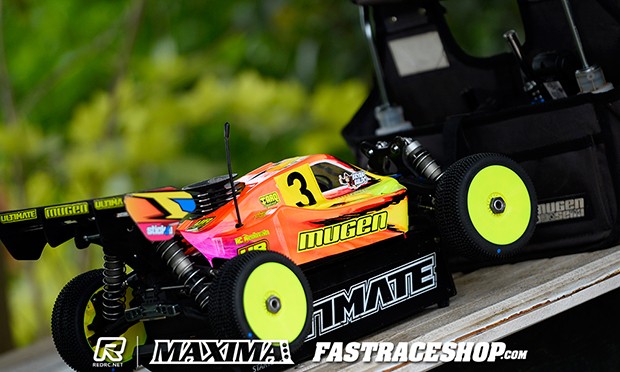 Changing the set-up on his MBX-7R for the final practice to less rear anti-dive, Baldo said this improved it a lot.  Also going for a harder compound Procuit Hot Dice tyre, which made for more stability through the corners, the older of the two Baldo brothers said he was very comfortable now with the car.  Asked how he liked the track, his own family's track hosting next year's Euros, the 23-year-old said at first he found it a bit difficult but having adapted his driving he now really likes it.  Hoping there is no overnight rain, rain drops falling on a number of occasion over the day, he said he wont change anything for Q1.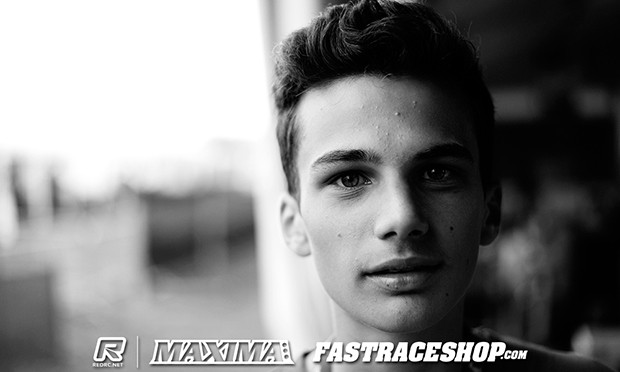 Freshly crowned European B Champion Berton would make a front shock tower change to his MP9 for the final practice.  Running the new taller tower in combination with Kyosho's longer shock, this brought a big improvement over the bumps. Having felt after TP1 there was more time to be gained from his driving in the centre section, with the new suspension set-up the 16-year-old achieved this. 'Very happy' with his day, having stuck with Pro-Line's Blockade tyre for TP2 he plans to make the switch to X2 Suburb for Q1.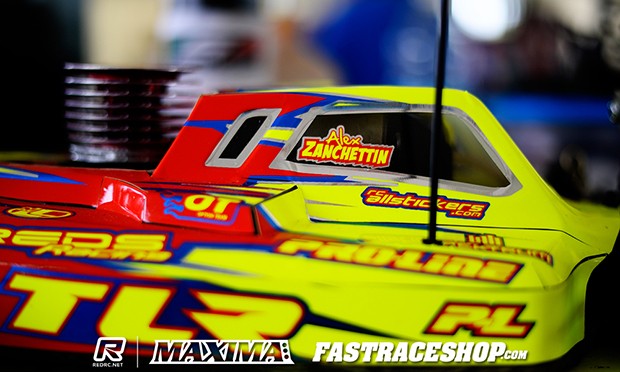 Only 20th fastest in the first timed practice, Zanchettin was much happier with his 8ight 3.0 after a change of tyres and running less rear toe-in.  The reigning Italian National Champion switched from Holeshot to Suburb which made the car a lot more consistent it being 'really easy to drive but still fast'.  With the track improving, the 20-year-old said it was now more like the Warm-up Race and going into qualifying he was 'happy for the moment'.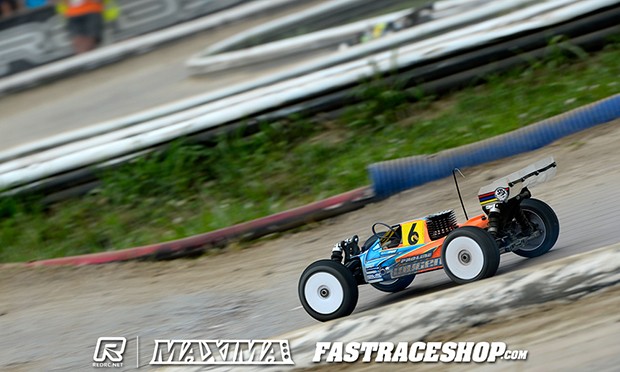 Behind Zanchettin in the seeding, HB team-mates Renaud Savoya and Teemu Leino would end up fifth and sixth with their TP1 times despite TP2 proving much faster for a number of drivers. Lee Martin would post the fourth fastest time, a tenth up on Ronnefalk. Seeded 7th, the Mugen driver said 'finally we got to the point we needed to be'. Having felt he had good pace yesterday, he put the improvement mainly down to reverting back to the same tyres he was good on before, X2 Blockades, he said he also changed his set-up to be closer to that of team-mate Batlle which helped too.  Describing the track as 'more rutted now' he feels his MBX-7R is not rolling enough and for tomorrow he will go 'a touch softer' with his shock oils.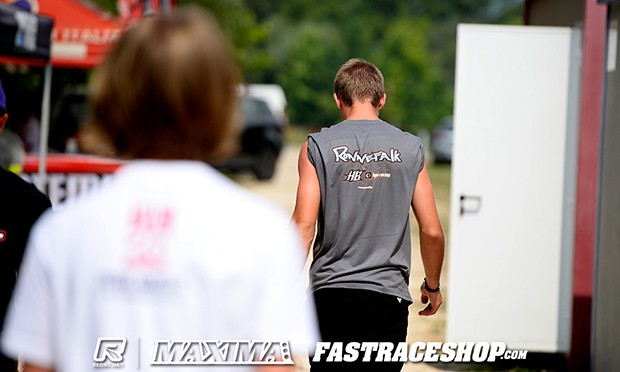 With the sixth fastest time from the two timed practices, Ronnefalk declared himself a lot more confident about qualifying following his second run.  Changing to AKA's Chain Link tyre, having had to wait for the track to be clean enough to use the tyre which he also ran at the Warm-up Race, the Swede the result saw his Orion powered D815 being the best its been so far.  The only change he made, he said it was 'really good' and he feels 'really safe with the car'.  Having been on for a 1:53 pace until a mistake on his third lap the 19-year-old will continue with the car unchanged going into Q1 in the morning.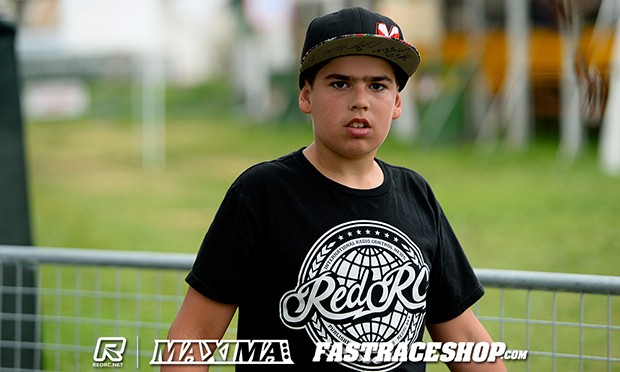 Son of event organiser Mauro Ongaro, 14-year-old Davide would see his car transformed by a simple body change.  Describing his Mugen as 'so so' in the first round, a switch from the standard Mugen to a DT Racing bodyshell his LRP powered MBX-7R was 'way more stable'  Having been concerned by his lack of pace in TP1, with the car 'less edgy' and him able to post the 7th fastest time in the second round he was now 'super happy' and will keep it the same for Q1.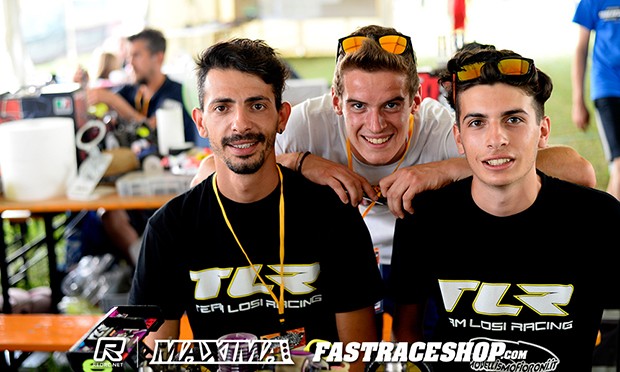 Winner of the Euro B Championships when it was held at the Ongaroring in 2013, Marco Baruffolo was 8th fastest in the day's closing action.  The TLR driver said a combination of changing tyres and better driving led to his 4-second improvement.  Switching from medium Grid Iron to Chain Link tyres he said his Picco powered 8ight had more traction and steering.  In terms of his driving, the 17-year-old said he drove 'cleaner lines'.  Looking to further improve his corner speed by getting the car to turn in faster he will switch to a softer front spring for Q1.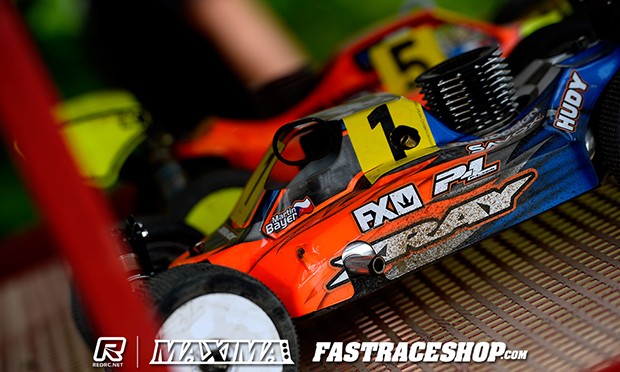 2013 Podium finisher Martin Bayer was just behind the two Italian teenagers on pace, the Czech driver making improvements after switching from Holeshot to Handlebar tyres. Giving him more corner speed and making his FX powered XB8 easier to drive, he said running in the second heat the track was changing so much by the time the fastest guys were out on track later in the round.  Overall however the former Electric Offroad European Champion said things were going 'pretty ok' and 'comfortable with the car' he would just wait to see how tomorrow goes when he will run in the same heat as Ronnefalk and Baldo and his Euro Offroad Series rival Joern Neumann.
View our event image gallery here.

---