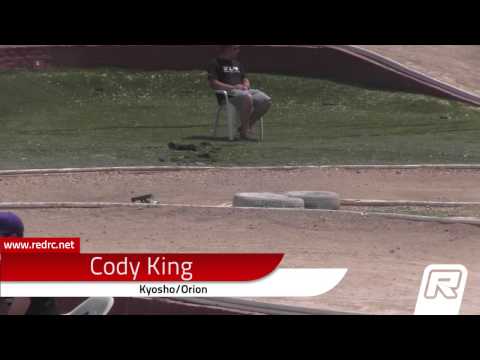 Wednesday, December 5, 2012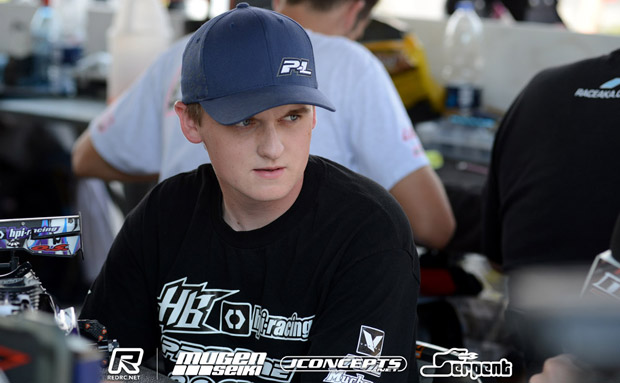 Team HB's Ty Tessmann upped the pace in the second round of qualifying which brought Day 4 of the 1:8 Offroad Championships to a close in Argentina. The Canadian bettered Robert Batlle's morning time by 1.3 seconds to top the Q2 time sheets ahead of Kyosho's Jared Tebo with Batlle's Mugen posting the third fastest in the hotter afternoon run.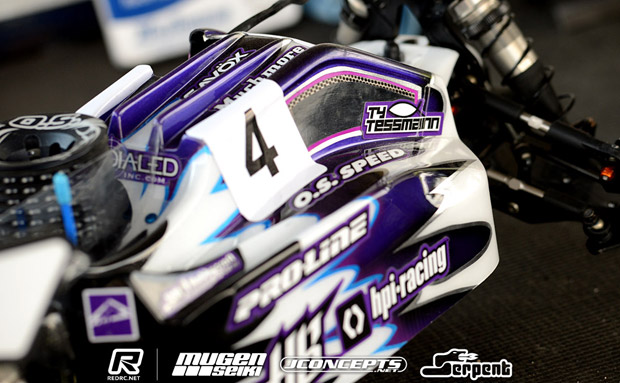 Having made a mistake in Q1 which left him with the fifth fastest time, Tessmann said the second run was crash free.  Switching to the X2 compound of Proline's Bowtie tyre he said these suited the hotter conditions better.  Happy with the run he said they ran shock oil that may have been a little too soft for the run and so if the track stays dry for tomorrow the US National Champion believes he can probably better the time.  Team-mate Atsushi Hara said they may have got a little lost when choosing their set-up for the warmer conditions of Q2 which compared with the overcast morning run was held in much sunnier conditions.  The 2008 World Champion & 2010 Runner-up said ultimately it was his driving that was the problem as he made too many mistakes claiming only the 19th fastest time.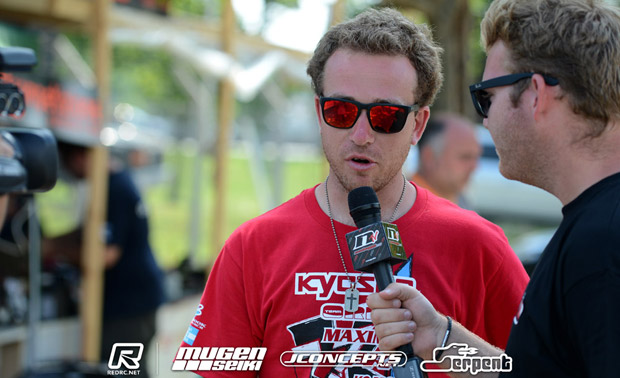 Another driver that lost time in Q1 due to mistakes, Tebo was very happy with his second qualifier, the American saying he 'kept it clean this time'.  Running AKA Impact tyres on his Orion powered MP9 the Top Qualifier at the 2010 Worlds in Pattaya, said his buggy felt really good and everything worked really well and he declared himself 'ready for tomorrow'.  Kyosho/Orion team-mate & defending World Champion Cody King also had a better second qualifier as he managed to set the 8th fastest time.  Running Proline's X2 Blockade he said small adjustments to the set-up made the buggy a lot better but the big improvement came from his driving.  Planning to switch to the Bowtie tyre, which Tessmann used to good effect, for tomorrow's Q3 King said he will also try Kyosho's new hub weights which he said should help the buggy to settle a little better and reduce the aggressiveness of the steering.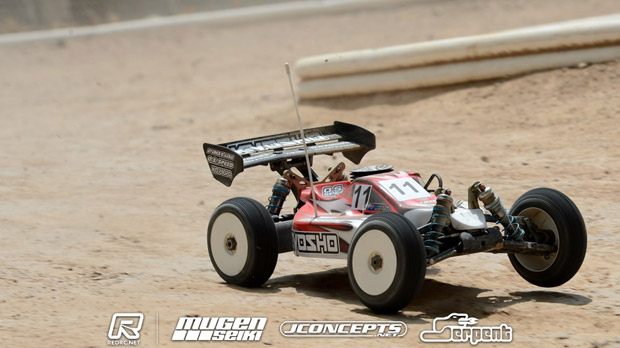 Overall the second qualifier was a good round for Kyosho with the company to hold the most 1:8 Offroad World titles getting five cars in the Top 12.  FEMCA Champion & star of 2010 when he made his Worlds debut, 16-year-old Kyle McBride took his OS Speed powered MP9 to the sixth fastest time ahead of Jerome Aigoin while Warm-up Race Top Qualifier David Ronnefalk who had a difficult Q1 set the 9th quickest run.  McBride, who didn't attend the Warm-up race, said he got his tyre choice the wrong way round today running Proline Calibers in Q1 and Blockades in Q2.  Starting the event with a set-up Kyosho came with after the Warm-up the Australian said he is now back at a very similar set-up to that he runs back home and he is confident of a better day tomorrow.  Elliot Boots, who was the best placed Kyosho in Q1 with 4th, had a terrible second run, the British Champion saying he similarly made a wrong tyre choice using too soft a compound of the AKA Moto which caused his buggy to be very edgy.
Winner of the Warm-Up race at the end of September, Batlle described his second run as 'OK'.  Declaring himself happy to back up his Q1 TQ run with the third fastest time he said the rear end of his Novarossi powered MBX7 felt a touch too soft and for Q3 he plans to run a harder spring.  Just behind the Spaniard was his Mugen team-mate Lee Martin, the British driver improving his Q1 time by 1.5 seconds.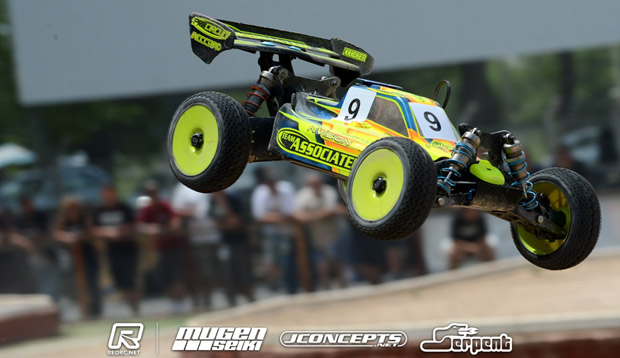 After a disappointing Q1, Team Associated's Yannick Aigoin put in a strong 10-minutes in Q2 to set the fourth fastest time.  Team-mate Ryan Maifield once again completed the Top 10 despite one crash that required his LRP powered RC8 to be marshaled. Comfortable to drive the American is looking to get more speed from the buggy and following his run he promptly returned to his hotel to start rebuilding for tomorrow and to consider what set-up changes to make.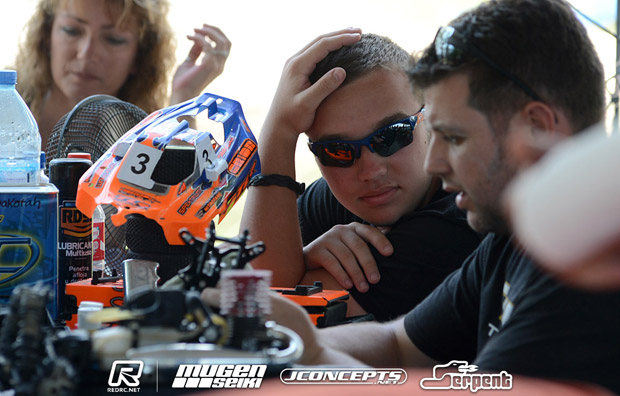 Having set the second fastest time in the opening heat, TLR's young star Dakotah Phend made a wrong tyre choice for his second run, the Proline Bowtie rubber being to soft a compound for the conditions.  Adam Drake would be the fastest 8ight in Q2, the American nitro offroad legend setting posting the 10th quickest time.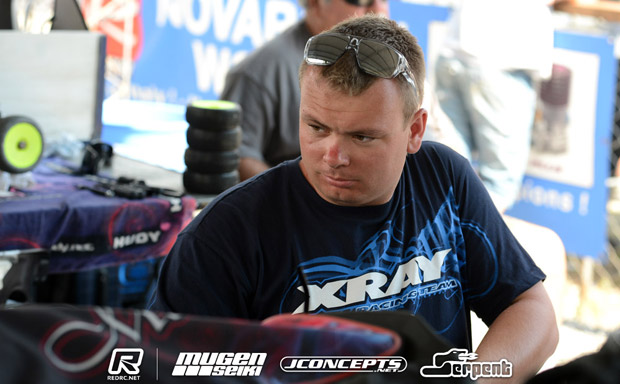 Having set the third fastest time in Q1, Team Xray's Martin Bayer said his set-up just didn't suit the hotter conditions with the Czech driver only able for the 12th fastest time.  Team-mate Renaud Savoya had a difficult second qualifier.  The French ace had a 'big crash' which he said cost him a lot of time and during his fuel stop he suffered a flame out.  With his RB engine running fine in Q1, Savoya said they are having problems with it cutting out once the conditions get hot and have tried different pipes and a different fuel but he is not sure what is causing the problem.  Having not been happy with his tyre inserts in Q1, Savoya tried a different type in Q2 but said they were 'not good'.
With rain imminent the decision was made following today's qualifying to revise the timetable for tomorrow with the start time brought forward to 08:30 local time so that 3 rounds of qualifying can be run rather than the 2 originally planned.
Round 2 Qualifying Top 12
1. Ty Tessmann – HB/OS Speed – 14/10:36.255
2. Jared Tebo – Kyosho/Orion – 14/10:38.130
3. Robert Batlle – Mugen/Novarossi – 14/10:41.999
4. Lee Martin – Mugen/Novarossi – 14/10:43.532
5. Yannick Aigoin – Associated/nVision – 14/10:44.068
6. Kyle McBride – Kyosho/OS – 14/10:44.150
7. Jerome Aigoin – Kyosho/Novarossi – 14/10:45.483
8. Cody King – Kyosho/Orion – 13/10:01.388
9. David Ronnefalk – Kyosho/Orion – 13/10:01.418
10.Ryan Maifield – Associated/LRP – 13/10:02.747
11.Adam Drake – TLR/Novarossi – 13/10:02.776
12.Martin Bayer – Xray/LRP – 13/10:03.170
View our event image gallery here.
Tuesday, December 4, 2012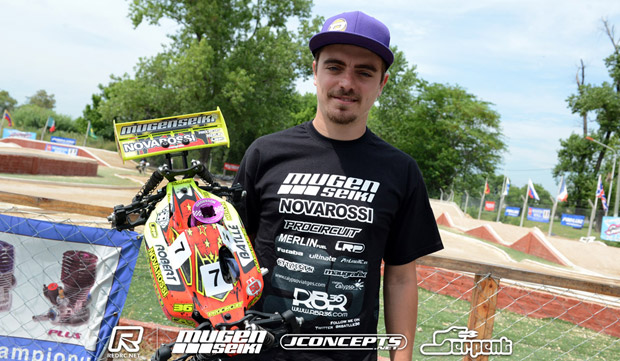 Robert Batlle has TQ'd the opening round of qualifying at the 1:8 World Championships in Buenos Aires, the factory Mugen driver topping the 10-minute run by 4.3 seconds from TLR's Dakotah Phend and the Xray of Martin Bayer.  With the teams and drivers expecting to wake up to a wet track this morning the forecasted rain stayed clear and the action was able to get away at 09:00 with Heat 1, made up of fastest Top 12, something that took many by surprise.  Team Associated's Ryan Maifield, who was in that heat, was very critical of the event saying it was the 'worst' World Championships he had been to as there was a complete lack of communications. He continued that the schedule is being followed and the re-sort for the qualifying was not done how it was supposed to be done.  He finished his criticism with 'where is IFMAR?'.
Running a time of 14/10:37.538, Batlle said he just tried to run a good safe heat with there being a strong threat of rain before the second qualifying round and in the end was a surprised to TQ as the run didnt feel that fast.  Running purple compound Procircuit Hot Dice tyres on his Novarossi powered MBX7, the Warm-up Race winner said the buggy was good however track repairs made this morning left a number of sections of the track very slippery due to the cement dust.  In terms of his plan for Q2, the 3-time European Champion said he will wait until nearer the afternoon's run to see how much the track has broken up and also see what the weather decides to do.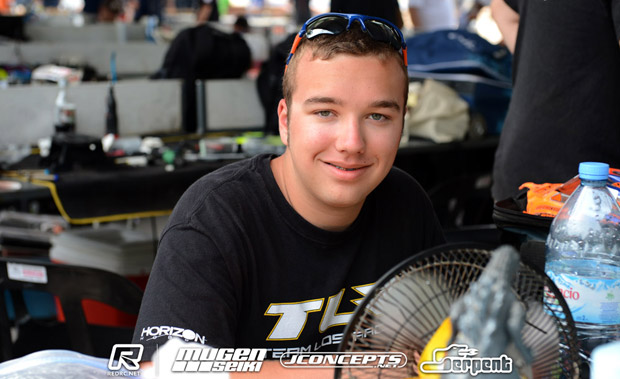 Phend said his run was really good and he was happy to have kept his Orion powered 8ight on its wheels for the entire run.  Using Proline Bowtie tyres, the 15-year-old who was a very close runner up at this year's hugely competitibve US Nationals said while the cement dust made things a little tricky the repair work to the jumps made them a lot better.  Looking forward to Q2, Phend said he would probably run the same set-up and tyres again but said he would make the call on that nearer to the time of the run.  Team-mate & reigning European Champion Darren Bloomfield, who is running in heat 2, failed to finish his opening qualifier after he broke a front arm on his 8ight.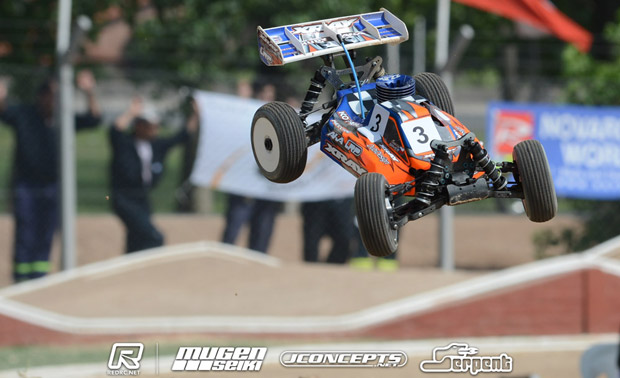 Setting the third fastest time Bayer, who is running in Group 3, was very happy with his run.  The factory Xray driver said he made a few mistakes in the opening two laps but thereafter the run was really good with his LRP powered XB9 very easy to drive.  Running AKA City Block tyres he said a suspension change and a wing adjustment improved the buggy from yesterday.  The Czech ace said what he does for Q2, commenting the car needs to be adjusted for every run due to the changing conditions, would depend on how the track holds up.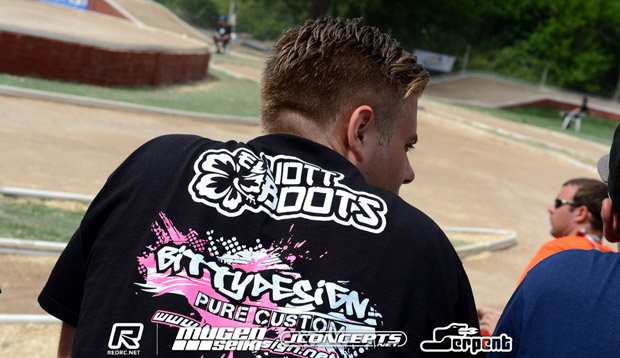 Suffering a mistake of his own doing and then having problems with traffic on his last lap,  yesterday's controlled practice pace setter Elliot Boots said the incidents cost him about 9-seconds in total to leave him 4th fastest but he said 'thats how it goes'. Running AKA Cityblock on his Novarossi powered MP9, the 19-year-old British Champion said he found the track quite edgy compared to yesterday and so he plans to make a few set-up adjustment but he will wait and see how the track changes over the remainder of the first round of qualifying before adjusting anything.
Team HB's Ty Tessmann set the fifth fastest time despite a mistake on the step-up which left the Canadian's D8'12 needing to be marshaled.  Fitted with Proline Bowties, the US Champion said the buggy was really good and other than freshening it up for Q2 he doesn't plan to make any set-up changes.  He said his focus for this afternoon's run is to 'try not to crash.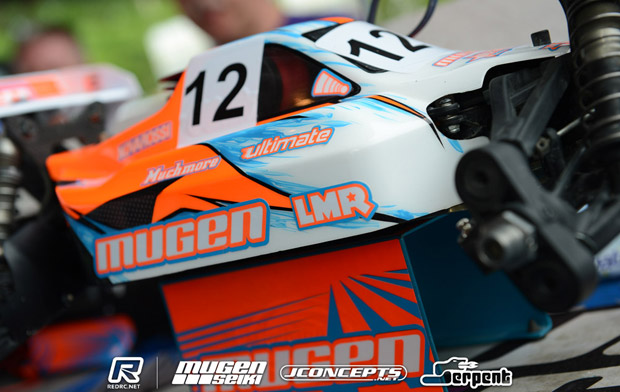 Taking his Mugen MBX7 to the sixth fastest time, 3-time European 2WD Electric Buggy Champion Lee Martin was very happy with his start to qualifying.  The British ace said his buggy was not as fast as in practice but it was easy to drive apart from one mistake, which he put down to being 'semi nervous', that cost him around 2-seconds.  Choosing medium AKA iBeam tyres, Martin said the soft compound would have been fastesr but he made the choose to make the buggy safe.
Team Xray's Renaud Savoya said his objective was to drive a safe run and keep his XB9 on its wheels which is what he achieved.  The Frenchman said he was the fastest buggy on the track but the aim was to get a solid Top 10 run and so he was happy with 7th.  Comfortable with his buggy in the first half of the run he said after refueling it felt a little edgy something he thinks was due to the insert he ran in his Sweep Battle Star tyres.  For Q2 the 2008 Worlds Podium finisher said he will fit the inserts differently and may glue them to the edges of the rim.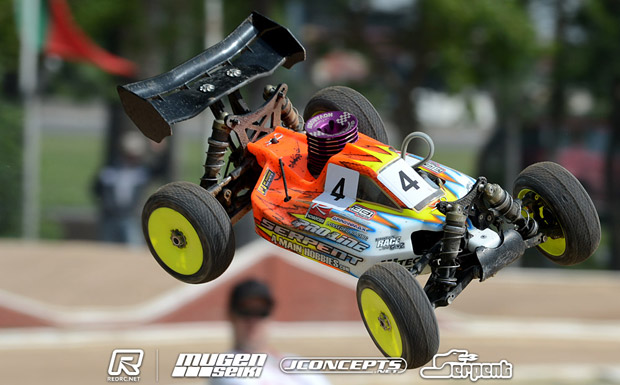 One of the smallest factory teams in Argentina, Serpent's Billy Easton set the 8th fastest time with his S811 Cobra. The American, who designed the buggy, was happy with the result but said it could have been much better had he not had traffic problems.  Catching up to a slower car early in the heat he said this caused him to make a mistake and having being one of the last cars to start the run he said on his final lap he lost further time as all the other cars were running around the track slowly having already finished their 10-minutes.  The former electric offroad World Champion said in the first half of the race the buggy was a little loose something he put down to the fresh set of Proline Blockades but after the fuel stop he said he put together some 'really good laps'.  Looking to bag another safe run in Q2 he said he doesnt plan to make any set-up changes for this afternoon.  Behind Easton was two time European Champion David Tortorici who took his Bliss powered Mugen to the 9th fastest time.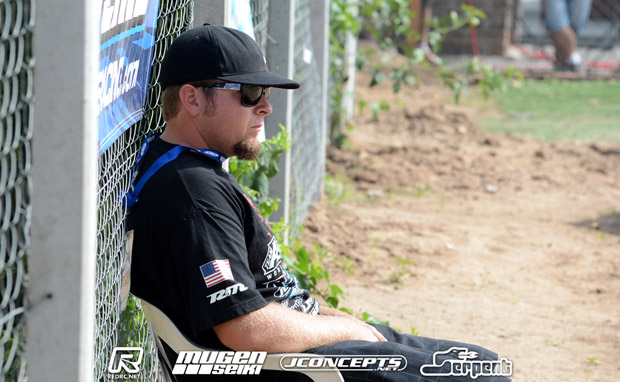 Having got his opinions of the way these World Championships are being run off his chest, Maifield said changes to his RC8 last night made it a little more difficult to drive but overall the run to the 10th fastest time was 'OK'. Having not had time to mount a new set of tyres due to the unexpected heat resort, the former US Champion ran the same set of JConcepts Metrix tyres he used in controlled practice yesterday.  Planning to make a revert back to his set-up used in CP2 he said with a fresh set of tyres he should have a better package for Q2.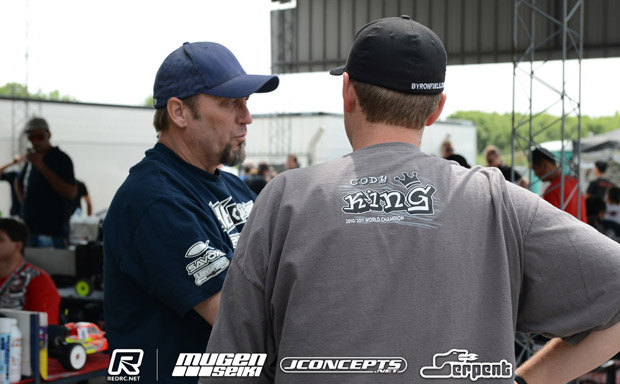 Defending World Champion Cody King said he took the full blame for a poor opening qualifier.  The Kyosho driver said his MP9 was pretty good but he just tried to drive it too hard.  Putting it down to 'first round jitters' the first 5-minutes of the run was full of mistakes but he hopes he has now got it all out of his system and is looking forward to a much better Q2 run.  Team-mate Jared Tebo, Top Qualifier at the last World Championships, needed to be marshaled twice, one time being on his final lap but still set the 11th fastest time.  The American said his MP9 was really good but he was pushing it over the limit at the time of his two occassions.
Round 1 Qualifying Top 12
1. Robert Batlle – Mugen/Novarossi – 14/10:37.538
2. Dakotah Phend – TLR/Orion – 14/10:41.924
3. Martin Bayer – Xray/LRP – 14/10:42.680
4. Elliot Boots – Kyosho/Novarossi – 14/10:44.646
5. Ty Tessmann – HB/OS Speed – 14/10:45.024
6. Lee Martin – Mugen/Novarossi – 14/10:45.036
7. Renaud Savoya – Xray/RB – 14/10:45.466
8. Billy Easton – Serpent/Novarossi – 14/10:45.925
9. Davide Tortorici – Mugen/Bliss – 14/10:47.046
10.Ryan Maifield – Associated/LRP – 13/10:00.849
11.Jared Tebo – Kyosho/Orion – 13/10:00.889
12.Teemu Leino – HB/LRP – 13/10:02.274
View our event image gallery here.
Tuesday, December 4, 2012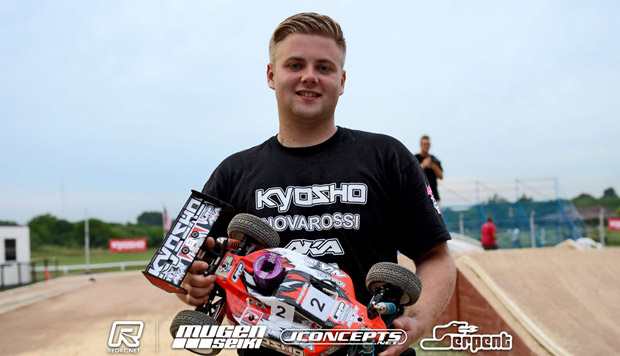 Elliot Boots is the top seed for qualifying at the 1:8 Offroad World Championship which is scheduled to get underway in the morning but with heavy rain expected to arrive once again in Buenos Aires there is the strong possibility that we may see no action at all tomorrow.  After a four hour delay to the start of racing today due to over night rain, the normal 2-minute practice run held after controlled practice to ensure the timing for the reseeded heats is correct was cancelled with track officials wanting to get the track covered before the arrival of the wet weather.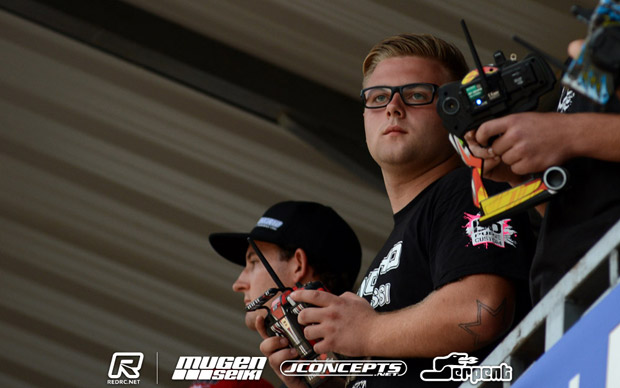 With the humidity rising throughout the second controlled practice causing moisture to come up through the clay surface in a number of spots around the track, drivers in the top heats all reported that conditions were greasy.  Boots who managed to better his CP1 time by exactly 1/10th of second ran the same set-up set up on his MP9 but switched from AKA Moto tyre to City Block and other than a few issues with traffic the run was good.  Declaring himself happy with both his pace and how his buggy is working the British ace said he planned to continue with everything the same for qualifying should we be lucky enough to avoid the rain but added if it does rain he is confident that they have a good set for a drying track.  Hoping that it doesn't come to running on a wet track, reports of the wet weather varying from just one day to three continuous day, he said set-up for such conditions count for nothing and to do so would cause the track to deteriorate really badly.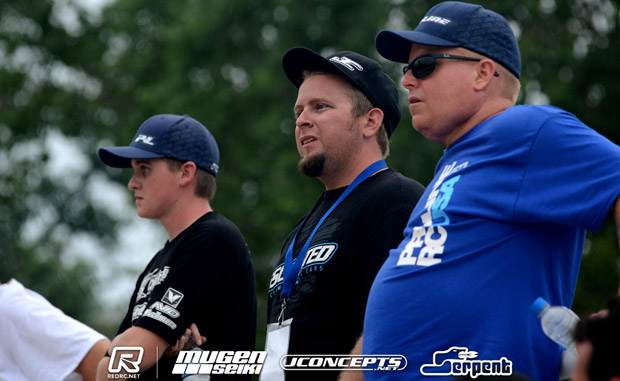 Bettering his CP1 time by almost 3 seconds to claim second in the seeding, which when published raised a few eyebrows as most expected it to be based on each driver fastest run time not on points, Ryan Maifield said while rebuilding his Associated RC8 he would also be adjusting his diff oils and shock positions.  The result was a less consistent and harder buggy to drive but overall it was faster, his time being the third fastest run overall of the two controlled 5-minute runs. Once again running JConcepts' new Metrix tyre, the former US National Champion said based on his first qualifier being a dry run he will make a few more small changes saying you can 'always make it work better'.  Team-mate Yannick Aigoin also made the top heat taking his nVision powered RC8 to 9th in the ranking.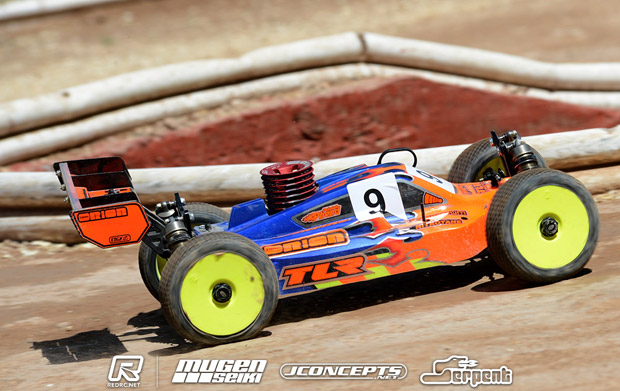 Setting the second fastest overall time of controlled practice in CP1 but classified third in the reseeding, TLR's Dakotah Phend said set-up changes made to his 8ight for the second run did not work.  Running a time 9-seconds slower he said for Q1 they will run a set-up that is half way between that used in the first and second run.  Overall the 15-year-old said he was really happy with how practice went and he is feeling good going into qualifying.  Team-mate and reigning European Champion Darren Bloomfield who ended the day seeded 23rd said despite the track conditions his 8ight, which was running on AKA Enduro tyres, was much better but it was far from perfect.  Suffering from bad understeer off power it was also steering from the rear on power.  Planning to change the camber link on the front tower the British driver said he hoped this would improve things.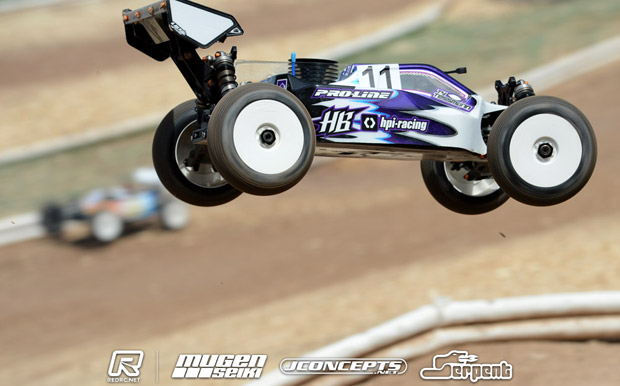 Shaving 3-second off his first run, HB's Ty Tessmann will carry No.4 on his D8'12 in qualifying. The Canadian switched back to his free practice set-up which he said was much better. Running Proline Bowtie in the warm-up he switched to Blockades for the timed part of the run which while slightly slower than the former made the car pretty safe to drive.  Team-mate Atsushi Hara used Hot Bodies' Proto tyre for his second run, which is similar to AKA's Moto, but the run was fractionally slower. The former World Champion said the Grid Lock he used in CP1 was better but overall he was pleased to be seeded fifth adding he believes that he can be competitive in qualifying.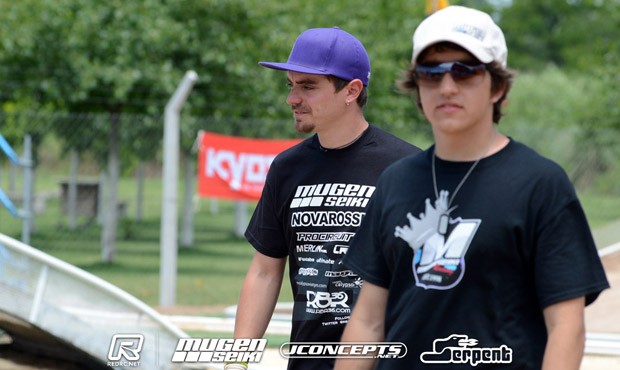 The top Mugen, reseeded in 7th behind Kyosho's Jerome Aigoin, two time former European Champion Robert Batlle went 6 seconds faster in CP2 setting the fifth fastest overall time despite choosing the wrong tyre.  The Spaniard has complained about a lack of power but said his Novarossi engine was now really strong and this made a big difference. Running a new and as yet unnamed pin tyre from Procircuit on his MBX7 he said the pins were too big and this together with the damp patches made the buggy a little loose.  Happy with where they are at with the new car he said with the right tyre choice everything should be good for qualifying but he added that the competition is very close and the loss of just one second could cost you up to five or so places.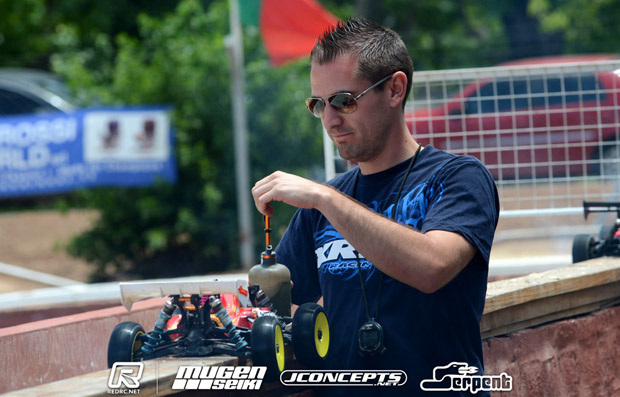 Batlle's big rival in Europea, Team Xray's Renaud Savoya posted the fifth fastest time of CP2 to be seeded 8th.  Improving his time by almost 8 seconds the French ace said a change of tyre compound made a huge difference to the feeling of his RB powered XB9.  Running Sweep's Battle Star tyre, he used the softer blue compound in the second run which gave the buggy a much better feeling.  Having had engine issues yesterday the 3-time European Champion said they got a better tune today and this was a big confidence boost.  Happy with where he is at he added, taking a look up at the cloudy skies over the track, that if it rains everyone will have to 'start again from zero'.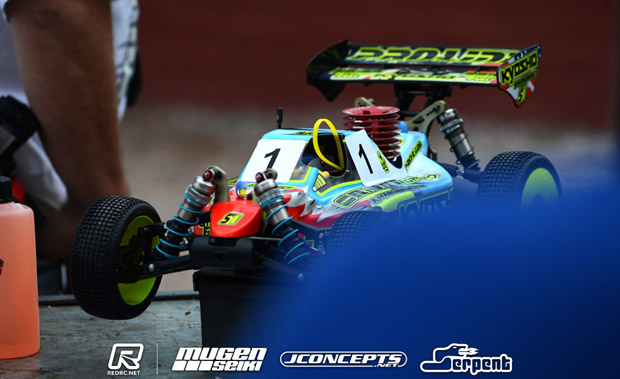 Reigning World Champion Cody King ended up 20th in the ranking one spot ahead of team-mate and 2010 Top Qualifier Jared Tebo.  King said his Orion powered MP9 was again better in CP2 putting the improved performance down mainly to a change to Proline's Big Block tyre.  The American said normally he would change very little with his set-up over a race event and instead adjust his driving to suit the track but here in Argentina he is having to make changes every run.  Having tried to focus on his own thing rather than getting hooked up on times Cody said right now his buggy feels pretty good and he is looking forward to qualifying getting underway.
Controlled Practice Top 16 Overall
1. Elliot Boots – Kyosho/Novarossi – 183 pts (7/5:17.508)
2. Ryan Maifield – Associated/LRP – 181 (7/5:18.402)
3. Phend Dakotah – TLR/Orion – 181 (7/5:17.429)
4. Ty Tessmann – HB/OS Speed – 180 (7/5:18.593)
5. Atushi Hara – HB/OS Speed – 180 (7/5:20.053)
6. Jerome Aigoin – Kyosho/Novarossi – 179 (7/5:20.282)
7. Robert Batlle – Mugen/Novarossi – 179 (7/5:18.687)
8. Renaud Savoya – Xray/RB – 178 (7/5:19.300)
9. Yannick Aigoin – Associated/Nvision – 177 (7/5:21.627)
10.David Ronnevalk – Kyosho/Orion – 177 (7/5:20.155)
11.Kyle McBride – Kyosho/Novarossi – 176 (7/5:20.667)
12.Lee Martin – Mugen/Novarossi – 175 (7/5:20.837)
13.Ryan Lutz – Durango/Alpha – 173 (7/5:23.141)
14.Shin Adachi – HB/OS Speed – 172 (7/5:23.316)
15.Taylor Petersen – Mugen/Alpha – 171 (7/5:22.099)
16.Davide Tortorici – Mugen/Bliss – 171 (7/5:23.582)
View our event image gallery here.
Tuesday, December 4, 2012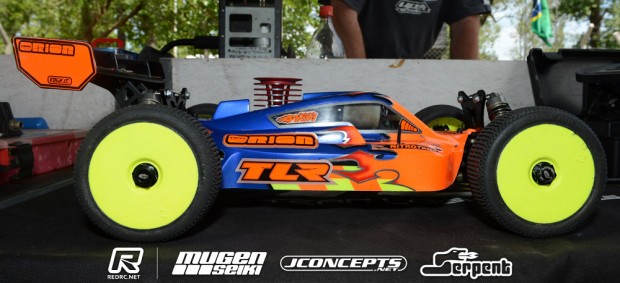 Chassis Name – TLR 8ight 2.0
Engine – Team Orion CRF B321
Tires – Pro-Line
Radio/Servos – Spektrum
Remarks – Dakotah Phend is running his TLR 8ight with a number of changes to the normal car, which the team are trying on this unique track. We were asked not to go into specific detail about the new parts but there are some subtle changes to the geometry and other suspension updates.
Image Gallery
Tuesday, December 4, 2012
Kyosho's Elliot Boots set the pace in the first controlled practice, the 19-year-old marginally faster than TLR's Dakotah Phend over the timed 5-minutes run with 2008 World Champion Atsushi Hara posting the third fastest time.  Overnight rain and high winds in Buenos Aires resulted in a 4-hour delay to the start of Day 3 of the 1:8 World Championships as officials waited for the track, which again received a covering of wood shavings, to dry out. The high winds left Team Associated having to rebuild their pit area after the tents were a tangled mess when the team arrived at the track this morning.  Credit to Boots, JQ and Ryan Lee the three drivers getting stuck in to try to clear the heavy area of water from the track.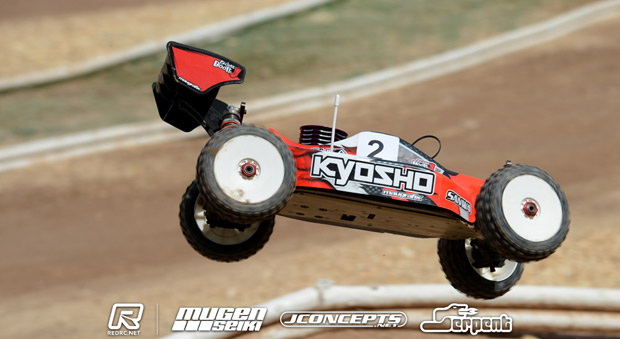 One of the most exciting drivers to watch on the track here in Argentina, Boots described his run as 'steady' adding he just 'kept it clean'.  Running the same set-up on his Novarossi powered MP9 as yesterday, the British National Champion said the only change was tyres running AKA's Moto tyres.  Really happy with the set-up which he said suits his driving he plans to leave it the same for the days second controlled practice only changing to City Block tyres. Asked about the track he said once you stay on line the track is not too bad but with the wood shavings running off line can be costly.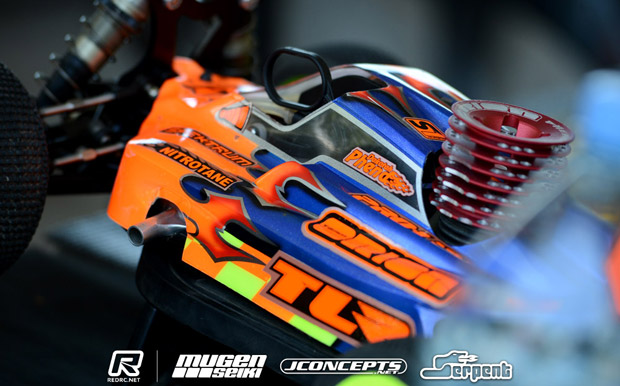 Phend said he had a few 'bobbles' on his run but overall he was pleased with his time.  Running Proline Bowtie tyres on his Orion powered 8ight,  he said his oils where a little soft for the condition which he added were rough but still not as bad as those he experienced at the Warm-up race.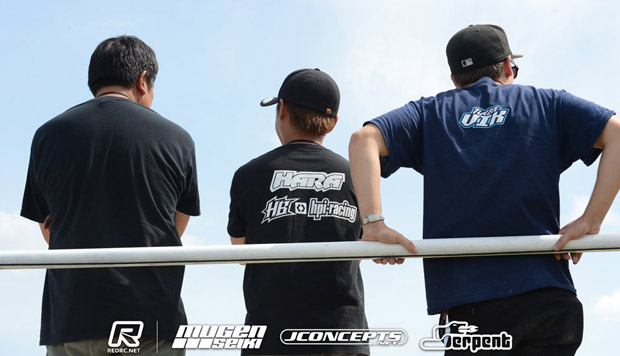 Hara was very happy with his run saying things are starting to come together.  The Japanese ace said his engine testing yesterday paid dividends today with the OS Speed engine he used having perfect power delivery for the conditions.  A clean run, Hara ran Hot Bodies Grid Lock, but happy that his time will be good enough for a strong seeding for tomorrow's qualifying he plans to try a few set-up changes as well as trying an AKA tyre.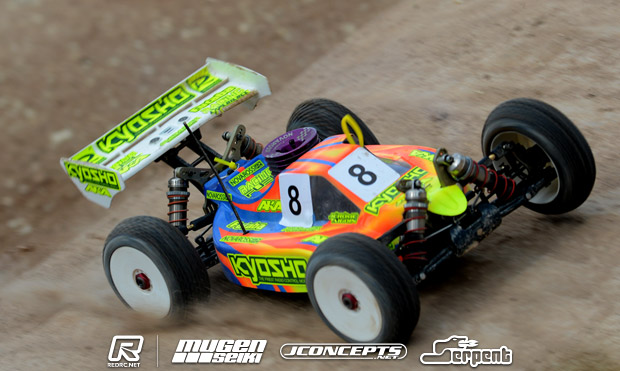 Setting the fourth fastest time Jerome Aigoin described his run as consistent and mistake free adding that this is more important than setting a good time. The French National Champion ran AKA Crossbrace on the front of his MP9 and iBeam on the rear and declared himself happy with the feeling of the Novarossi powered buggy.  Team-mates Jared Tebo and defending World Champion Cody King set the 15th and 36th fastest times.  Tebo, who originally had AKA Moto tyres fitted to his MP9 for the run, which was what Boots used, the American made a last minute switch to soft iBeams.  His first time to try the tyre at the track the 2010 Worlds Top Qualifier said they worked OK but for his next outing he will switch to the Impact tyre.  Suffering two mistakes Tebo is confident that with a clean run he has good pace and is overall happy with how his set-up is working.  King also had two bad laps but with help from Orion engine guru Adrien Bertin he said things are getting better with his set-up.  The American said he doesn't like this 'racing the clock stuff' and wants to get on with head to head racing.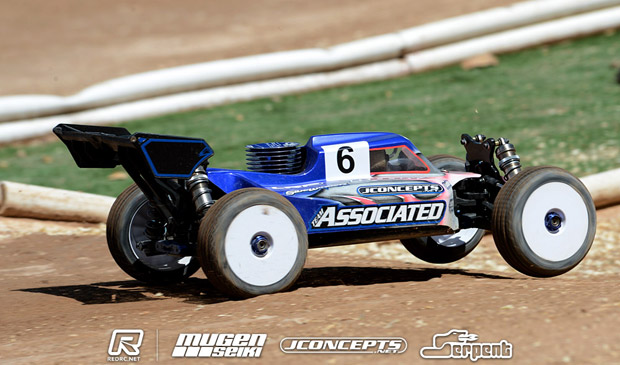 Team Associated's Ryan Maifield took his LRP powered RC8 to the fifth fastest time.  Running earlier than most of the top drivers, Maifield said he expected conditions for the first run to be muddy following the rain and so he opted not to rebuild his buggy but he said the track was dry and had good grip.  Running on JConcepts new Metrix tyre in red compound he said he didn't push too hard and overall it was a good clean run. Rebuilding his buggy with fresh parts, the Arizona driver said he thinks that should give him a much better car for CP2.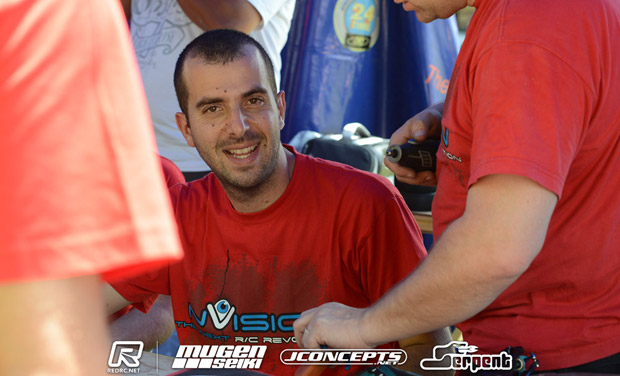 Yannick Aigoin took his nVision powered example of the heavily modified RC8 to the sixth fastest but the former European Champion said his set-up was not ideal for the conditions. Having run a hard set-up yesterday the French veteran switched to a soft set-up following the rain which while it made the buggy easy to drive but it was slow.  Aigoin said with more rain due he said it was good to get track time with the soft set-up but for the second controlled practice he will revert to the harder set-up.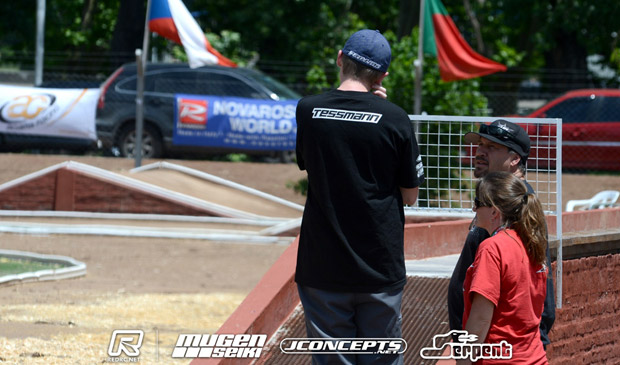 The fastest man in yesterday's free practice, Ty Tessmann said changes to the set-up on his HB D8-12 made it too aggressive.  Having to drive easy for the 5-minutes, the US National Champion said he will revert back to his earlier set-up but added its going to be hard to better the CP1 times now as the track is sure to be rougher and thus slower in the evenings run.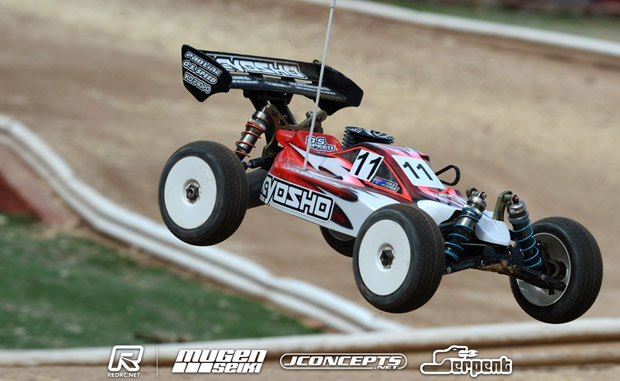 One of the stars of the last World Championships in Thailand, Kyle McBride put in a strong run to set the 8th fastest time with Lee Martin the top Mugen in 9th while Ryan Lutz completed the Top 10 with his prototype Durango.
Controlled Practice Top 10
1. Elliot Boots – Kyosho/Novarossi – 7/5:17.208
2. Phend Dakotah – TLR/Orion – 7/5:17.429
3. Atushi Hara – HB/OS Speed – 7/5:20.053
4. Jerome Aigoin – Kyosho/Novarossi – 7/5:20.282
5. Ryan Maifield – Associated/LRP – 7/5:21.195
6. Yannick Aigoin – Associated/Nvision – 7/5:21.627
7. Ty Tessmann – HB/OS Speed – 7/5:21.745
8. Kyle McBride – Kyosho/Novarossi – 7/5:21.836
9. Lee Martin – Mugen/Novarossi – 7/5:22.671
10.Ryan Lutz – Durango/Alpha – 7/5:23.141
View our event image gallery here.
Monday, December 3, 2012