November 15, 2014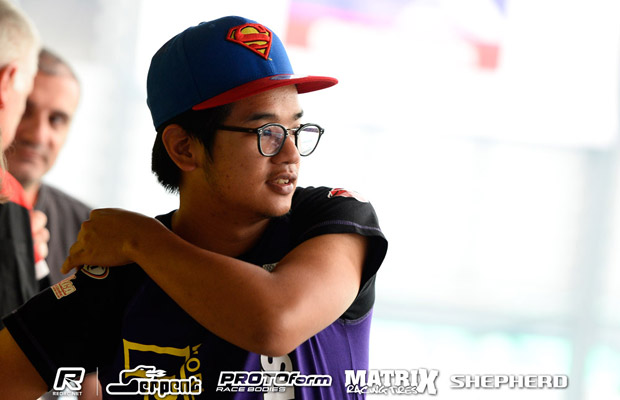 After a below expectations qualifying, reigning World Champion Meen Vejrak will defend his 200mm title from 4th on the grid after the 1/4 Final qualifier won his Semi Final to bump up to the 1-hour Main at Huge RC Circuit in Bangkok, Thailand.  Starting from 9th on the grid, the KM Racing driver quickly moved his way to the front making a strong pass on fellow 2012 podium finisher Francesco Tironi at the 13-minute mark coming of the sweeper at the end of the straight. Behind, Mugen driver JJ Wang would finish 7.7 seconds in 2nd after a thrilling last minute battle with Tironi, the pair originally battling for the last direct bump up position until Peter Jovanovic had to make a splash & dash on the penultimate lap having been running second.  Although the Australian had to wait to see the race times of the second Semi, his pace, as was that of Yuya Sahashi who finished 5th, was good enough to give him one of the 3-fastest race time bump ups.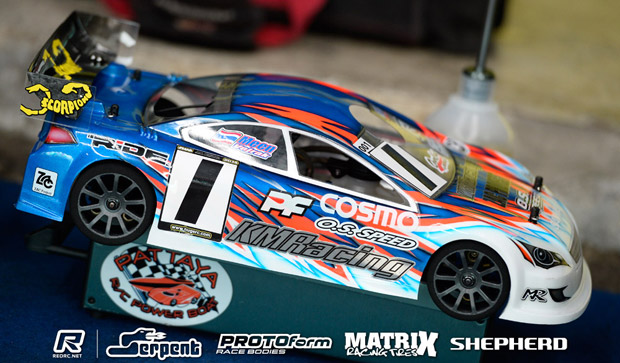 Commenting on his race, Vejrak said his OS Speed powered H-K1 was very difficult to drive towards the end of the half hour and driving the last 5-minutes at 'only 50%' he said he will have to make a set-up change for Q2 a sentiment shared by 16-year-old Wang who was delighted to make his first World Championship final.  Confident he can improve his car for the Main and having already run two finals today, the Pattaya driver said he is feeling really confident he is in a strong position to successful retain his World title. While Vejrak had a good race up front, his Semi would see the demise of fellow 2012 Finalist Andy Moore who went off and broke a rear lower arm on his HB R10, and former finalist Mark Green who suffered a flame out during his third pit stop.  Pole position starter Nicholas Lee made a good start to lead from Green for 10 laps until the Singapore driver rolled.  The Xray driver would eventually finish 8th just behind his cars designer & 2008 podium finisher Martin Hudy.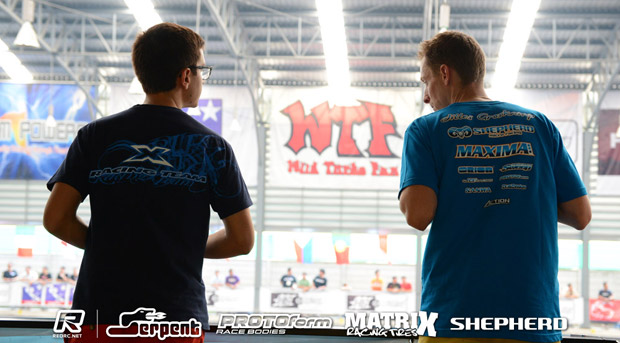 In the other Semi there would be confusion afterwards to who had actually won.  Originally the timing screen showed pole position starter Alexander Hagberg as taking the win from 2008 Top Qualifier Jilles Groskamp.  In the end after a number of checks it was discover that Groskamp had missed a lap on the timing system midway through the race and again on his last lap, the Shepherd driver being classified second but as a non finisher.  With the results corrected, the Shepherd driver who having ran one less stop than Hagberg having been able to get 6-minutes from his Maxima engine, would get the win and 2nd on the grid behind direct top qualifier Dominic Greiner with Hagberg lining up 3rd.  Also coming through from that Semi was Maxima team driver Mongkolpan Lomrose and 2010 podium finisher Takehiro Terauchi despite the Mugen driver having a flame out during his first stop.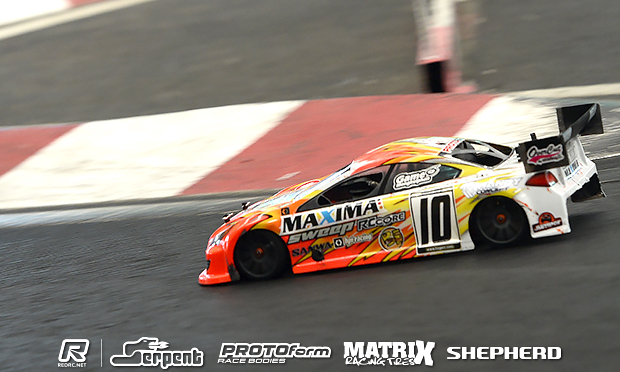 While Lomrose gave HB one car in the final, the same race would see the demise of their star driver Teemu Leino.  Running 4th, having bumped up from the 1/4 Finals, the Finn hit trouble on the out lap after his second stop, his R10 steering linkage popping out.  While his crew were able to fix it and getting him going again he would retire at 20-minutes with further steering problems after an off.  Host track owner Surikarn C who looked good to bump up would hit bad luck as he crashed with Simon Kurzbuch with his Mugen flaming out in the incident.  1:8 World Champion Tadahiko Sahashi, who started 2nd, would also be a non-finisher. Star of the Electric Touring Car World Championships in Florida last month, Bruno Coelho would call a 10-minute delay to the race start after his engine broke in the warm-up.  Getting a new one fitted and having to start from the back of the grid he would eventually finish 7th.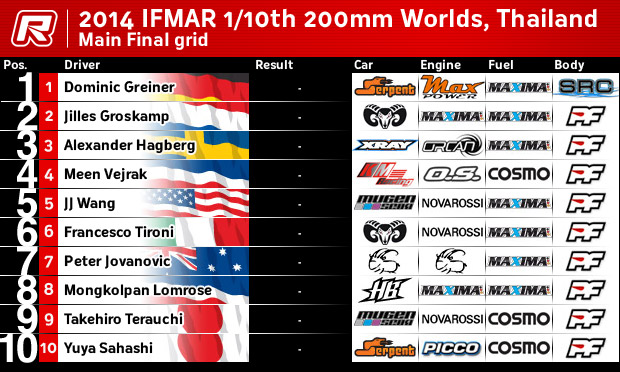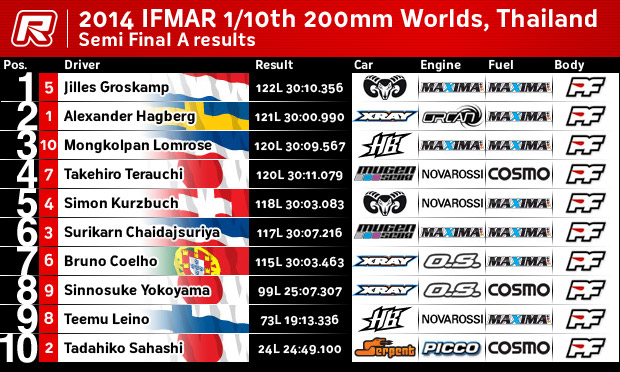 View the complete event results here.
View our event image gallery here.

---