July 23, 2009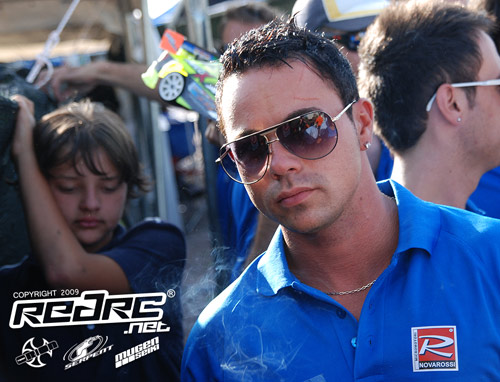 After being somewhat off the pace, defending champion Dario Balestri (15.950) has got it together topping the last controlled practice here in Gubbio. The Italian had struggled in the opening four sessions but reverting back to his set-up from yesterday he was able to take his Novarossi powered Team Magic around the track in a sub lap record time. Running 37 shore tyres all round, Balestri said the car was now very good and he can look forward to tomorrow's qualifiers.  Second fastest was Niki Duina (15.957). The Italian Xray driver said his NT1 has been working perfectly all week and other than changing to a harder rear spring he hasn't touched the car's set-up. Asked where he found the extra speed he said a simple switch to his good Max engine did the trick.
Electric touring car star Alexander Hagberg (16.000) was again quick with his Xray setting the third fastest time. The Swede said he was very happy now with his package and his main aim for tomorrow's timed practice is to try and get reseeded in a better group. Jilles Groskamp (16.049) was happy with his day posting the fourth fastest time in the final session. The World Championship Top Qualifier said he only made some small droop changes to his Serpent 733 and believes the car is pretty much perfect for qualifying. Groskamp feels the fuel stops will play a big part in outcome of qualifying with a lot of time to be gained or lost both on the entry and exit of the raised pitlane.
Two time Belgian National Champion Jerome Renaux (16.065) was fifth fastest with his Novarossi powered Xray. The European B finalist said a switch to heavier front diff oil had improved his car a lot but it is still a little loose. Renaux will change to a heavier rear shock oil to try and further improve the set-up. Having set the pace for much of the day 15-year-old Biagio Spataro (16.086) completed the Top 6 followed closely by Michael Salven (16.091) but the German is still having problems with his Mega ZX cutting out.  The Serpent 733 designer said when the engine he is running is really strong but is at loss as to why it intermittently cuts out.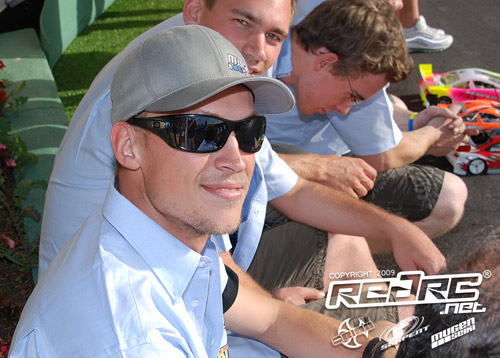 Current lap record holder, setting the 16.015 lap time at the Warm Up race back in May, Robert Pietsch (16.129) was a little happier with his pace this evening. The factory Mugen driver said his car is working better now but he is struggling to get it to be more aigle in direction change with bringing on traction roll.
Elsewhere World's Finalist Martin Christensen didn't feature much in terms of outright lap times but the Dane said he has had a very production day with the new Capricorn chassis.  Trying a lot of different set-ups he feels the speed is there for the seven minutes.
Our coverage, which is supported by Team Orion, Serpent and Mugen, continues in the morning when drivers will get one timed practices after a reseeded will be made ahead of the two qualifiers that make up Friday's timetable.
View our event image gallery here.
---