August 15, 2008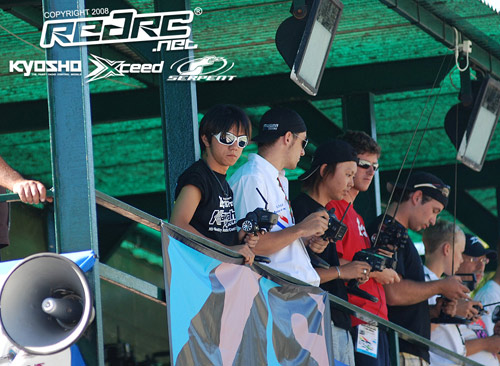 He's the current World Champion and he's been enduring a tough time in Portugal so far qualifying only 34th but Keisuke Fukuda has kept his title defence hopes alive by winning the 1/8 Final B which will see him progress to the final day of the 2008 competition. The Japanese ace looked as though his woes were to continue today as his car stalled during the count down to the start, the drama putting him last at the end of the opening lap.
The Mugen/Ninja driver made a great recovery to get back up front but was chased down throughout the 20-minute final by nitro newcomer Marc Rheinard who also makes it through to Saturday having bumped up two finals today. Fukuda's Mugen team-mate Rick V completed the top 3 to the relief and joy of his pit crew. The Dutch driver is very fast but was out of luck in the qualifiers.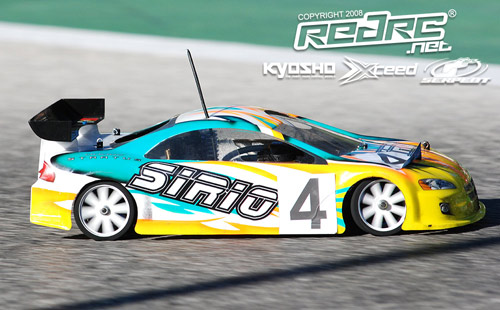 In the last race of the day, the 1/8 Final A, former 1:8 Buggy European Champion Miguel Matias took victory from Italy's Niki Duina putting them both through to tomorrow morning's 1/4 Final A. The battle for third was a rather heated affair between French driver Arnaud Chaussard and a slowing Brazilian Flavio Elias. The pair touched on the penultimate lap with Chaussard coming off the worst and once more on the final lap with Elias getting spun out. The Brazilian was called for a Stop & Go penalty for the first incident but continued racing and the Frenchman got the same penalty for the 2nd but had no opportunity to do his Stop & Go. With the race being over each driver had 10 seconds added to his finish times meaning the result didn't change with Chaussard claiming the last bump up spot.
Big names to bow out of the 2008 World in the 1/8 finals include top French driver Jacky Mouton, Brazilian Eduardo Dulac, Manuel Huber of Austria and young English talent Kyle Branson.
Just five races remain before we will know who is the 2008 IFMAR 1:10 200mm World Champion with the first of those finals getting underway at 10:00 local time. Thanks to our event sponsors Kyosho, Xceed and Serpent for enabling us to bring you our coverage from the Portugal throughout the week.
1/4 Final – A Starting line-up
1. Concialdi Basile (FR) XRAY/JP/Enneti
2. Walter Salemi (IT) Mugen/GRP/GRP
3. Josue Artiles Santana (ES) Mugen/Sirio/Enneti
4. Mark Green (GB) Serpent/Mega/Exceed
5. Josh Cyrul (USA) Xray/Novarossi/Jaco
6. Oscar Cabezas (ARG) Serpent/Mega
7. Teemu Saarinen (FIN) Mugen/GRP/GRP
8. Miguel Matias (PT) Kyosho/Sirio/Kyosho
9. Duina Niki (IT) Xray/Max Power/Enneti
10. Arnaud Chaussard (FR) Xray/RB/Speedline
1/4 Final – B Starting line-up
1. Teemu Leino (FIN) Xray/Orion/Xray
2. Jessie Davis (AUS) Kyosho/Novarossi/Kyosho
3. Jerome Renaux (BEL) Xray/JP/GRP
4. Roland Strom (SE) Kyosho/GRP/GRP
5. Filipe Costa (PT) Xray/GRP/GRP
6. Adrian Berntsen Roseth (NO) Xray/Max Power/Xray
7. Hideo Kitazawa (JPN) Mugen/OS/Kawahara
8. Keisuke Fukuda (JPN) Mugen/Ninja/Kawahara
9. Rheinard Marc (DE) Team Magic/Novarossi/Jaco
10. Rick Vrielijnck (NL) Mugen/Ninja/Kawahara
View our image gallery here.
---