July 7, 2009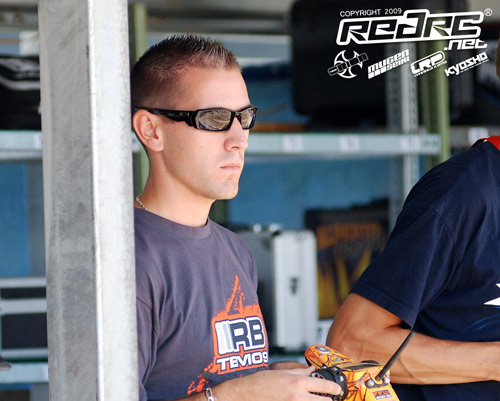 The 2009 EFRA 1:8 Off Road European Championships is underway with cars now on track for today's single round of free practice. Among the first group of cars on track was defending Champion Renaud Savoya who was faced with a very different track to that of the Warm-up race. Organisers were forced to cover the track with saw dust prior to the event to try protect the dirt surface from the rain leaving the first group of drivers with the role of acting as track sweepers. Savoya said the run proved little other than to warm up his thumbs for the days ahead.
Another early runner was Robert Batlle who was in group 2 and found the conditions terrible with his GRP powered RC8 just sliding around on the saw dust. The Spanish ace is unsure what to do in terms of set up because while the track is drying out now the overnight forecast is for heavy rain.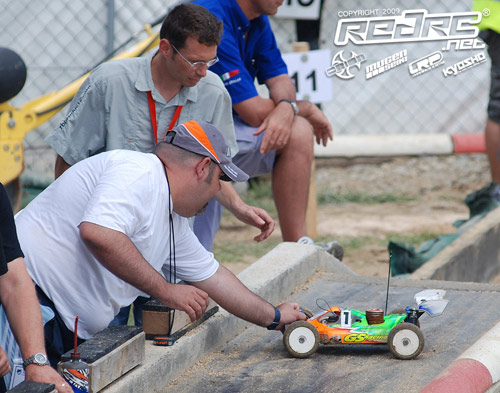 Running in Group 3 and on a much cleaner track, Factory GS Racing driver Borja Hernandez from Spain was pleased with his outing despite the slippy conditions. The 2008 finalist is running a CLX chassis fitted with the older CL1 front end and is happy with the resulting feel of the car. He felt his new RB9 engine used in the run was still to tight and so will switch to another unit for tomorrow's second practice.
Neil Cragg said that the track got better throughout the run but will 'ask the boss', referring to Team Associated's Richard saxton who is over from the US to support the team, about what changes if any they will make for tomorrow morning. Cragg suffered an engine cut during his practice but put this down to it being a brand new Reedy unit.  After a quick adjustment of the idle screw it ran fine for the remainder of the run.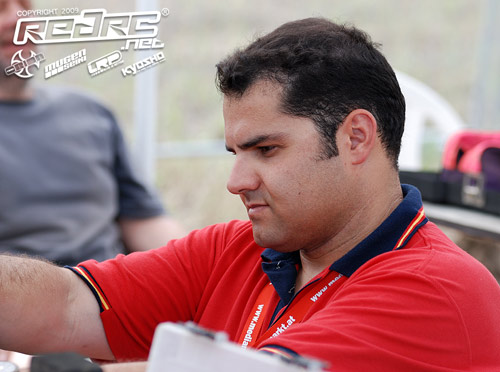 1999 Champion Daniel Vega said he made the wrong tyre choice for his first run having went for JConcepts Sevens.  The Mugen/Ninja ace said the track was completely different to the Warm Up race but the set-up on his MBX-6 still felt good.  He plans only to change tyres for Practice 2 and will make the choice between JConcepts Crossbow, Crossbar or Hit Men in the morning.  Also in the same group was Darren Bloomfield who described the run as a 'good start'. The British ace said his Associated RC8 has a really good balance and he plans just a few roll bar changes for the morning.
Right now the skies over the track are getting dark very quickly with the forecast rain looking set to start falling any minute now.
View our event image gallery here.
---