July 22, 2009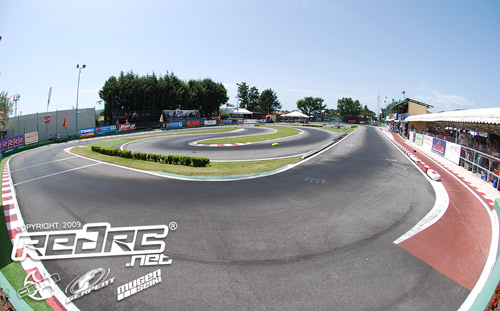 Its another extremely hot day here in Italy as free practice for the 2009 EFRA 1:10 200mm European Championships continues at the beautiful Gubbio track.  Drivers will get another six 10 minute sessions today but with no official timing we will have to wait till tomorrow's controlled practice before we can get a clearer picture of who is doing what but many of the leading drivers say its going to be a very close competition.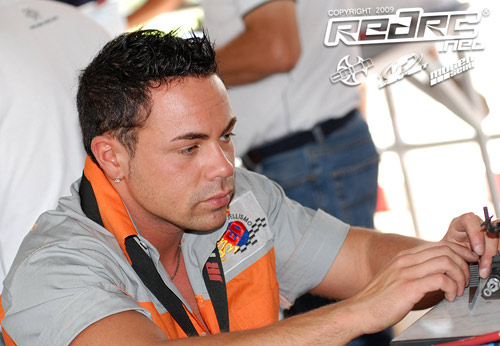 Defending Champion Dario Balestri is here with his new Team Magic G4RS 09 but the Italian knows he will have his work cut out for him if he is retain a third consecutive title. After two sessions this morning he said his car is not perfect suffering from grip roll but with ten more runs to find a better set-up he is not too concerned yet. In Madrid Balestri struggled throughout the event with most writing him off but when it counted most he beat Jilles Groskamp to successfully defend his title.  Groskamp is one of the drivers Balestri fears most here this weekend along with World's podium finisher Martin Hudy and ex World Champion Adrien Bertin.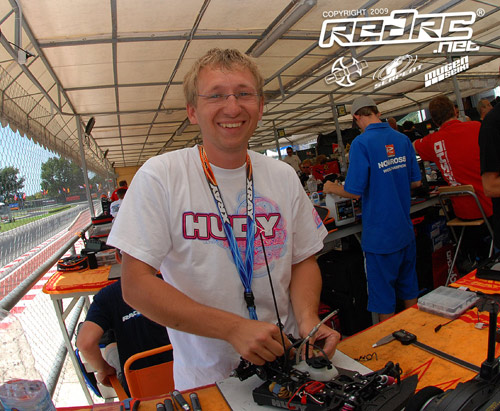 Hudy is part of a very strong Xray team. He didn't attend the 'Warm Up' race but together with team-mate Teemu Leino he had a successful number of days of testing here in June. The Slovak driver said he is feeling very comfortable at the controls of his Max powered NT1 and is targeting a podium finish come Sunday. Leino, who was Top Qualifier in Madrid, is running his World's car at the moment but in between practice rounds has been building a new NT1 that he will run later today. Also looking strong for Xray is Bumod Grand Prix winner Dirk Wischnewski. The German had a difficult time with set-up at the 'Warm Up' but stayed on after the race for two days testing.  With the car to his liking now the SMI Motorsport team driver is looking strong posting some good (unoffcial) lap times. Other Xray drivers who can be expected to be competitive are Warm Up race podium finisher Niki Duina and top electric touring car racer Alexander Hagberg but the biggest surprise of the week could come in the form of 15-year-old Biagio Spataro who is putting in some extremely fast lap times with his JP powered car.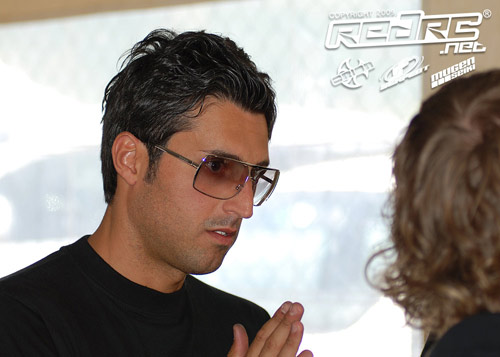 Having won the 'Warm up' Giuseppe D´Angelo is one of the favourites here this week along with his Mugen teammate Francesco Tironi who TQ'd the race. Having conducted a week of testing at the Gubbio track in preparation for the Euros, D´Angelo has developed a new chassis plate and new plastic parts for the MTX-4R and its very pleased with the results. Although they did not attended the warm up race D´Angelo has singled out Balestri and Leino as ones to watch. Other big names in the Mugen camp are Rick V. and Robert Pietsch. Rick V. hasnt raced 200mm since last year's World Championship due to his 1:8 World Championship preparations and admitted its taking him time to readjust his driving style to 1:10.  Although he is running the same engine/chassis package as D´Angelo the Dutch ace is having to find his own set up as he is running ZAC Project tyres but he said this morning has been very productive and he is much happier now with his pace. Also focusing on the 1:8 Worlds, which take place in Swtzerland next month, Pietsch has only competed twice in 200mm this year but has the benefit of one of them being the 'Warm Up' race. Although he retired from the Main final with a broken car, the Mugen designer said he was happy with his lap times and so far free practice has gone to plan but admits there are many more fast guys here now.
In our next report we will bring you news from the Serpent and Kyosho camps and the sports newest arrivals Shepherd and Capricon.
View our event image gallery here.
---