July 25, 2008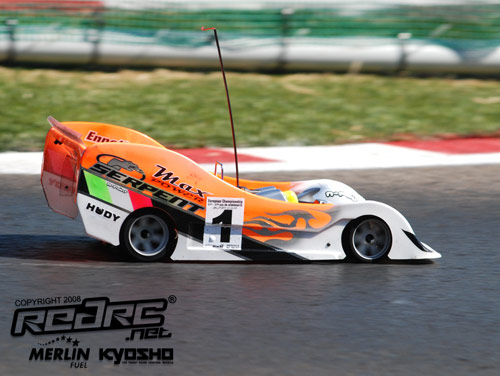 Massimo Fantini has topped the first controlled practice at Day 5 of the EFRA European Championship where conditions are both hot and very humid. The Italian was again on for an 18 lap run but fuel consumption remains a factor with drivers having to throttle back on the final lap to complete the run. With many driver trying their qualifying engines this morning they are being cautious over the last lap, not wanting to run out of fuel on the main straight which is 3/4 way round the lap.
Second fastest was another Italian, Dario Balestri who appears to have found a solution to the run time problems that have plagued the Novarossi driver so far. After the run, the European 1:10 200mm Champion who had a torrid day yesterday, described his Motonica/Novarossi combination as 'Perfect'.
Serpent's Michael Salven was next up on the time sheets. Having switched from 16 to 20% Merlin Fuel the German said the run time was closer and over the final lap he had to lift off the throttle to make it to the finish line. Salven will try the 20% again in the final controlled practice to see how it works also in hotter conditions.
Fourth fastest was Alberto Picco. The engine guru was pleased with his run, so much so he says he may sit out the final practice and save the car for the first qualifier later this afternoon.
Top Spanish Championship contender Josue Artiles set the fifth fastest time despite hitting a car that was stopped on the track. The Max powered Mugen driver says his car is working really well and other than a new set of tyres he will leave it the same for his next outing.
Motonica development driver Stefano Solaroli completed the Top 6. Responsible for the new rear end on the P8.0R, the Italian says the car is very good with the changes making it more stable and easy to drive. Solaroli, who has his own range of hand tuned Picco engines, says his only concern is the last lap which remains very tight for fuel.
Rounding out the Top 10 was Lamberto Collari, Mark Green, Jernej Vuga and European B Champion Richard Volta. Some news from the Shepherd camp was Robert Pietsch's failure to post a quick run, the German ace was running a new engine but it was set too rich and he had to to pit for adjustments.
View our image gallery here.
---