July 11, 2009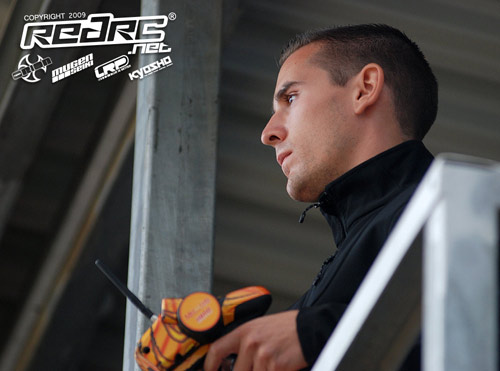 He was the top Qualifier here in Austria and now thanks to victory in his Semi, with the faster time of the two, defending Champion Renaud Savoya will start from pole position over Spain's Robert Batlle.  Setting the fastest lap of the Semis, the French ace cruised to the win and despite one mistake finished four seconds clear of Batlle and now the pair will line up in the same 1-2 order as in Crete last year. Afterwards Savoya said the race went to plan except for his roll in the last two minutes.  Batlle felt his Associated, which had a problem in the 10 minute warm-up, was not so bad but now plans to change to a heavier oil in the shocks for the 45-minute final.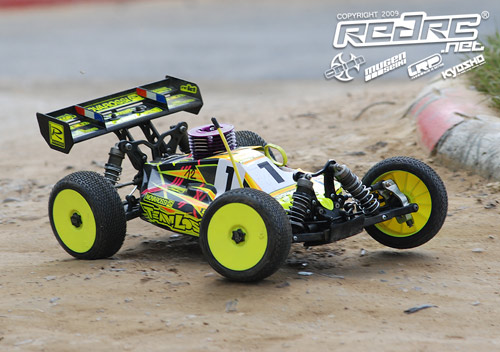 The other Semi saw Yannick Aigoin lead home the very fast Czech driver Martin Bayer who briefly passed his Losi team-mate for the lead. Afterwards Aigoin said Martin was very quick but that this was good for the Losi team. Not wanting to give too much away about his race strategy for the Final the Frenchman said he may try something different with the tyres.  Bayer said he drove a safe race so as to ensure himself a spot in the final and feels he can go faster in the all important event. Riccardo Rabitti was very happy to progress to the Main. The Italian Champion said his Sirio engine was slightly too lean and this made it hard to drive out of the corners.  One heart breaking moment in the Semi B was that of Christoffer Svensson when the Swede's car cut out right before the loop on the last lap while he was holding sixth.  The benefactor was LRP driver Hupo Honigl who will now take part in his third final of the day having progressed from the 1/4 Finals.
Final Starting order
1. SAVOYA Renaud (FR) – 27 Laps in 20:29.090 (Semi A)
2. BATLLE Robert (ES) – 27 Laps in 20:33.267 (Semi A)
3. AIGOIN Yannick (FR) – 27 Laps in 20:39.660 (Semi B)
4. BAYER Martin (CZ) – 27 Laps in 20:44.739 (Semi B)
5. RABITTI Riccardo (IT) – 26 Laps in 20:01.047 (Semi B)
6. BLOOMFIELD Darren (GB) – 26 Laps in 20:03.633 (Semi A)
7. LEINO Teemu (FI) – 26 Laps in 20:07.019 (Semi A)
8. VEGA Daniel (ES) – 26 Laps in 20:09.064 (Semi B)
9. RECKWARD Daniel (DE) – 26 Laps in 20:10.626 (Semi A)
10.AIGOIN Jerome (FR) – 26 Laps in 20:14.028 (Semi B)
11.CRAGG Neil (GB) – 26 Laps in 20:19.247 (Semi A)
12.HÖNIGL Hubert (AT) – 26 Laps in 20:23.396 (Semi B)
View our event image gallery here.
---