August 2, 2008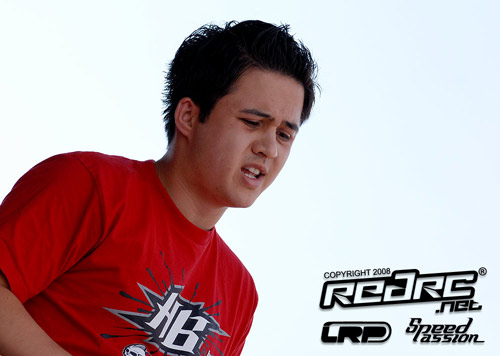 Reigning European Champion Ronald Volker has ensured himself a front row start for the A Mains here tomorrow in Vila Real after topping the time sheets for a second time in qualifying. The Hot Bodies/LRP driver won the opening heat of Day 3 of the Championships with the fastest run we have seen yet and with the best two of the five heats to count the German will at worst start from No. 2 on grid. The only thing that can rob him of the pole is if Viktor Wilck can produce another win in a faster time than the current best of 17 laps in 05:04.574 or one of his rivals should dominant the final two qualifiers.
Volker said the run felt like there was more traction but that his Cyclone TC was a little loose on throttle. He suspects this might be related to his diff which he will now check but other than that he will leave the car the same for the penultimate qualifier.
Second for the round was fellow countryman Marc Rheinard. The Tamiya driver says his TRF416 is still not perfect but that a switch a lightweight bodyshell was an improvement. With a second and a third to his credit the former World Champion currently sits third in the qualification rankings just behind team-mate Wilck.
Jilles Groskamp described the pace here in Spain as very close after finishing third fastest despite a costly slide on lap 9. The Dutch ace is assure of a place in the A Final and so will use the remaining two heats to test for Sunday's finals. Groskamp will try a new rear shock tower, which was brought over by Tamiya Senior Designer Kiyo Suzuki, and with more holes this allows finer adjustment to the rear shock position. He also plans to raise the front camber link to increase mid corner steering.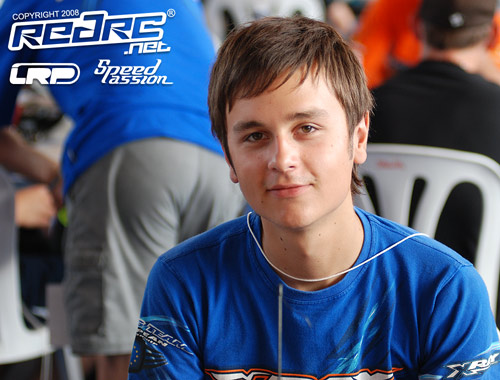 Fastest Xray in Heat 3 Alexander Hagberg is a lot happier with his T2 008 after trying the same set-up as Warm Up race winner Elliot Harper. The 18-year-old Swede described the car as very good and feels now he has the pace to make the A Main. Just behind Hagberg, also driving an Xray, was last year's Top Qualifier Steven Weiss. Switching to harder rear springs the German said his T2 008 was better and plans to change shock oil for his next outing. Andy Moore, who recorded the new fastest lap with a 17.522,  completed the Top 6.
Englishman Olly Jefferies enjoyed his best run so far with the seventh fastest time followed by Kyosho's top challenger Steen Graversen, who was just 3/100th off Jefferies time, Hupo Honigl and Marc Fisher who had a differential problem.
Top 10 after Round 3 (2 of 5 counting)
1. Ronald Volker (DE) – 3:1, 1:1 [2:145, 4:0, 5:0]
2. Vikor Wilck (SE) – 2:1, 1:2 [3:15, 4:0, 5:0]
3. Marc Rheinard (DE) – 3:2, 2:3 [1:5, 4:0, 5:0]
4. Jilles Groskamp (NL) – 3:3, 1:4 [2:7, 4:0, 5:0]
5. Andy Moore (GB) – 2:2, 3:6 [1:6, 4:0, 5:0]
6. Marc Fischer (DE) – 1:3, 2:6 [3:10, 4:0, 5:0]
7. Teemo Leino (FI) – 2:4, 1:7 [3:13, 4:0, 5:0]
8. Alexander Hagberg (SE) – 3:4, 1:8 [2:9, 4:0, 5:0]
9. Steven Weiss (DE) – 3:5, 1:10 [2:12, 4:0, 5:0]
10. Elliott Harper (GB) – 2:5, 1:11 [3:50, 4:0, 5:0]
Complete results can be found here.
View our image gallery here.
---