July 4, 2008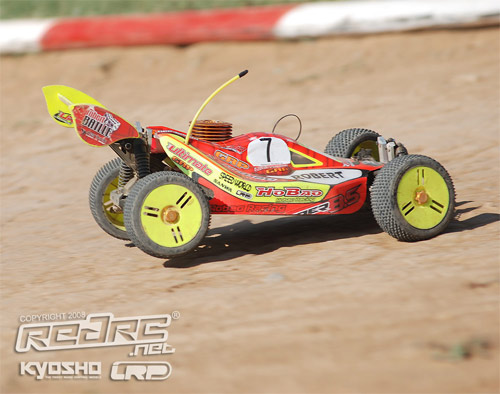 Defending European Champion Robert Batlle has just TQ'd the fifth and final heat doing so in style by setting the fastest 5 minute run of the championships. The Hobao/Ultimate Racing driver tried a radial shock set-up for the heat and the Spaniard was very pleased with the result and will stick this for his Semi Final.
Second fastest, but some 6 seconds off Batlle's blistering pace, was fellow countryman and Bergonzoni driver Raul Peris. The Spaniard appears to have found a good set-up on the prototype R1 chassis and the result ensures the Italian made car will be represented in tomorrow's Semi Finals.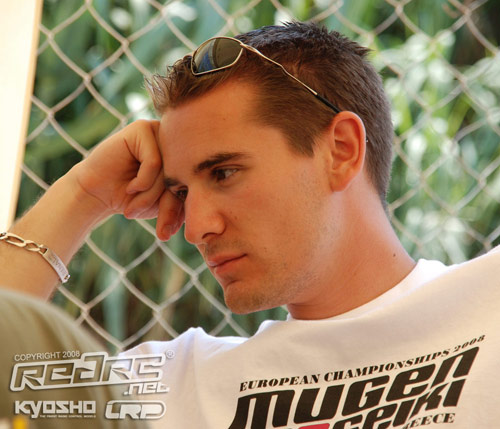 Having dominated the first four heats cool operator Renaud Savoya found himself for the first time not at the top of the time sheets. The French driver said he was over driving his Mugen but that the car was working really well.
Neil Cragg continued to make progress and was top Associated setting the fourth fastest time to claim fifth in the overall ranking but says he can go quicker. Behind him it was the steady Alessandro Laffranchi at the controls of his Mugen and he qualifies fourth overall.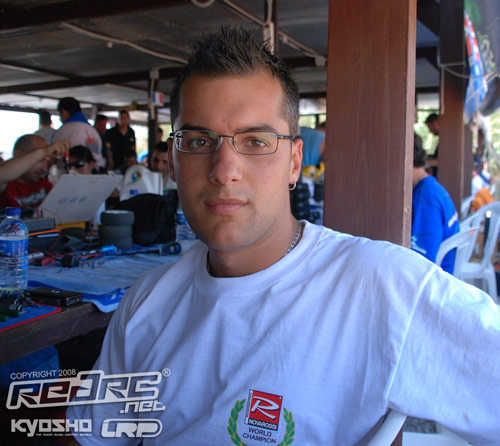 Completing the top 6 was Italian Riccardo Perin. Switching to new shocks from Italian company GPS for the last qualifier Perin said his Novarossi powered Mugen was transformed and that he will stick with them for his Semi Final.
Three times European Champions Crono finally had a top 10 run as British team driver David Crompton set the 8th fastest time after a steady run. Reverting to the set-up he ran in Heat 3, the multiple UK National Champion said the car was better but that he still needs to lower the RS7. Qualifying for the 1/4 Finals he is confident of bumping up to the Semi Final but after that he thinks luck will determine which drivers make the Main Final.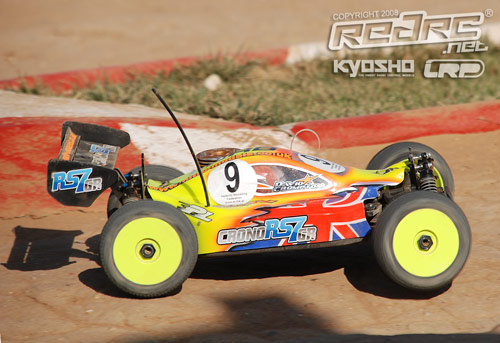 So qualifying for the 2008 European Championship has come to an end. The lower finals are about to get underway but it will not be until tomorrow evening that we will know the name of the 2008 Champion. One element that is likely to play a big part in the out come of that race is engines. The high temperature and 1 hour Main Final are sure to make engine settings critical.
Top 16 (Semi Finalists)
1. SAVOYA Renaud (FR) – 8 Laps in 05:17.839 / 519pts
2. BATLLE Robert (ES) – 8 Laps in 05:20.606 / 509pts
3. HERNANDEZ Borja (ES) – 8 Laps in 05:23.597 / 508pts
4. LAFFRANCHI Alessandro (IT) – 8 Laps in 05:24.779 / 504pts
5. CRAGG Neil (UK) – 8 Laps in 05:23.396 / 503pts
6. AIGOIN Yannick (FR) – 8 Laps in 05:22.120 / 498pts
7. BOOTS Elliott (UK) – 8 Laps in 05:22.832 / 497pts
8. BOERO Fabio (IT) – 8 Laps in 05:25.290 / 495pts
9. SARTEL Jerome (FR) – 8 Laps in 05:25.081 / 495pts
10. BAYER Martin (CZ) – 8 Laps in 05:20.708 / 492pts
11. VEGA Daniel (ES) – 8 Laps in 05:26.756 / 491pts
12. PERIS Raul (ES) – 8 Laps in 05:22.422 / 487pts
13. VRAY Guillaume (FR) – 8 Laps in 05:29.371 / 487pts
14. BLOOMFIELD Darren (UK) – 8 Laps in 05:30.097 / 486pts
15. PERIN Riccardo (IT) – 8 Laps in 05:28.034 / 485pts
16. LUIS Rodrigo (PT) – 8 Laps in 05:25.470 / 483pts
Check out our event image gallery here.
---