July 8, 2009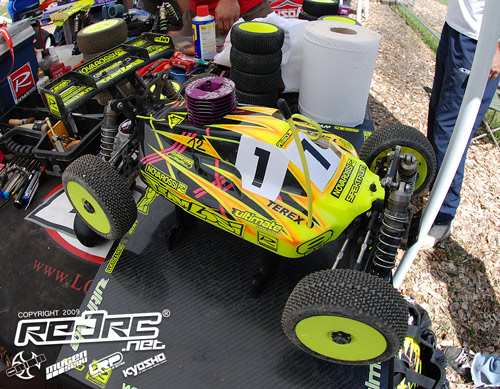 His brother set the early pace here in Austria but now Yannick Aigion is the pace setter after posting a 5:25.227 on his way to a 7 lap run. 2003 Champion Miguel Matias from Portugal had briefly took control of the Practice 2 time sheets, with a 5:26.978, but drops to second following Yannick Aigoin's time with Jerome Aigoin and his Kyosho being pushed back to third.  In terms of outright pace it is still the defending champion Renaud Savoya and his Mugen that top the time sheets but Yannic Aigoin came close with a 45.473 lap.
The other big mover since this morning is Italian Losi/Sirio driver Ricardo Rabitti who holds the fifth fastest time just behind Savoya and ahead of Robert Batlle.  Elsewhere Richi Gomez had got his Hong Nor X2 into the top 10 briefly.  The 2008 podium finisher who is running Italian RCW tyres says the run was good but will try lighter shock oil for the third practice and switch from the B Fast to the B Cobra pattern.
One of the pre-event top tips Neil Cragg is just outside the Top 10.  The Associated/Reedy driver tried Proline Bow ties on the rear and Crimefighters on the front of his RC8 but will switch most probably to Revolvers all around next time, along with a high centre diff oil.
View our event image gallery here.
---