July 7, 2009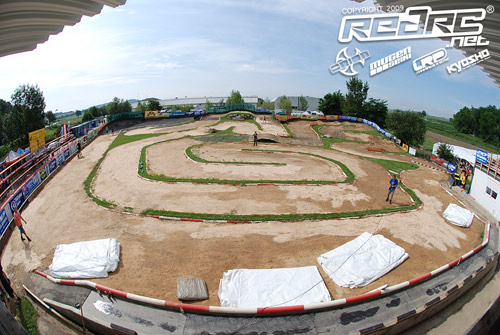 The top off road drivers from across Europe are arriving to a sunny track here in Austria for the opening day of action at the 2009 EFRA 1:8 Off Road European Championships, but predictions are that things are going to get muddy for the rest of the week. Race organisers had a busy morning pumping the heavy overnight rain off the huge covers that have been in place for the last few days to protect the dirt track from what is turning out to be one of the Austria's wettest Summers. Unfortunately the rain is set to return tonight and continue for much of the week.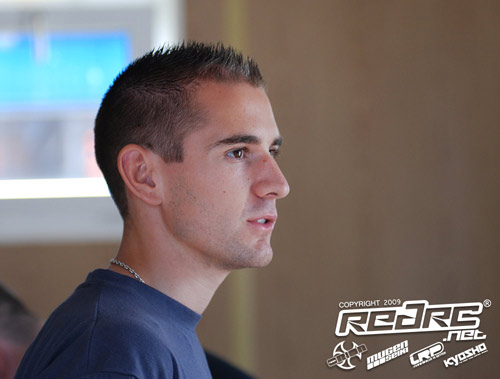 Heading the entry here in Wolbling is defending champion Renaud Savoya. Having improved his result in this event by one position each year since taking fourth in 2005, the French ace can't continue that trend this year but his current form gives him a real chance of becoming the first driver since David Tortorici in 2005 to successfully defend his Euro title. Currently leading his home National Championship, one of the toughest in Europe, Savoya says his Mugen/RB package works well here but the forecast wet conditions could make it a real lottery as the water can cause so much to go wrong with the cars. Asked who he felt would be his closest rival, the Worlds podium finisher said it would be all the usual candidates but singled out fellow Mugen/RB driver Elliot Boots as one to watch.
16 year old Boots, the defending European Junior Champion, has set himself the goal of making the Main final come Saturday but the English driver's name is coming up in the predictions being made by many of the industries best known figures. The teenager was very fast here during the warm-up race and as he put it himself, 'coming from England we are well used to racing in the rain'.
Drivers are still arriving at the track and once they have got their pit areas set up we will start to bring your their thoughts on the week ahead including that of the 2006 Champion and the Warm-up race winner here in Austria Yannick Aigoin.  Our coverage of the 1:8 Off Road Euros is brought to you with the support from Team Orion, Mugen Seiki, LRP and Kyosho and will continue with regular daily updates right through till Saturday evening when one of the 180 entrants will be crowned 2009 Champion.
View our event image gallery here.
---