July 26, 2008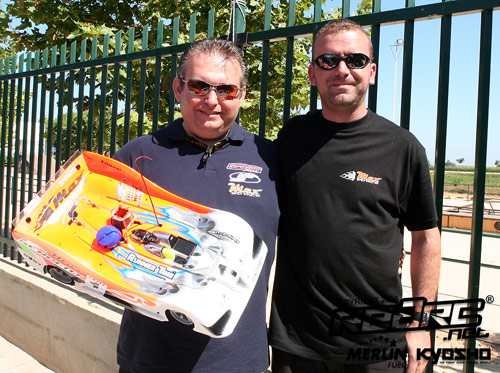 He TQ'd the World Championships in Argentina last October and so came to Valencia with a World class reputation to protect and that's exactly what Massimo Fantini achieved with a great qualifying run when it counted most. The Italian took advantage of the opening heat on Day 6 of the European Championships to post the TQ time when conditions at the Autet track where at their coolest.
Driving a Serpent 960 powered by an engine bearing his own name, 'Max' Fantini set his time in the second round of qualifying to head a trio of Italians who are guaranteed a place on the starting grid for tomorrow's all important 45 minute final. Daniele Ielasi was the nearest challenger to his fellow countryman just over 4/10th away, with Andrea Pirani a further 5/10th behind making it three different makes of car in the Top 3 placings. Oscar Cabezas claimed the final direct qualifier spot to ensure big local interest in the final.
The final round of the four qualifying heats was not expected to produce much change at the front and while Oscar Cabezas came close, nothing changed from this morning. The Spaniard TQ'd the round despite coasting his Serpent across the line as he ran out of fuel but afterwards he admitted that it was close but even if he had had enough fuel he didn't feel he would have been able to better his Q2 time. Daniele Ielasi, Josue Artiles and Andrea Pirani completed the Top 4 times for the round.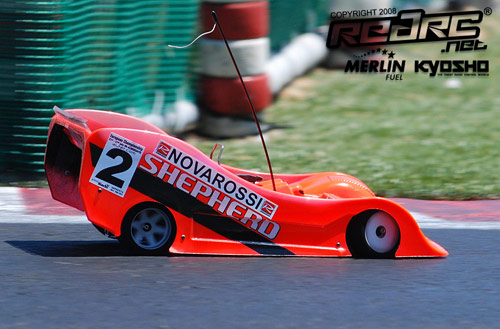 Ending up in the unfortunate 5th position Robert Pietsch will start the Semi Final A on pole for Shepherd, while Motonica's Dario Balestri takes up the 1st place in the Semi B. Joining Pietsch at the front of the grid in the Semi A will be seventh fastest man Josue Artiles who is making quite a name for himself at the controls of him Max powered Mugen MRX4. Also impressing here is Robin D'Hondt who will have the honours of being up front on the Semi B grid with Balestri.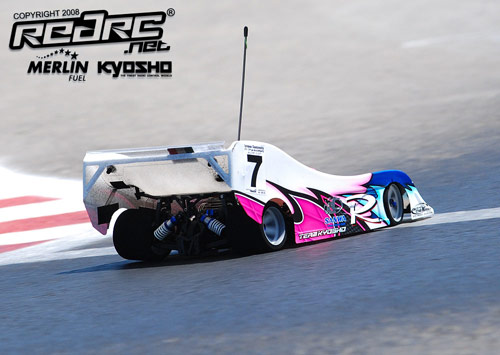 He may be the best driver in the World but Lamberto Collari finds himself in the Quarter Finals. Not because of his lack of pace, although the 8 times World Champion has struggled here, but because of a costly error in getting to his marshalling post which lost him his FTD. Michael Salven also got the same penalty but holds on to a Semi Final starting position.
Our live coverage of the 2008 EFRA European Championships, which is kindly supported by Kyosho and Merlin Fuel, continues tomorrow when we will bring you full reports from the Quarter, Semi and Main Finals.
Official qualifying positions after 4 rounds
1. Massimo Fantini (IT) 17 Laps in 05:00.214
2. Daniele Ielasi (IT) 17 Laps in 05:00.679
3. Andrea Pirani (IT) 17 Laps in 05:01.195
4. Oscar Cabezas (ES) 17 Laps in 05:01.287
——————————————–
5. Robert Pietsch (DE) 17 Laps in 05:01.505
6. Dario Balestri (IT) 17 Laps in 05:01.735
7. Josué Artiles Santana (ES) 17 Laps in 05:02.866
8. Robin D´hondt (BE) 17 Laps in 05:03.388
9. Marco Muller (CH) 17 Laps in 05:03.926
10. Adrien Bertin (LUX) 17 Laps in 05:04.180
11. Andrea Cristiani (IT) 17 Laps in 05:04.378
12. Alberto Picco (IT) 17 Laps in 05:04.693
13. Michael Salven (DE) 17 Laps in 05:04.752
14. Mark Green (GB) 17 Laps in 05:05.097
15. Jernej Vuga (SI) 17 Laps in 05:05.283
16. Nicola Marrone (IT) 17 Laps in 05:05.682
17. Philip Sting (DE) 17 Laps in 05:06.258
18. Walter Salemi (IT) 17 Laps in 05:06.384
Full results can be found on the official timing site here.
View our image gallery here.
---