January 10, 2009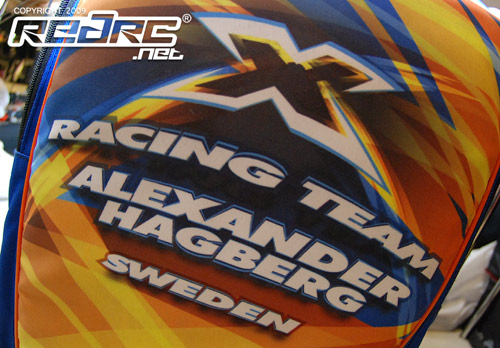 Alexander Hagberg is looking good for TQ honours in the Modified class here in Odense after the factory Xray driver set the fastest time of the day in the penultimate qualifier for the 2009 DHI Cup.  Running in the top heat, Hagberg topped the time sheets for the second time and only Marc Rheinard can now deny him the pole.
Rheinard had been on for an impressive 22 lap run but made two mistakes allowing Hagberg to take control and record the fastest time so far with 21 laps in 302.61.  Eventually Rheinard stopped the clock with the second fastest time for the round despite a late rear diff failure on his Tamiya.
Hagberg admits that Rheinard is slightly faster but says he is more consistent and hopes he can work this to his advantage against the German.  Rheinard is going to go for the TQ in the fifth and final qualifier but would almost prefer to start from the second spot – a case of being the hunter rather than being the prey.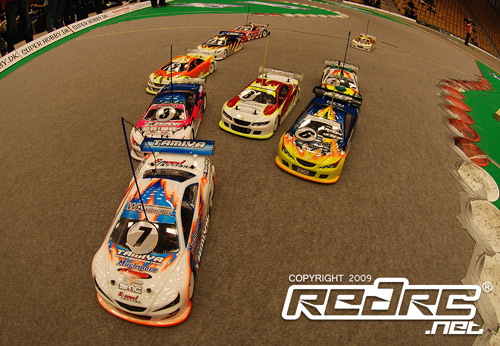 Defending Champion Vicktor Wilck finally started to show the pace that took him to the title last year.  Sporting a bandaged left hand following a snowboarding accident in Austria last week, Wilck has only been able to race here in Denmark after calling on the assistance of his boss, Lars Nordin of Swedish r/c distributor Phoenix Racing. Nordin has been doing all the work on the Speed Passion powered Tamiya TRF416 and Wilck is enjoying the experience.  The Swede was surprised by his time as the car didn't feel good and wants to grip roll.  For the final qualifier he will try the same set-up as team-mate Rheinard.
Fourth fastest time brought the TQ challenge of Teemu Leino, winner of the second qualifier, to an end but the Finn is going to be a strong challenger for the overall victory in tomorrow's finals.  Jilles Groskamp and Marc Fischer completed the Top 6.
The Kyosho team enjoyed its best round with Steen Graversen, who was on the podium in 2008, equalling his earlier seventh. His Japanese team-mate Shin Adachi, the man responsible for much of the development on the Stallion, finally broke into the Top 10 with the ninth quickest time.  Dutch National Champion Bart Wubben rounded out the Top 10 with his Xray.
Modified Results after round 4
1. Alexander Hagberg – 463 [155 153 (151) 155 (0)]
2. Marc Rheinard – 459 [151 (150) 155 153 (0)]
3. Teemu Leino – 458 [(145) 155 152 151 (0)]
4. Jilles Groskamp – 456 [152 151 153 (150) (0)]
5. Marc Fischer – 449 [150 (149) 150 149 (0)]
6. Jonas Kaerup – 448 [153 152 (136) 143 (0)]
7. Viktor Wilck – 445 [148 145 (144) 152 (0)]
8. Steen Graversen – 443 [(144) 148 147 148 (0)]
9. Christer Andersson – 440 [(138) 147 149 144 (0)]
10. Ronald Völker – 437 [147 147 143 (141) (0)]
View our event image gallery here.
---