July 5, 2008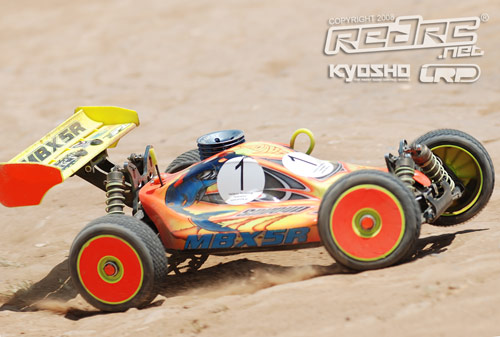 The first semi final of the 2008 EFRA European Championship has just taken place and Top Qualifier Renaud Savoya made the 20 minute encounter look like just a formality ahead of the main job in hand, winning the Main Final which gets underway here in Crete at 16:00 local time.
Savoya made little or no mistakes during the race and lead from start to finish setting the fastest lap on the way to a 1 lap winning margin over Associated driver Neil Cragg who's best lap was 7/10th off that of the French Champion. 'The run was fine and I will stick with the same set-up for the final', said the very confident Mugen driver. 'The track is getting tricky over the jumps and there are now holes at the end of the straight which is making my car jump around a lot but its ok.'
Third in the A Semi was Riccardo Perin, the Italian Mugen driver finishing just ahead of Hobao's Borja Hernandez who will switch engine for the final as he is not happy with the fuel run time. The Spaniard had to make an extra stop in the race and will revert to the GRP engine he ran earlier in the event.
Completing the Top 6 and securing their places in the Main Final after bumping up from the 1/4 Finals where new Hong Nor signing Richi Gomez and British Xray driver Jon Hazlewood.
Failing to finish the race Daniel Vega, who managed only 8 laps, Elliot Boots and Jerome Sartel can all take an early shower, the former having his 2.4Ghz system shut down due to the heat. Also finished up early is former European Champion Guillaume Vray, Ari Heinonen and Kyosho's Linus Thern.
Top 6 finishers Semi A
1. SAVOYA Renaud (FR) – 44 Laps in 30:00.206
2. CRAGG Neil (UK) – 43 Laps in 30:04.230
3. PERIN Riccardo (IT) – 43 Laps in 30:15.529
4. HERNANDEZ Borja (ES) – 43 Laps in 30:16.394
5. GOMEZ MALAGON Richi (ES) – 43 Laps in 30:20.048
6. HAZLEWOOD Jon (UK) – 43 Laps in 30:20.820
---