August 12, 2008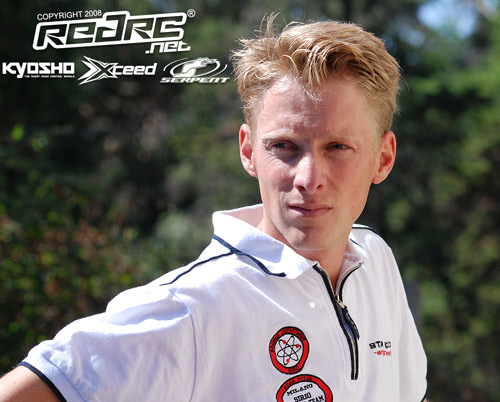 Jilles Groskamp is the pace setter after the first round of qualifying here in Portugal but the Dutch driver was not the fastest in the run, that honour going to Daniele Ielasi but in post race scrutiny the Italian's fuel tank was deemed to be to big. It was very close at the top with Ielasi posting a run of 31 laps in 10:02.628 with Groskamp just 8/100th behind.
Overall the times where much slower than what we saw in the final controlled practice yesterday due to the overnight rain with Ralph Burch, who recorded the fastest lap for the round, summing it up perfectly with 'The track was junk'.
Groskamp said his car was perfectly balanced and his Sirio engine was spot on but the track just didn't have any traction. The Sirio team driver had one moment during the run when he had had a half spin which lost him time but added that it was important to start with a decent run. For the second qualifier Groskamp will leave his car exactly the same as the traction should be back.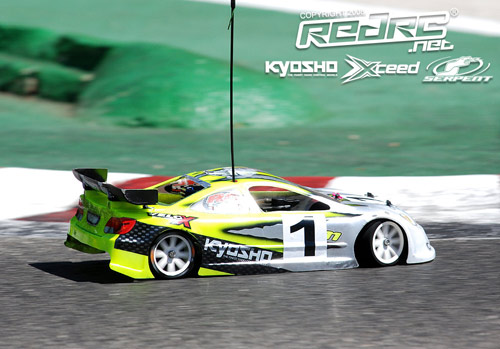 With Ielasi loosing his time it is a Team Sirio 1-2 at the top of the time sheets with Chris Tosolini officially second fastest. A much happier looking Tosolini said he was really pleased to finally get a full run in and also said he could run pretty consistent. For his second heat the American will run a softer rear sway bar to improve rear traction.
Peter Jovanovic is showing it wasn't home advantage at the last World Championship but emerging talent and the young Aussie sits in third position. Early in the run his car was very taily but after his pit stop it got better while adapting his driving style to the lower grip conditions also helped.
Fourth fastest was Japanese driver Takaaki Shimo followed by Teemu Leino. The Finn switched to a stiffer set-up after yesterday's final practice to combat traction roll but when he had his run today there was no traction. The Xray driver will now switch to an in between setup for Heat 2.
Elsewhere Ralph Burch was on for a really quick run but ran out of fuel. The US driver is not sure why but will lean out his Max engine for the second qualifier. Also in the American camp Josh Cyrul ran out of fuel too but thinks his tank may not have been entirely filled during his pit stop. Cyrul also lost time when he caught a kerb and then got hit from behind by Shimo which caused his body to tuck under. Barry Baker who appeared to be having a lot of engine problems was straight to the point when asked what happened simple saying 'I sucked'.
Italy's Francesco Tironi who ended the run in seventh said he made changes to his car that just didn't work while fellow countryman Dario Balestri was quick to put his hand up and say he made the mistake of setting his engine too rich which caused him to run out of fuel.
The second qualifier is now underway news of which we will bring you later.
View our image gallery here.
---