July 27, 2008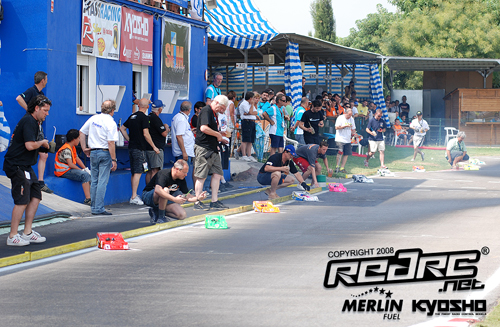 Italy's Marco Vanni and German Eric Dankel have won the 1/4 Finals at the 2008 EFRA Euros with both drivers taking relatively easy wins to progress to the Semis.
Vanni took a comfortable victory in the first of the 1/4 Finals. Starting the 1/4 Final B from pole the Mugen driver lead from start to finish followed home by Belgian Steven Cuypers who was using Michael Salven's spare Serpent chassis. The big battle of the race was the fight for third between Rick V and Serpent's Michele Romagnoli with the Mugen driver finally crossing the line to claim the final bump position to the Semi Finals.
The Dutch ace had to endured intense pressure throughout the race from Romagnoli but the Italian's challenge came to an end during his final pit stop. Clipping the pitlane as he exited he knocked off a front shock which caused his 960 to go straight on at the end of the main straight. Needing marshal's assistance to get back to the pit lane, where the shock was clipped back on, he returned to the race but his challenge was over.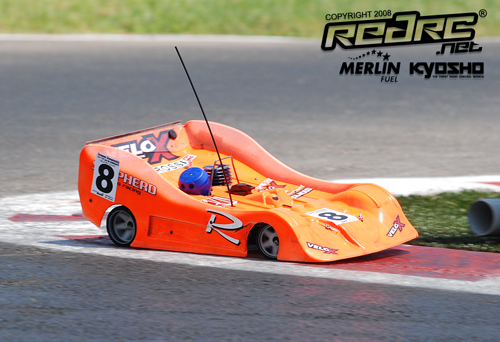 In the 1/4 Final A Dankel, who progressed from the 1/16 final, took an easy win once again. Passing pole sitter Lamberto Collari five and a half minutes into the race the Shepherd driver pulled away leaving the current European Champion to battle over second with 2006 title holder Fabio Domanin. Eventually Collari opened the door to allow the quicker Domanin through knowing third was enough for him to secure a place in the Semi.
The 1/4 Finals brought an end to the event for a number of top drivers. Top French Championship contender Stephane Bouche and Worlds Finalist Olivier Mack finished in the unfortunate 4th positions while non finishes for European B Champion Richard Volta, Motonica development driver Stefano Solaroli and Shepherd owner Patrick Schaefer ended their hopes of moving into the Semis.
Full results can be found on the official timing site here.
View our image gallery here.
---