October 22, 2018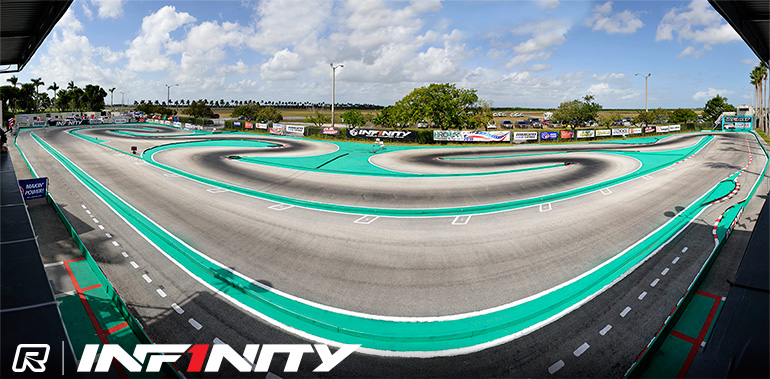 Track Name – Homestead R/C Raceway
Hosts – Franco Desiderio and Jose Sanchez Jr
Country – United States
Location – Homestead, Florida
Direction – Clockwise
Surface – Asphalt
Seven years on from it hosting the 1:8 Onroad World Championship, IFMAR has returned to the Homestead R/C Raceway in Florida to for the 8th running of the the 1:10 200mm Onroad Worlds.  Situated at the back of NASCAR hosting Homestead-Miami Speedway's main grandstand, the track is the typical US style parking lot set-up with boards determining the layout and the infield highlighted by green paint.  Featuring a 100m long straight the track has changed ownership since the 2011 Worlds with Franco Desiderio & Jose Sanchez Jr now in charge having taken over 3-years ago.  Both competitors in the event, the final entry expected to be around 120 drivers, in addition to being partners in running the track, Desiderio & Sanchez Jr are the Picco distributor for the US and dealers for Infinity through RC1 Racing.
Here to defend the title he won in Italy 2-years ago at the World class Gubbio circuit, Dominic Greiner described the HRCR track as more challenging than it looks saying, 'It seems not so difficult but it is difficult'.  Liking the layout, the Serpent driver added it has a 'good flow but the traction is low and we are also running a hard (handout) tyre'.  With any traction built up in the International practice days and the first official practice day washed away by overnight rain, the German also added that 'very high wind' was adding further to the challenge making it 'not easy to be consistent'.  Asked the key features of the clockwise track's layout he replied, 'You must drive it tight but with this you risk hitting the rubber (boards).  There are dots in the chicane and you have to ride them to save some metres but they unsettle the car'.
Winner of the 1:8 World title here and featuring strongly in 1:10 practice having topped the first day of official practice  yesterday (Sunday), Robert Pietsch believes the track is better to drive with a 1:10 car.  The Mugen driver said, 'The track suits better 1:10 than 1:8'.  He added, 'the layout is good but grip is low and these low levels (of grip) means the car is not so easy to handle. The balance is not always perfect and so you are fighting this all the time.  Like Greiner, he also agreed that the chicane was a key place to making up time on a lap if the car ride the dots cleanly but it was also a place to very easily unsettle the car depending on how the car hit the dots.
Image Gallery


---