October 12, 2007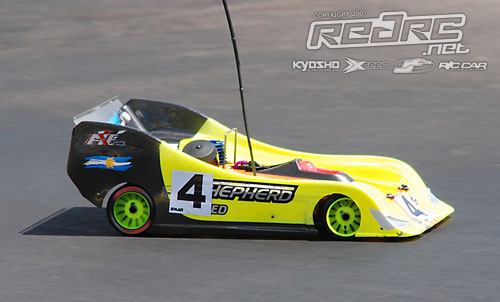 The 1/64th finals are just completed and in the even final it was a steady win for the Mugen driver Pablo Adrian Baudino, just ahead of Francisco Rinaldi in 2nd, who had moved up from the 1/128th, and will now progress into the 1/32nd final. The 3rd position went to final pole man Fernando Eric Ruiz Ochoa, another Mugen driver, who came home 4 laps back to secure his progression. In the odd final it was a win for the Shepherd racer Fabio Ferreo (above), he finished 8 seconds in front of pole man Davi Antunes who finished 2nd while 3rd spot and the final bump position belonged to Carlos Hernandez.
1/64th Even Top 3
1. Pablo Adrian Baudino – 56 Laps 20:23.697
2. Francisco Rinaldi – 55 Laps 20:07.227
3. Fernando Eric Ruiz Ochoa – 51 Laps 20:03.203
1/64th Odd Top 3
1. Fabio Ferreo – 57 Laps 20:19.030
2. Davi Antunes – 56 Laps 20:07.185
3. Carlos Hernandez – 54 Laps 20:02.799
There is a lunch break now and afterwards the racing will continue with the 1/32nd finals.
---