August 19, 2007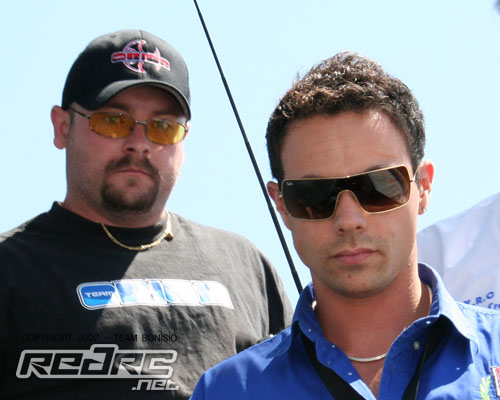 Reigning European Champion Dario Balestri is in flying form today in Madrid winning his Semi Final to give himself a chance at defending his title. The Italian Team Magic driver had struggled in qualifying but a change in car set-up this morning gave Balestri new found pace. Winning his Quarter final to line up 8th on the grid for the Semi B he went on to win the 20 minute encounter from Adrien Bertin and both now bump up to the Main Final.
In the Semi A it was an Italian 1-2 with Xray driver Niki Duina winning from Giuseppe D'Angelo. The final two places in the Main Final go to Martin Hudy and Denmark's Martin Christensen as the two fastest Semi times outside of the Top 2.
Big names to fall by the wayside include Mark Green, runner up for the past two years, who suffered an engine cut out after rolling his Serpent early in the Semi B. Another to go out at Semi stage was Sirio top man Francesco Tironi who hit a marshal resulting in damage to his Kyosho. Rick Vrielijnck didn't get past the 1/4 Final after his fuel tank failed to seal correctly during his run. Multiple European Champion Michael Salven was eliminated from the Semi A when his car was first spun by one car and then collected by the next forcing instant retirement for the German.
Semi Final B Result
1. (8) Dario Balestri – Team Magic – 68 laps in 20:08.835
2. (1) Adrien Bertin – Kyosho – 68 laps in 20:09.917
3. (6) Martin Hudy – Xray – 68 laps in 20:12.377
4. (5) Martin Christensen – Xray – 67 laps in 20:05.666
5. (7) Helge Johannessen – Xray – 67 laps in 20:06.361
6. (9) Basile Concialdi – Xray – 67 laps in 20:09.310
7. (3) Josue Artiles – Mugen – 66 laps in 20:05.959
8. (2) Mark Green – Serpent – 59 laps in 19:57.921
9. (4) Francesco Tironi – Kyosho – 37 laps in 11:36.537
10.(10)Israel Solis – Mugen – 15 laps in 06:27.087

Semi Final A Result
1. (7) Niki Duina – Xray – 67 laps in 20:16.284
2. (2) Giuseppe D'Angelo – Mugen – 67 laps in 20:16.685
3. (3) Juanito Hidalgo – Team Magic – 66 laps in 20:03.107
4. (9) Mario Spinello – Team Magic – 66 laps in 20:06.202
5. (1) Darren Johnson – Team Magic – 66 laps in 20:10.401
6. (4) Daniel Tomaschko – Serpent – 65 laps in 20:01.837
7. (8) Mark Gilliland – Xray – 62 laps in 20:07.156
8. (6) Javier Hidalo – Serpent – 60 laps in 20:01.322
9. (8) Arnaud Chaussard – Serpent – 12 laps in 4:56.271
10.(5) Michael Salven – Serpent – 8 laps in 2:30.052
---