August 13, 2007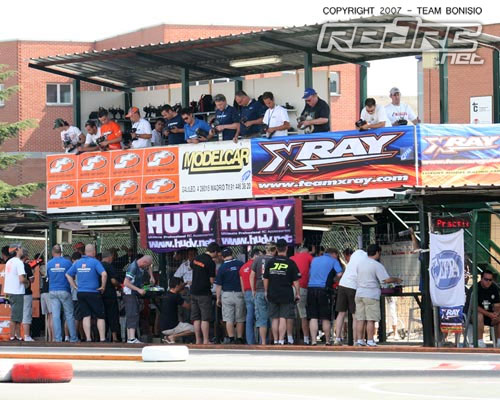 Beautiful sunny conditions greeted competitors at the opening day of the 2007 EFRA European 1:10 200mm Championships in Madrid today with each drivers getting three 10-minute practice sessions to familiarise themselves with the ARCA track and to acclimatise to the rather hot Spanish weather.
Round 1 of free practice turned into a systems check for all competitors due to a total lack of grip. While the grip levels improved for Round 2 it was not until the final run of the day that drivers really got up to serious race speeds and started to get a true feel for how their cars were working.
Current Champion and Team Magic driver Dario Balestri is hoping for a better day tomorrow, 'This is my first time to race on this track and it was difficult because there was not much grip. I did not make any car changes today but tomorrow the track will be better. I think grip roll might become a problem when grip levels build up.'
Serpent team leader and multiple European Champion Michael Salven was happy with his day, 'Good start and we have a good base set-up to work from. The car is a little lose and we need to find more steering but we have many options to try. I'm happy with our first day.' Salven's comments were echoed by team-mate Mark Green, 'Great opening day. I ran Michael's set up in the last run and it's a great starting point for everyone. Tomorrow we can start to fine tune it.'
Top Mugen driver Rick Vrielijnck was happy too with his day, 'I'm quite happy with my car and my engine is running good. I need to find more steering but in general it was a good day for me.'
With one of the biggest top name teams in the event, European Championship debutants Xray have an army of NT1's in Madrid. Factory driver Gilles Groskamp has switched to Sirio engines for the Championships and the Dutch driver was very happy with his new powerplant. Despite a crash in his final run in which he broke his front right suspension he was pleased with day 1 of the championships.
'Satisfying' was how Team Orion driver Adrien Bertin described his day. 'I worked a lot on engines today. It's a very technical track but we have a good package.'
Tomorrow racers will get an 4 rounds of controlled practice and with the tracks grip levels improving teams and drivers will be able to get down to some serious testing. Red RC will bring you extensive coverage tomorrow as the pace starts to build up.
---