June 5, 2009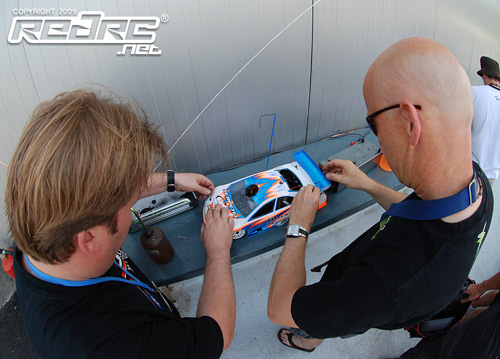 Jilles Groskamp has had two heart stopping moments when his prototype Serpent 7XX went straight on at the end of the main straight as he tried to turn in for the flat out sweeper.  Having set his fastest lap time of 19.6 seconds in the session Groskamp thinks the offs were caused by a radio glitch. After the second off he retired from the session as any serious damage to the prototype car could end his weekend as the Serpent Motorsport team only have limited spares. The Dutch driver, who is also on a deal to race the 7XX at the European Championship in Italy next month, will change frequency for his next run. In terms of the car's performance switching to a new bodyshell, featuring his distinctive colour scheme, which is mounted more forward on the chassis gave more steering over the orange shell used in earlier practice.
Also running the prototype 1:10 200mm car from Serpent, US nitro sedan star DJ Apolaro said the change of gearing was a huge improvement but now the gearbox needed resetting. Having changed the gearing also on his 1:8 car the factory Novarossi driver said that did not work out as well and he plans another change of pinions.
In the Xray camp Surikarn C. had a rear belt break but the Thai driver is much happier with the steering on his NT1.  Having again tried both his OS and Max engines he said both feel good and he is undecided on which to run tomorrow. Gerhard Kandelhardt tried a very small set of GQs on his NT1 but said it did not feel good and it would be impossible to make 5 minutes on such small tyres.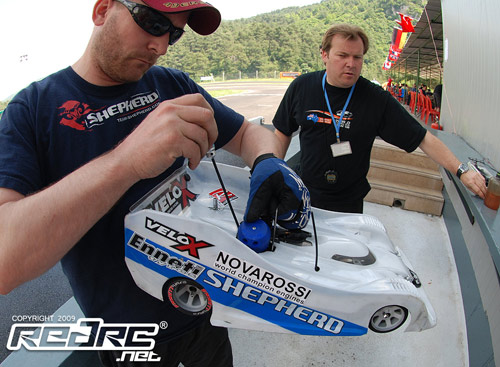 Patrick Schaefer's Novarossi powered Velox has a lot more top speed following a change of gearing and the man behind Shepherd Micro Racing is also happier now with the tyre wear.  The German said the improved traction on the freshly laid asphalt here at Bumod along with a few changes to his set-up have made his car more stable putting less stress on his Ennetis.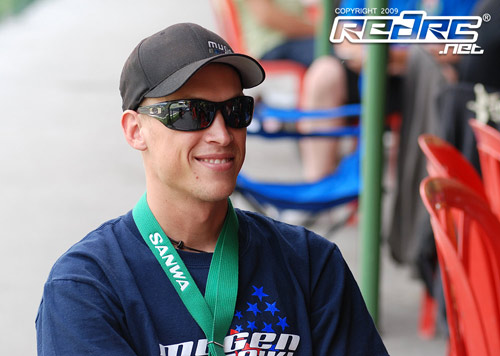 Factory Mugen driver Robert Pietsch is also much happier with track conditions but still feels tyre wear is high.  Having switched engine his second Novarossi is work better on the fuel supplied by the race organisers.  With the track having a similar flow to the Swiss Lostallo track which hosts this year's 1:8 World, Pietsch will test a modified CPD in his next session to see how it effects run time.  The German said he will air on the side of caution for tomorrow's qualifiers and refuel twice over the ten minutes.
View our full event image gallery here.
---