October 13, 2007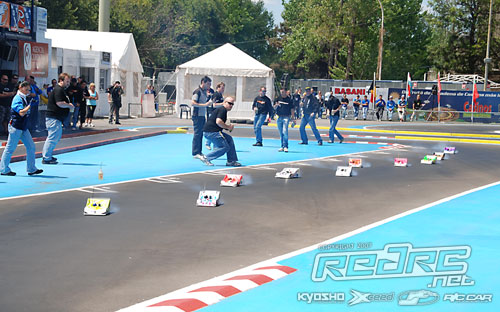 The first semi final is now over and after 30 minutes of hard racing, it's Serpent 960 driver Andrea Cristiani that has taken the win. At the beginning of the race it was Dario Balestri that could make it to the front after a great start and he was followed to the front by Cristiani who managed to pass the racers ahead of him and make it to 2nd. A long stop by Balestri for an engine adjustment, lost him the lead and this promoted Cristiani to first in front of Mark Green and Robert Pietsch in 3rd.
During the race Bruno Coelho managed to move up the order to 5th using the track experience gained in the 2 previous finals he raced. During his 4th stop pitstop Cristiani crashed coming into the pit lane allowing Mark Green to take the lead but Cristiani was able to work his way back up the order from 3rd to 1st, helped in part by having one of the fastest cars on track. Midway through the race Robert Pietsch had contact with another car and this caused something to go wrong with his car, dropping him down the order. In the end Cristiani won by half a lap from Green in 2nd, with Balestri half a second behind in 3rd, despite getting a stop and go for bad refuelling.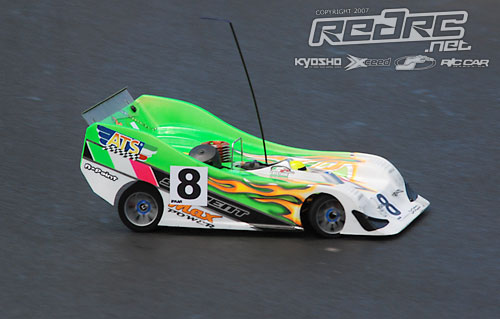 We will now have to wait until the second semi to see who progesses into the main final. The second semi final is now running.
Semi Final Even results (unnofficial)
1. Andrea Cristiani – 97 Laps in 30:16.406
2. Mark Green – 96 Laps in 30:06.195
3. Dario Balestri – 96 Laps in 30:06.876
4. Michele Romagnoli – 96 Laps in 30:11.665
5. Bruno Coehlo – 96 Laps in 30:16.154
---