November 22, 2009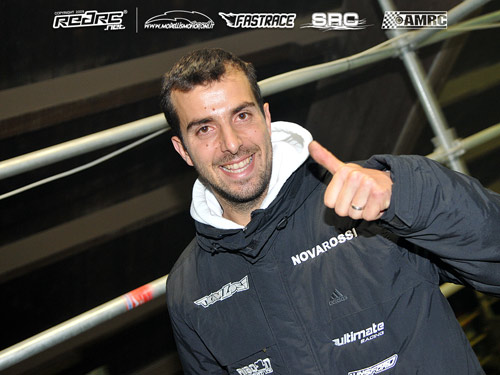 Yannick Aigoin has completed a clean sweep at the 2009 Arena Offroad Meeting here in Italy by claiming victory in the main event heading home Riccardo Rabitti for a Losi 1-2 finish. Having had a bad start, which saw him drop to the back of the running order, the French racer worked his way up through the field to take the win adding to his earlier Truggy victory.
Starting from pole position it was Rabitti that led the way from Spain's Richi Gomez as Aigoin and Borja Hernandez tangled wheels at the first corner dropping them to the back of the 12 car field. The Italian Buggy Champion maintained control of the race holding an 18-second lead over the recovering Aigoin at 15-minute mark.  With the Frenchman's Novarossi able to go 11-minutes between stops compared with the 9-minute stints of the leader's Sirio the race was starting to play into the hands of the visitor. At the mid point Aigoin was on Rabitti's rear wing and briefly passed the local hero before heading to the pits for his second of three stops.
The turning point of the race came minutes later when Rabitti had a costly tangle with a back marker and this allowed Aigoin through.  Once in front the current European Vice-Champion stretched his lead, helped by the fact he had one less stop to make compared with his only real challenger. In the end the pair crossed the line separated by 16 seconds.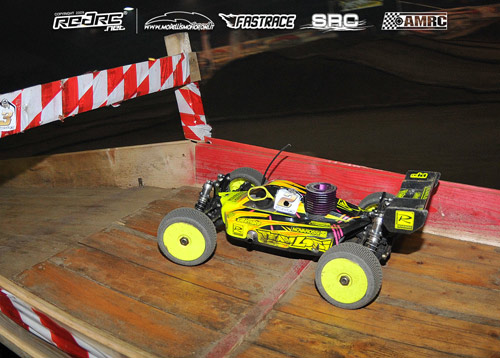 Commenting after his fourth win of the event, Aigoin said the opening part of the race had been hard for him as he worked his way through the traffic following the disastrous start.  The only driver to stretch his stints between refuelling to 11-minutes, he said this played a major part in him claiming the victory.  His first time to attend Italy's best known international offroad meeting he said it had been a great result for his Losi team as they TQ'd and won in Buggy, Truggy and Brushless Buggy.  Coming here fresh from winning the Pierrefeu GP, it was a busy four day event for the Pro racer who also won both of Saturday night's 'Race of Champions' and he says he is now really looking forward to a well earned break when he returns home.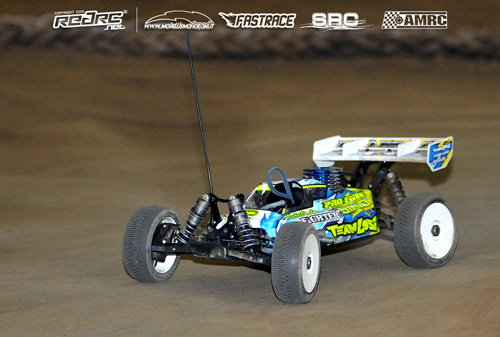 Runner up Rabitti said his car was fantastic throughout the race and that he felt really comfortable out in front but it was always going to be a tall order to compete with Aigoin especially when he had the advantage of one less fuel stop.  Distracted during the race  when the neck strap on his radio broke, he said his challenge for a second win, having won the Brushless Buggy title on Friday evening, was over when he tangled badly with the backmarker but overall he was happy to be on the podium at the biggest race in his country. The biggest battle of the Main was for the final step on the podium with Martin Karner, Gomez and Davide Tortorici having a thrilling battle.  With 5-minutes remaining the trio were separated by just 7 seconds but in the end the Team Orion powered MP9 of Karner came out on top. Making a number of small set-up changes and a switch to heavier shock oil, Karner was very happy with his result. Keeping one eye on former two time European Champion Tortorici throughout the final he said he drove a calculated race and this helped him to his second podium of the event.
Top Mugen finisher was Elliot Boots.  The young British racer was one of only three drivers to record a 41 second lap and in the end came back from a disappointing opening to the race to pass the GS Racing CLX of RB Engines team-mate Hernandez in the dying minutes to complete the Top 6.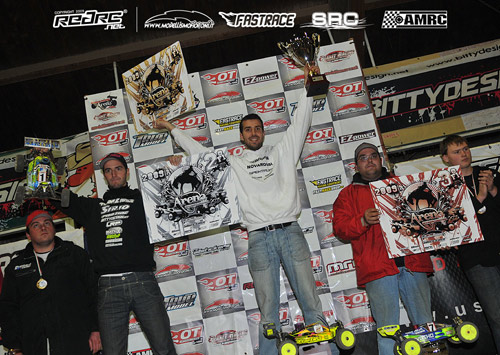 Buggy A-main results
1. Yannick Aigoin (FR) – Losi/Novarossi – 63L/45:21.253
2. Riccardo Rabitti (IT) – Losi/Sirio – 63L/45:37.765
3. Martin Karner (A) – Kyosho/Team Orion – 61L/45:04.862
4. Davide Tortorici (IT) – Crono/OS – 61L/45:12.461
5. Richi Gomez (ES) – Hong Nor/Reds – 61L/45:31.774
6. Elliot Boots (UK) – Mugen/RB – 60L/45:35.152
7. Borja Hernandez (ES) – GS Racing/RB – 60L/45:38.521
8. Alex Bayer (CZ) – Losi/Novarossi – 59L/45:05.502
9. Fabio Boero (IT) – Mugen/SM – 59L/45:31.472
10.Simon Willetts (UK) – Kyosho/Team Orion – 59L/45:37.335
11.Carlo Jacopini (IT) – Mugen/Team Orion – 58L/45:30.185
12.Alessandro Magi (IT) – Mugen/SM – 53L/45:16.827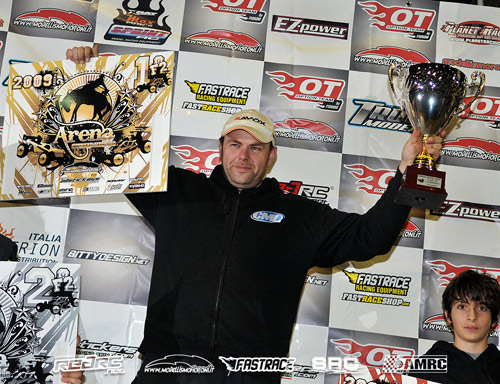 In the Buggy F2 Main, Britain's John Howell took a very narrow win over Italian Valerio Bellano.  Switching from Reedy to an RB engine just before the 45-minute final Howell, who started from second on the grid, got bumped back to last on the opening lap but three laps later he was in the lead.  The Hobao driver, who is running a pre-production version of the latest Hyper 9, was chased hard by Bellano but just managed to hold him off to win by a slender 3 seconds.  Third place went to pole sitter Marco Baruffolo while Anthony Conroy, winner of the F2 'Race of Champions' couldn't repeat that form after he broke a wishbone on his Mugen 3-minutes in.
Buggy F2 class A-main results
1. John Howells (UK) – Hobao/RB – 56L/45:33.278
2. Valerio Bellano (IT) – Xray/OS – 56L/45:36.406
3. Marco Baruffolo (IT) – GS/RB – 55L/45:07.198
4. Simone Romeo (IT) – GS/OS – 54L/45:14.349
5. Giuseppe Fermi (IT) – Losi/Sirio – 54L/45:36.234
6. Luca Passarini (IT) – Mugen/SM – 53L/45:09.418
7. Maurizio Tinnirello (IT) – Xray/OS – 53L/45:15.809
8. Federico Tizzoni (IT) – Mugen/RB – 53L/45:17.539
9. Jason Fowler (UK) – Associated/Reedy – 52L/45:06.739
10.Mirko Belli (IT) – GS/PSA – 35L/30:14.019
11.Francesco Vaselli (IT) – Mugen/OS – 24L/22:10.515
12.Anthony Conroy (UK) – Mugen/Ninja – 4L/03:07.976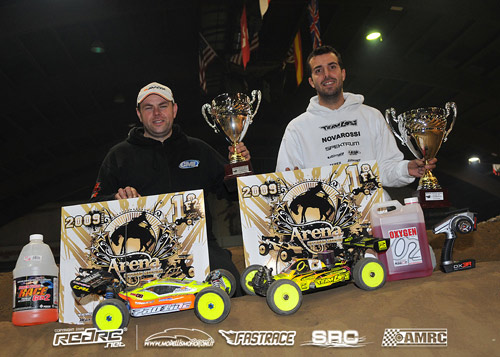 The second running of this long established event indoors, American Adam Drake winning it the last time it was held outdoors, the 2009 Arena Offroad Meeting was again a huge success with those making their first visit already looking forward to returning to Voghera next year. The organisers, MRC Crew, did a fantastic job constructing the huge US style track and ran a very smooth event. Red RC would like to thank Fast Race, Modellismo Fioroni, Sprint RC and A.M.R.C for making our coverage possible.
View our event image gallery here.
---