July 3, 2011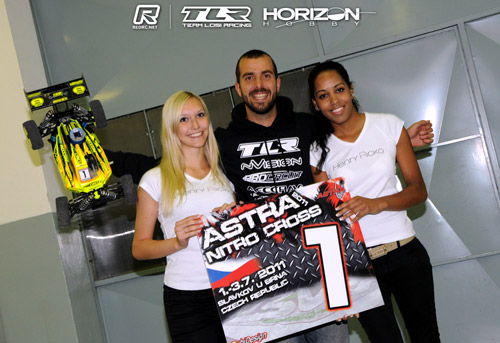 Team Losi Racing's Yannick Aigoin is the 2011 Astra Nitro Cross Champion after heavy rain forced the cancellation of the Semi finals at the annual Czech Republic event and the outcome of yesterday's dry qualifications was used to determine the result of the fifth running of the 3-day international race.  The former European Champion dominated all six rounds of qualifying to claim TQ honours ahead of Losi/nVision team-mate, and last year's champion, Martin Bayer and this is how they line up on the podium where they were joined by new Xray signing Ales Bayer who qualified third.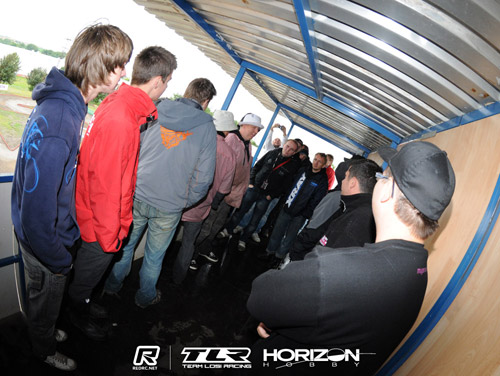 Having dodged the bad weather in practice on Friday and worked around two short rain showers in qualifying on Saturday, the rain finally arrived with force over Slavkov u Brna as the Top 16 drivers got ready for their Semi practice sessions.  Managing to get the Quarter finals completed between showers the race organisers called a 1-hour delay to the start of the first Semi but after further inspection of the track and checking of the forecast for the area the decision was taken, with the full support of all the drivers, to cancel the remaining finals.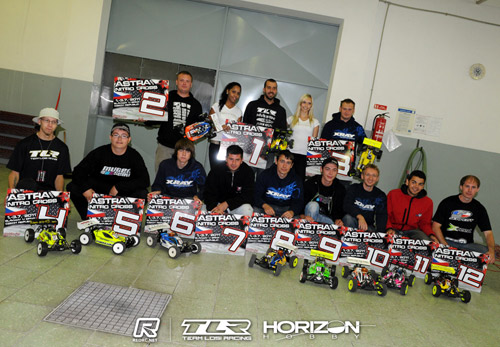 A top class event, both in terms of the facilities and the organisation, it is a real shame that the weather, one of the few things outside of the control of the Bayer family, forced a premature end to proceedings.  Red RC would like acknowledge the efforts of Martin Bayer and everyone involved in putting on the 2011 Astra Nitro Cross and thank both Horizon Hobby and Team Losi Racing for making our coverage possible.  If you're looking to compete in an international 1:8 Offroad event next season we would highly recommend booking an entry to Astra Nitro Cross number 6.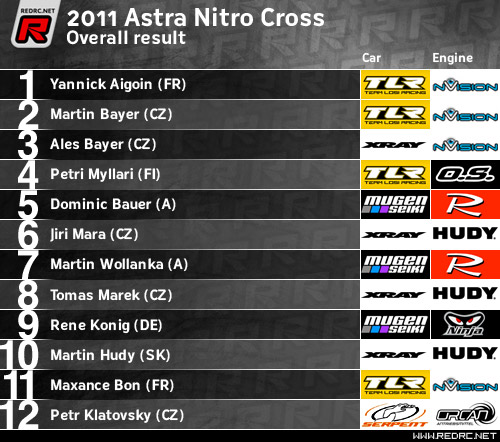 View complete results here.
View our event image gallery here.
---