July 24, 2008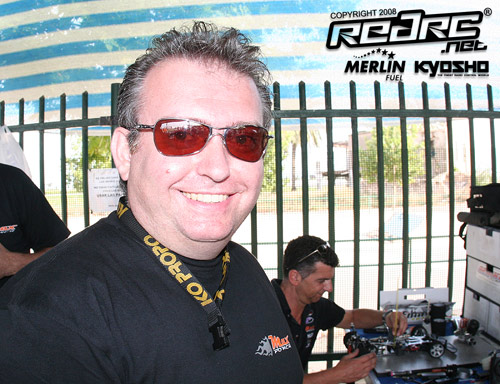 Massimo Fantini just missed out on the first 18 lap run as he took advantage of cooling temperatures in the final run of Day 4 of the 2008 EFRA European Championships. The Italian Serpent driver who has been quick from the start of the event completed 17 laps in 5:00.948 to top the time sheets from Robert Pietsch. Fantini was shown on the timing screens to be on target to do 18 laps but over the final lap his pace dropped and he just missed out.
Pietsch who ran out of fuel in his first run was very pleased to be second fastest and even happier with the amount of fuel left in the tank of his Novarossi powered Shepherd Velox. Michael Salven, who topped the time sheets first time round, improved his time but dropped to third. The German factory Serpent driver said his car felt much faster but he was dissappointed with the time as he thought it would be much better than the 9/10th of a second improvement he actually made.
Mark Green had the opposite to say when informed he was fourth replying with a rather shocked 'Really'. The British Champion said the car felt slow but was easy to drive and he was surprised but really happy to set such a time.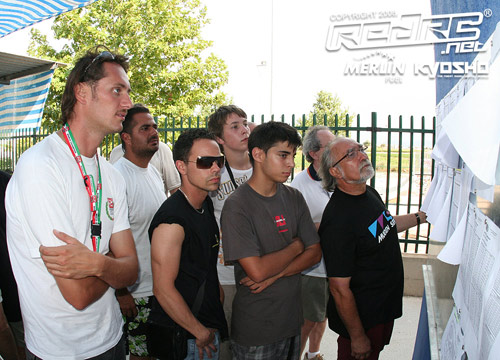 Alberto Picco claimed the fifth fastest time but was critical of the heat structure which is resulting in much unnecessary car damage. Pointing to a very dejected Adrien Bertin, who collected another car in his run, the Italian said, 'He is a World Champion and his car is broken not because he is a bad driver but because of the difference in speed between the drivers is too big. The practice runs should have been sorted based on EFRA's Ranking for A drivers, that way we can concentrate on driving at 100% instead of having to avoid slower drivers. Its not fair on any of the drivers'. Dario Balestri also fell victim to the big differences between driver speeds and was quick to let race officials know his thoughts as his Motonica was lifted off the track less a front corner. Asked about his car former World Champion Picco said he was quite happy and while the lower temperatures had improved run time it was still very close.
Completing the Top 6 was Italy's Nicola Marrone ahead of fellow countrymen Andrea Pirani, who failed to improve on his earlier time, while current World & European Champion Lamberto Collari apppears to have gotten his Kyosho working much better now.
Another racer failing to improve his time was Daniele Ielasi, saying his clutch was not set correctly but he was not worried as tomorrow is the race, referring to the first qualifying heat tomorrow evening.
Tomorrow will start off with two more timed practice runs, which are being seeded based on the two timed runs from today, before we get down to the serious business of qualifying with one round scheduled to start at 15:30 local time.
View our image gallery here.
---