1. Ryan Cavalieri – Associated – 11/5:20.176
2. Dustin Evans – TLR – 11/5:20.843
3. Jared Tebo – Kyosho – 11/5:21.402
4. Lee Martin – Tamiya – 11/5:21.411
5. Darren Bloomfield – TLR – 11/5:21.851
6. Ryan Maifield – Associated – 11/5:22.356
7. David Ronnefalk – Kyosho – 11/5:22.933
8. Neil Cragg – Associated – 11/5:23.293
9. Christopher Krapp – Kyosho – 11/5:23.585
10.Ryan Lutz – Durango – 11/5:24.231
Wednesday, September 25, 2013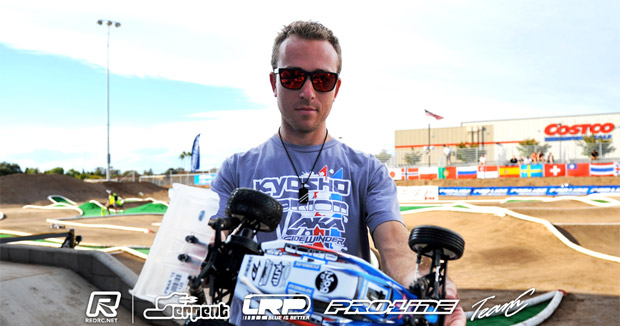 Jared Tebo bounced back to claim his second TQ run at the 2WD Electric Offroad World Championships in California, the Kyosho driver topping Q3 ahead of Yokomo's Naoto Matsukura and Team Associated's Ryan Cavalieri.  Getting his qualifying off to the perfect start in the opening qualifyier, the American struggled with his set-up in Q2 but was back in business after changing to a heavier shock oil in the RB6 for his third run. Posting the fastest time of the event so far, with an 11 lap run in 5:20.954, Tebo is now the only driver who could potentially wrap up the overall TQ honours on Day 2 of the Worlds should he top this evening's penultimate round of qualifying.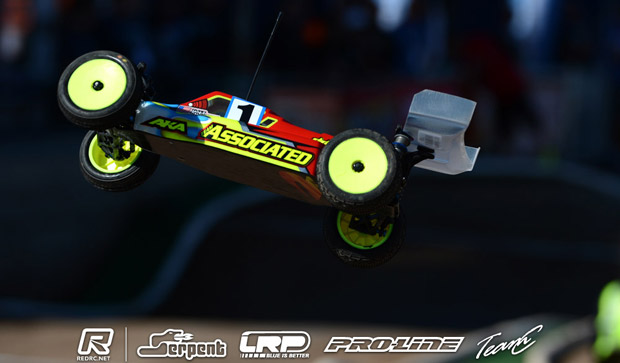 Cavalieri, who initially placed outside the Top 10 after the loop failed to register his buggy as he wheelied it across the line, said it was a good run once his tyres came in.  Running fresh tyres, Proline Scrubs on the front and the mandatory handout Suburb on the rear, he said they caused him to start out with understeer but by lap 4 all was good.  Planning to try and scrub in his tyres more ahead of his next run he said with this sorted he is 'right there' in terms of pace, adding that he is very happy with his consistency, being the only driver with a Top 4 finish from all rounds.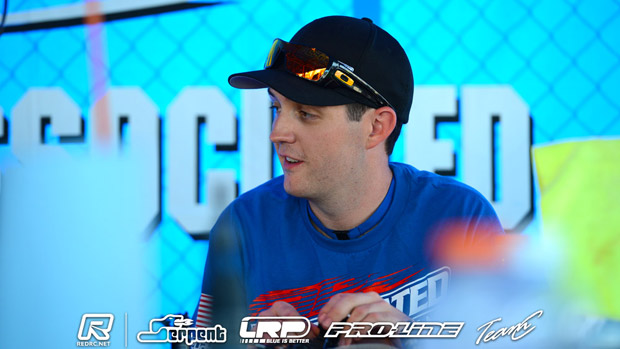 While Associated's Maifeld was unable to back up his P2 in Q2, the team saw two of their other drivers step up to the mark.  Having shown promise in practice Kody Numedahl put in his first 11 lap run to take his Centro converted B4.2 to the 4th fastest time just ahead of Steven Hartson.  Numedahl said having gone too far with his set-up in Q2 he went back a step for Q3 and this resulted in him finding the extra front end grip he was looking for. Having retired in Q1, Hartson said he just drove aggressive this time round having been over cautious in Q2.  Happy to make the Top 5 he said he will just aim to repeat the run again in Q4 and avoid mistakes but added that the pace needed is hard to do.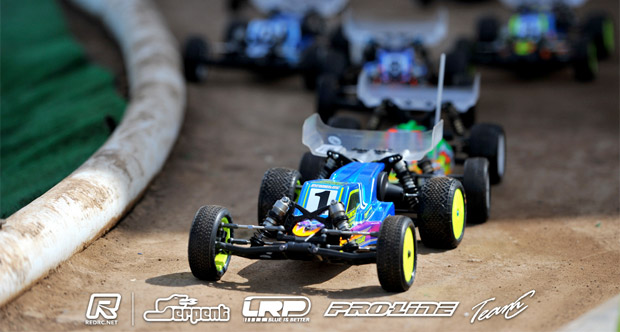 Dustin Evans was best of the TLR drivers in Q3 as he rounded out the Top 6, a crash in the last lap costing him places.  The former US Champion said he is lacking pace on fresh tyres at the start of the run and if he sorts this he would be in good shape.  Team-mate Darren Bloomfield, who set the fastest lap for the round, finished 9th for the round after he crashed.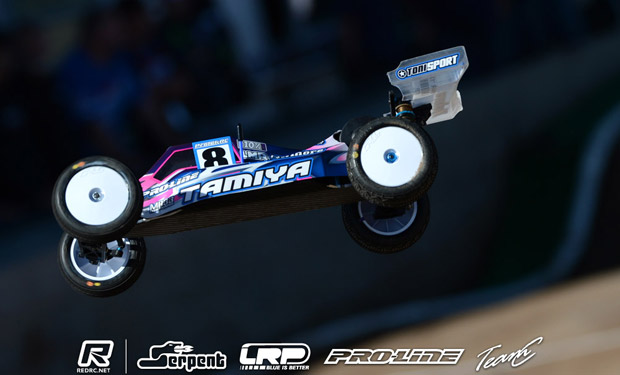 For Q2 pace setter Lee Martin a broken idler gear forced him to retire, the  Tamiya driver said he could feel it going from the start.  Better known for exploits in electric Touring Cars, with 3 World titles to his credit, TRF team-mate Marc Rheinard claimed his first Top 10 finish taking his Muchmore powered 201XM to the 8th fastest time just behind HB's Ty Tessman.  Completing the Top 10 was A-Main Hobbies team driver Tyler Vik at the controls of a Kyosho RB6.
View our event image gallery here.
Wednesday, September 25, 2013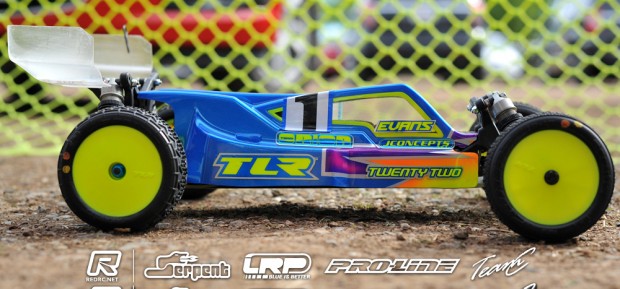 Car: TLR 22.2
ESC: Team Orion
Motor: Team Orion 6.5T
Batteries: Team Orion
Radio/Servo: Spektrum
The former National Champion is using a pretty standard TLR22.2 in mid motor configuration and is using basically the same set-up as he used in the Nationals held last month on the same dirt. Only have to adjust the shock oils according to the different temperatures he was fastest in the final rounds of practice. The factory TLR driver has chosen ProLine Scrubs as his optional front tires.
Image Gallery
Wednesday, September 25, 2013
1. Jared Tebo – Kyosho – 11/5:20.954
2. Naoto Matsukura – Yokomo – 11/5:21.273
3. Ryan Cavalieri – Associated – 11/5:21.363
4. Kody Numedahl – Associated – 11:5:24.468
5. Steven Hartson – Associated – 11/5:24.691
6. Dustin Evans – TLR – 11/5:25.395
7. Ty Tessman – Kyosho – 11/5:26.390
8. Marc Rheinard – Tamiya – 11/5:26.578
9. Darren Bloomfield – TLR – 11/5:27.083
10.Tyler Vik – Kyosho – 11/5:27.392
Wednesday, September 25, 2013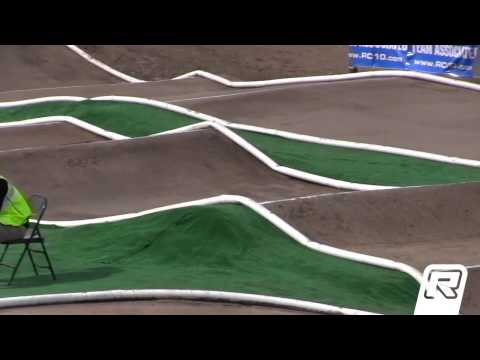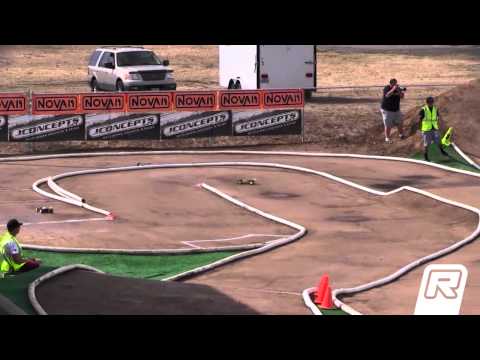 Wednesday, September 25, 2013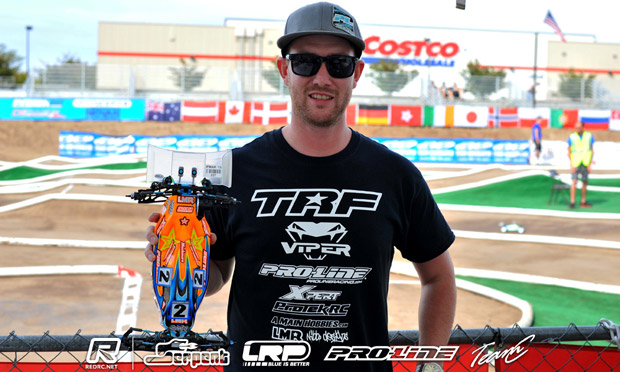 Tamiya Racing Factory's Lee Martin has TQ'd the second round of qualifying at the World Championships in Chico, California. Having suffered a problem with his slipper clutch in Q1, leaving him to post the fourth fastest time, the British ace had no such issues in the second 2WD qualifier, posting a new fastest time .9 of a second up on Q1 non-finisher Ryan Maifield and fellow countryman Darren Bloomfield.  For Q1 pace setter Jared Tebo a wrong choice of shock oil left the Kyosho driver to struggle, a mistake ultimately leaving him to finish outside the Top 10.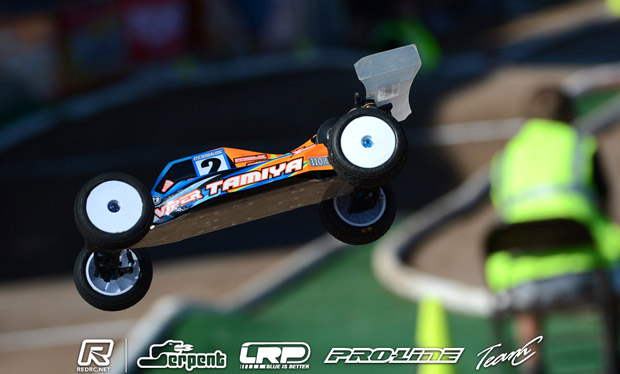 Martin, who finished 7th overall at the 2011 Worlds, was pleased with his run commenting that he has just 'got to do it again now in the next one'.  The multiple former European Champion said the track felt a little different from Q1 but still his TRF201 XM felt good and the plan is to leave everything as is and just try to repeat the run in Q3.  Finishing the run with his fastest lap of the 5-minute run he said this was encouraging showing the car is consistent from start to finish.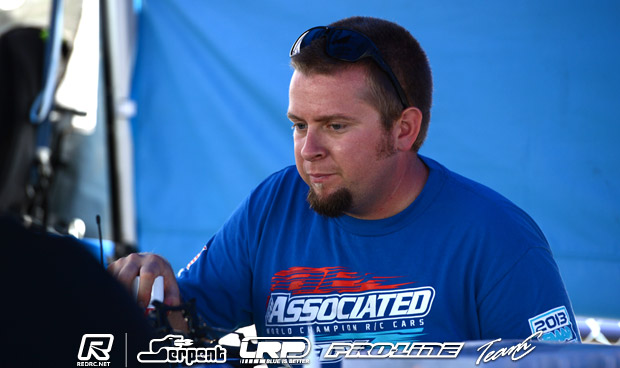 'Better' was how Maifield summed up his run to second having broke his Centro converted B4.2 on the opening lap first time of asking.  With a retirement on the board he said he 'cruised' looking to get a solid result from Q2, a driver's best 3 of 5 rounds determining the grid for finals.  Commenting on his mid motored buggy, Maifield said he would like to find more mid corner steering and to try & achieve this will fit new drive parts for Q3. It was a decent round for Associated who managed to get all three of their star drivers in the Top 5 with current champion Cavalieri posting the 4th fastest time 18/1000 in front of former Champion Neil Cragg.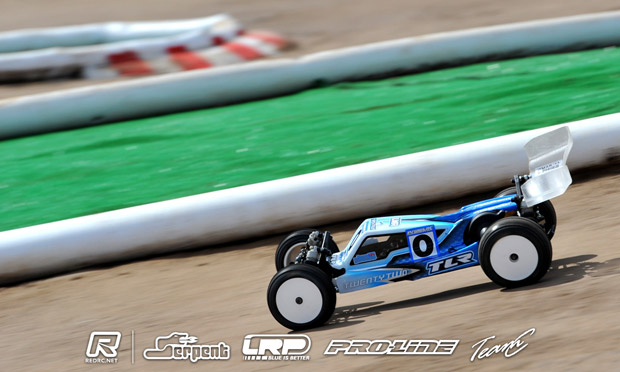 Having moved the location of his rear shocks which resulted in his TLR22 rolling less in the corners, Bloomfield was pleased with his run to third adding that he plans to stick with that set-up for his next one.  Team-mate Mike Truhe set the 6th fastest time describing it as a 'clean solid run'.  While his buggy is 'not a rocket ship' he said he is happy with the 5-minute pace and the plan for the next one is just to 'fit new tyres and charge it up'.  'Just one bad crash is all it takes' is how Dustin Evans summed up his run to the 9th fastest time behind his teenage team-mate Dakotah Phend who also suffered 'one bad crash'.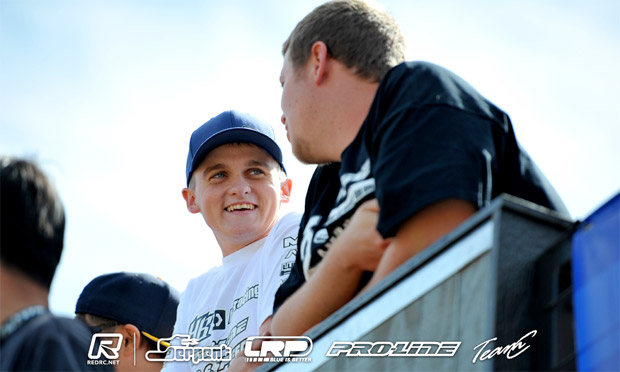 After his DNF in Q1, HB's Ty Tessman said he maybe drove a little to cautiously on his way to 7th in Q2.  The Canadian said he wasn't too comfortable with his Kyosho RB6 which he described as 'not super fast' adding it felt loose.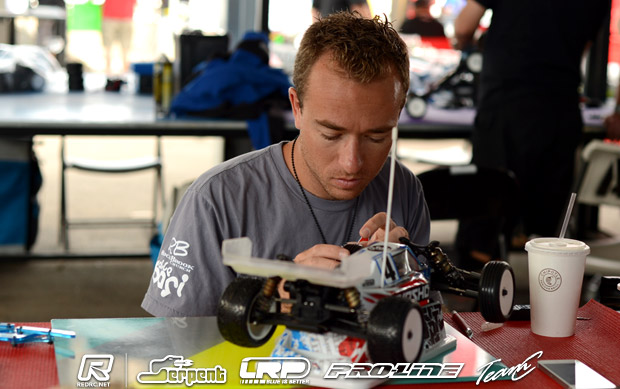 Commenting on his run to the 15th fastest time, Tebo said his shock oil was too light for the hot air temperature of Q2.  Planning to go up 2.5 in oil weight for Q3 he said even with the buggy soft a Top 3 would have been on the cards if he hadn't have made his mistake in front of the drivers' rostrum.  One of the worlds most famous offroad racers but still void of a 2WD World title, Tebo wasn't to be put off by his Q2 run adding everything should be fine for the next run.
View our event image gallery here.
Wednesday, September 25, 2013