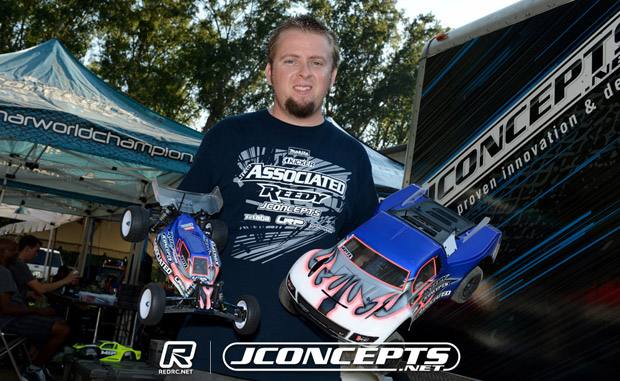 Ryan Maifield has put himself in the best possible position to defend his JConcepts Clash 2WD Buggy title after he took the final round of qualifying to secure himself overall TQ honours for tomorrow's final at the Flowood Indoor R/C Park in Mississippi.  The Associated driver set a new fastest time of the weekend in the fourth qualifier taking the round ahead of Q1 & Q3 winner Dustin Evans to tie with his big rival but having run 14-laps in both his TQ runs the Arizona driver secures pole position for the triple mains on tie-break.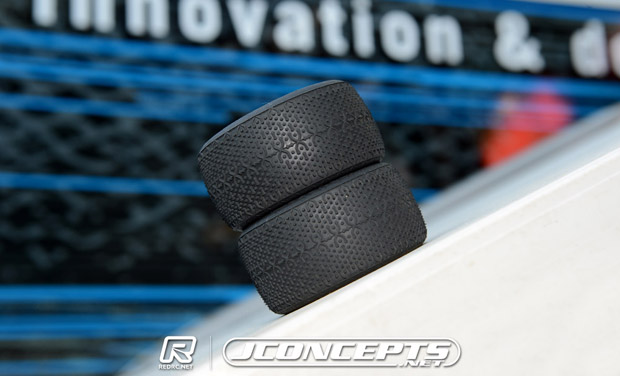 Also setting the fastest lap of the weekend in Q4 with a 22.233 lap, Maifield said the event was so far going to plan with him also securing overall TQ honours in 2WD Short Course with him topping all four qualifiers with his SC10.  Needing to TQ the round to deny Evans TQ honours on his first Clash appearance, Maifield almost threw it all away when he clipped the pipe at the chicane sending his buggy shooting off the track losing him over 2 seconds.  Switching to a pre production version of JConcepts' soon to be released Pressure Point tyre on the rear of his Reedy powered B4.1, Maifield said the new tyre gave him a 'ton of traction' but looking forward to the finals he said he plans to revert to back to Bar Codes as its a tyre that he knows well and which suits his aggressive driving style.  Asked about the finals, Maifield said Evans has the speed and he expects a good race between the two of them adding the track has a number of good passing places particularly on the left side but he said he hopes thats not something he will have to worry about.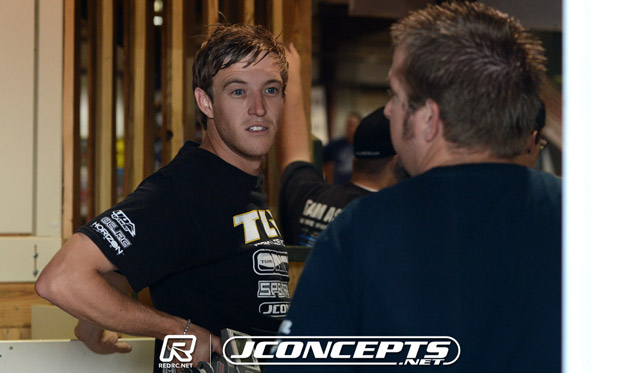 Evans, who also ran the new Pressure Point tyre on the rear of his Orion powered TLR22 to record his only 14 lapper, said starting second wasn't so bad as 'it easier to follow than to be followed'.  The 2011 US National Champion and Reedy Race Champion said he needs to make his buggy easier to drive as it a bit too nervous on the right side of the track. If he can calm it down a little he is confident he can go faster as he wont be scared to push it harder.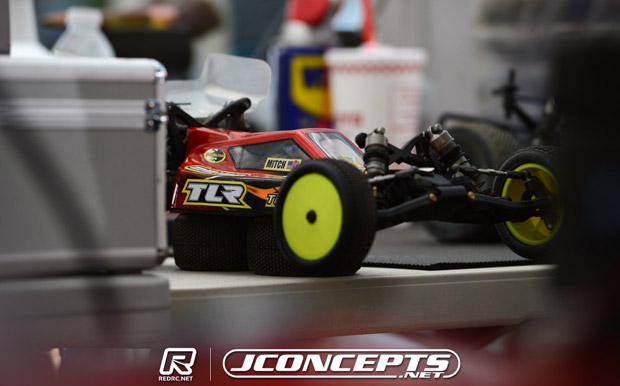 Starting third on the grid will be Evans' TLR team-mate JR Mitch with Maifield's Associated team boss Brent Thielke lining up fourth, the pair set to battle it out for the final step on the podium.  Enjoying his best run in the final qualifier, 15-year-old Kyosho team driver Zack Genova will carry the No.5 on his Novak powered RB6 tomorrow thanks to his 3rd fastest time in Q4. Event organiser & JConcepts boss Jason Ruona starts 6th.
Despite dominating 2WD Short Course, Maifield said the finals are never a 'walk in the park' and with Evans and JR Mitch starting behind him nothing can be taken for granted.
2WD Buggy
A-Main Grid
1. Ryan Maifield – Associated – 0 pts
2. Dustin Evans – Team Losi Racing – 0
3. JR Mitch – Team Losi RAcing – 6
4. Brent Thielke – Associated – 7
5. Zack Genova – Kyosho – 8
6. Jason Ruona – Associated – 9
7. Max Flurer – Associated – 10
8. Tanner Denney – Associated – 11
9. Daimon Borkowicz – Associated – 15
10.Steve Bortolotti – Tamiya – 17
2WD Short Course
A-Main Grid
1. Ryan Maifield – Associated – 0 pts
2. Dustin Evans – Team Losi Racing – 4
3. JR Mitch – Team Losi Racing – 5
4. Daimon Borkowicz – Associated – 6
5. Max Flurer – Associated – 8
6. Paul Wynn – Associated – 10
7. Justin Cranford – Associated – 12
8. Chris Viesins – Team Losi Racing – 14
9. Tylor Weaver – Team Losi Racing – 17
10.Brian Abbott – Associated – 17
View our event image gallery here.
Sunday, September 23, 2012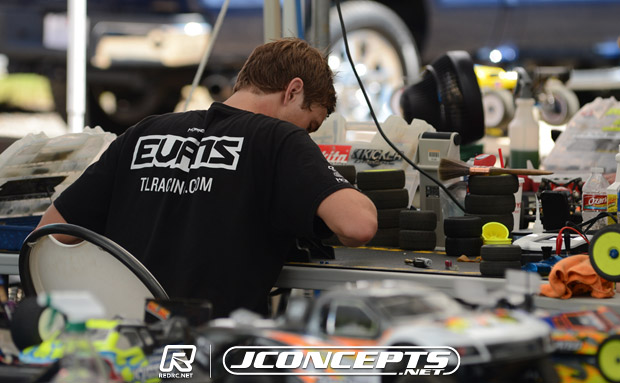 Dustin Evans has TQ'd the penultimate round of 1:8 Nitro Buggy qualifying at the JConcepts Clash, the Colorado driver setting a new outright fastest time in Q3 ahead of Ryan Maifield who he will now battle it out with in this evening's final qualifier to decided which of the two great rivals with secure the overall TQ honours at the sixth running of event.  Behind the two favourites for the win here in Mississippi, 18-year-old Cole Ogden claimed his best round taking his Losi around the impressive indoor FRC track in the third fastest time.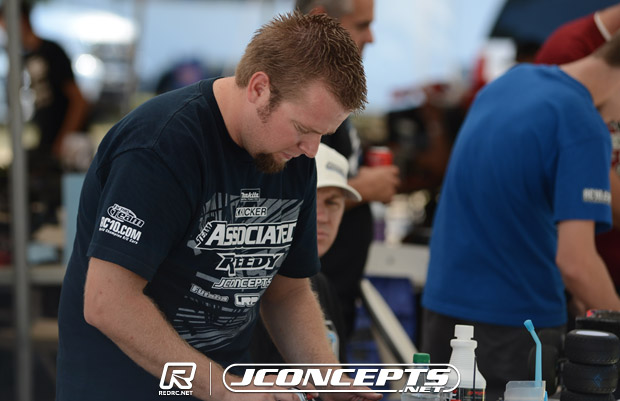 The round saw Maifield produce a blistering fastest lap as he took his LRP powered RC8.2 to the first sub 21 second lap of the event with a 20.994, but the Arizona driver was not happy with the car's handling. Having rebuilt the buggy for the second day of qualifying he said it was not nice to drive and was going to need a lot of changes for the Q4 showdown against Evans.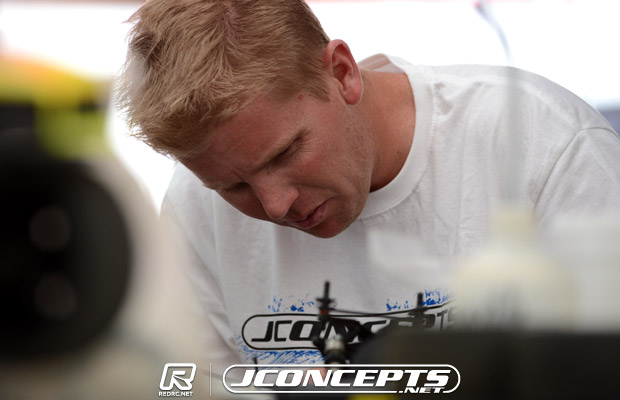 Completing the Top 3 in both of yesterday's qualifier, Team Losi Racing's JR Mitch became the first of the leading drivers to fail to finish a qualifier.  Looking to improve his fuel mileage they leaned out his Orion engine but it was a little too much and it flamed out on his 9th lap.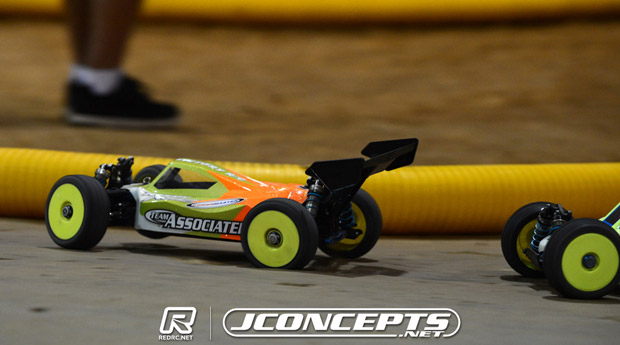 In 1:8 Electric Buggy Jake Dellinger, driving an Associated, ended Brent Thielke's domination of the largest class at this year's Clash, the 19 year-old Texan taking Q3 by half a second from the Associated team manager.  Fitting a fresh set of JConcepts green compound Hybrids on his RC8.2e for the round the set-up was not right for the new rubber and the buggy was difficult to drive but with the tyres now scrubbed in he said things should be fine for the final qualifier this evening.
View our event image gallery here.
Saturday, September 22, 2012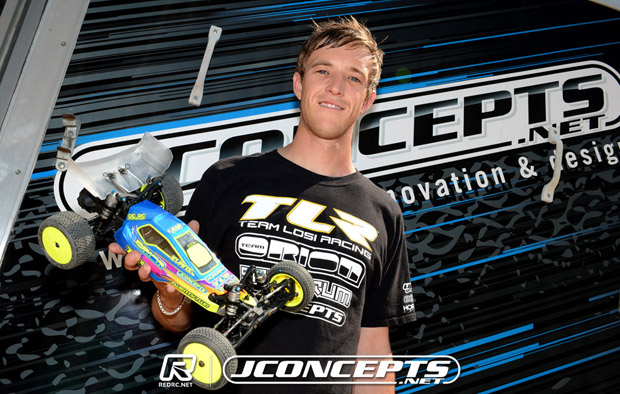 Dustin Evans kicked off Day 2 of qualifying for the 6th Annual JConcepts Clash with his second TQ run in 2WD Buggy, the most competitive class at this year's event which is for the first time being held outside of Florida and run at an indoor track.  The Team Losi Racing driver took his Orion powered TLR22 around the Flowood Indoor R/C Park in Mississippi in a time of 13/5:09.97 to pip defending champion Ryan Maifield by .158 seconds with Brent Thielke third a further 1-second off the TQ time.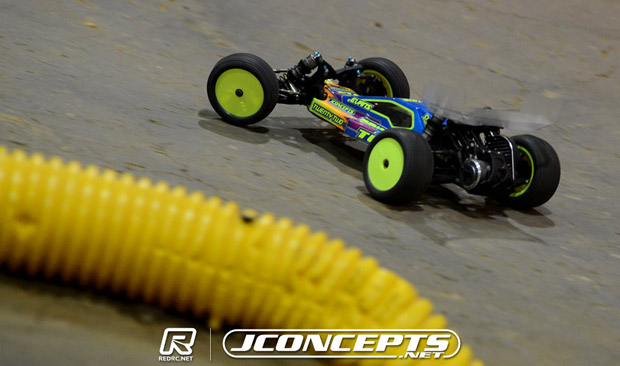 Benefiting from a crash by Maifield on the final lap, Evans was happy to once again start the day with a TQ run as his buggy was difficult to drive particularly in the right hand section of the track.  Using JConcepts blue compound Bar Code tyres all round, the 2011 US National Champion said he ran the wrong insert in his front tyres. Running standard foam inserts he said his buggy had too much steering and he had to be very cautious through the corners.  With team-mate JR Mitch running closed cell inserts on the front of his TLR22 allowing him to post the fastest lap of the round, Evans said he will switch to that option for this afternoons fourth & final round of qualifying when the track is set to be much faster as highlighted in Q2 yesterday when Maifield posted the first & so far only 14 lap run.
Running new tyres all round on his buggy for the first time having run used fronts in both of yesterday's qualifier, Mitch said his buggy was near perfect for the track conditions.  Having just moved to the top of the timing screen Mitch threw away a potential TQ run on the same lap turning in too early on the run up to a table top corner which left him stuck in the pipe. Making another substantial mistake on his last lap Mitch said the only change he wants to make for Q4 is to the driver and try and eliminate the mistakes as his buggy has the pace.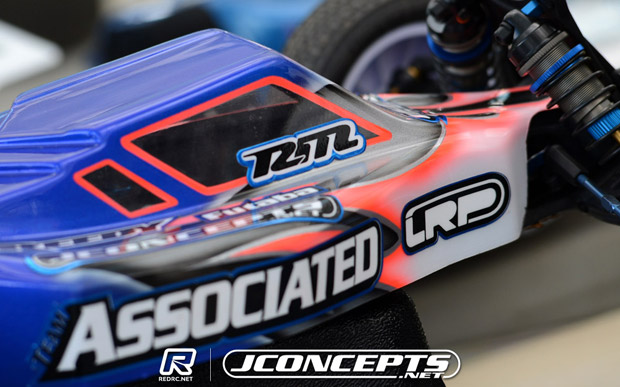 Losing out on the TQ run with the second of two crashes over the 5-minute qualifying, Maifield said his tyre choice for the round wasn't right.  Opting to run a softer green compound rear set of JConcepts Bar Codes while sticking with blues on the front he said it made his B4.1 squirmy.  Team Associated manager Thielke along with Tanner Denney also ran the same tyre combination but the pair still managed to post their best rounds.  Thielke said while the tyre choice was wrong he found the overnight reseeding of the heats helped with judging your pace.  Also moving up to the top heat Denney had the pass for a top 3 time but early in the run got tagged going into a corner by a slower buggy he had passed earlier in the lap dropping him from second to sixth.  In the end the 17-year-old recovered to set the fifth fastest time.
In 2WD Short Course and 2WD Truck round 3 saw the overall TQ honours wrapped up as Maifield and Thielke complete a clean sweep of three fastest times from three qualifiers.  In Short Course defending champion Maifield once again topped Evans to secure pole position for tomorrow's A-Main while in Truck bagged himself the No.1 race number for his T4.1 as he took Q3 from Denney. The round was the best run from Zack Genova as he set the third fastest time. Running Proline M3 Holeshots on the rear and Scrubs on the front the 15-year-old Kyosho team driver said it was the wrong choice of compound and his Novak powered RT5 struggled with a lack of forward traction.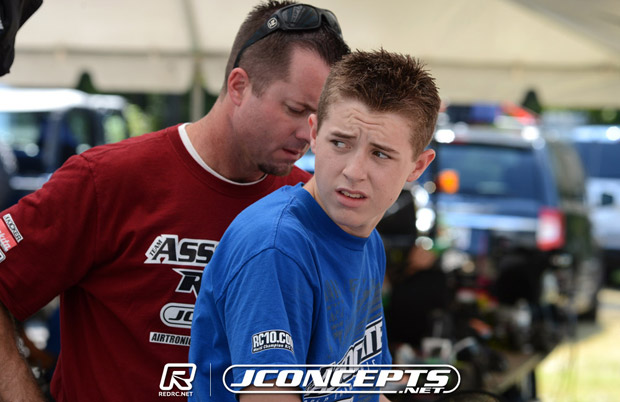 In the 4WD classes, Denney produced his second TQ run with a new overall fastest time in Buggy to take the round ahead of Q2 pace setter Jason Ruona with Genova's Kyosho posting the third quickest time. In Short Course Matthew Olson knocked a second of his Q2 topping time to TQ the third round of qualifying ahead of Q1's fastest man Max Flurer.
View our event image gallery here.
Saturday, September 22, 2012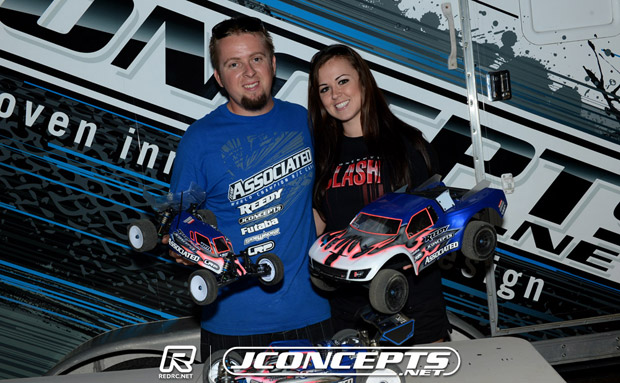 Having lost out on a potential TQ run in the opening round of qualifying for 1:8 Buggy due to a problem with traffic on his final lap, Associated's Ryan Maifield set the record straight in Q2 topping the time sheets with a new fastest 5-minute run at the sixth annual JConcepts Clash. Ending the day as provisional Top Qualifier at the Mississippi event, it was a successful day for last year's champion as he also holds the honour in 2WD Buggy and 2WD Short Course setting himself on course for a successful hat trick defense of his titles.  Top Qualifier in Q1, Dustin Evans finished 2nd in the second 1:8 Buggy qualifier 8-seconds adrift of Maifield after the TLR driver suffered with a clutch problem in the evening run.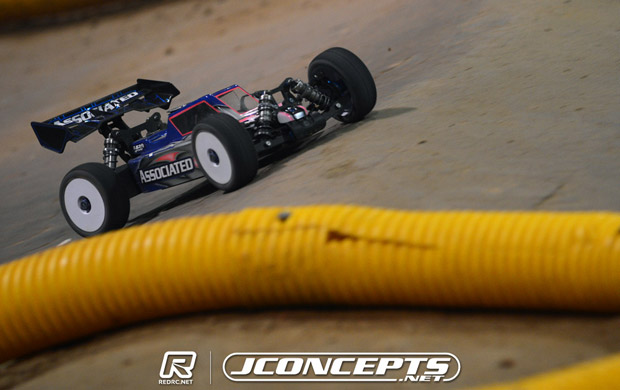 Making a number of small tweaks to his LRP powered RC8.2 and switching from blue to green compound JConcepts Hybrids, Maifield said the buggy was a little better than the morning run although he had a problem getting full steering.  With his buggy featuring a new prototype front end which is part of the team's preparations for the World Championships, Maifield is hoping to find the problem when he freshens up the buggy for Day 2 of qualifying.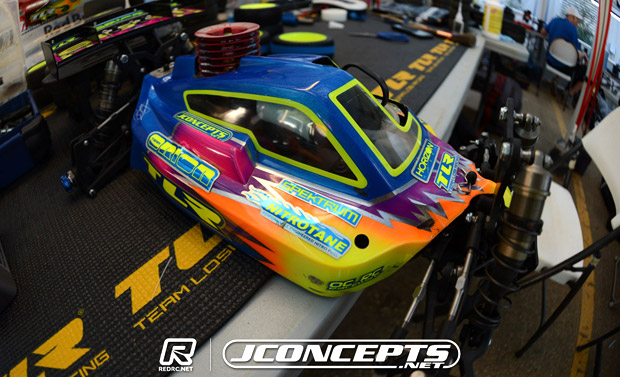 Losing 4-seconds on his second lap following a driver error, Evans said his Orion powered 8ight was difficult to drive due to a sticking clutch which caused the buggy to run on in the corners.  Despite the issue he was still able to post the fastest lap of the round with a 21.205 on his last lap which was over 2/10ths quicker than Maifield's best around the Flowood Indoor RC Park track.  Also managing a faster lap than Maifield by just 1/1000th of a second, TLR team-mate JR Mitch said he found a better tune on his Orion engine which gave much better mileage. Managing to keep his tyres glued to the rims in Q2 the veteran offroad racers had to contend with the driver next to him 'flipping out' at the start of the run which he said was a huge distraction but when that driver called it a day he said he was happy with how his 8ight worked having decided not to switch to blue Hybrids and instead stick with Green compound using a set Evans had glued up!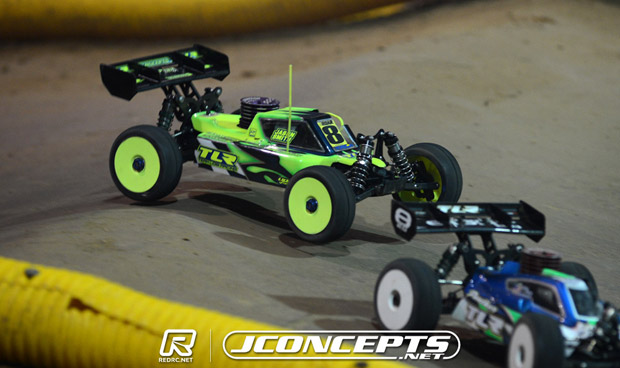 Having had problems with traffic in Q1, JConcepts Clash regular Jason Smith set the fourth fastest time just 4/10th adrift of Mitch.  His fifth time to contest the Clash, missing only the second running of the event in 2008, the North Carolina driver said his Novarossi powered 8ight is working really well but more needs to come from the driver.  Like the three drivers ahead of him he also ran Hybrids and plans to stick with the same chassis & tyre set-up for tomorrow's penultimate qualifier.
In the 1:8 Electric Buggy class Brent Thielke produced a second TQ run of the day taking Q2 1.7 seconds ahead of the similar RC8.2e of Max Flurer.  In 4WD Short Course, Flurer TQ'd the opening round but it is Matthew Olson who holds the overnight TQ honours after he ran a new fastest time in Q2.
View the overall results at the end of round 2 of 4 here.
View our event image gallery here.
Saturday, September 22, 2012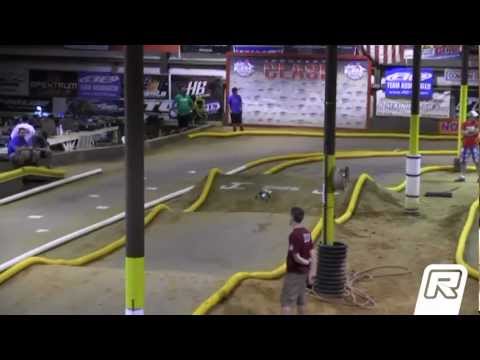 Saturday, September 22, 2012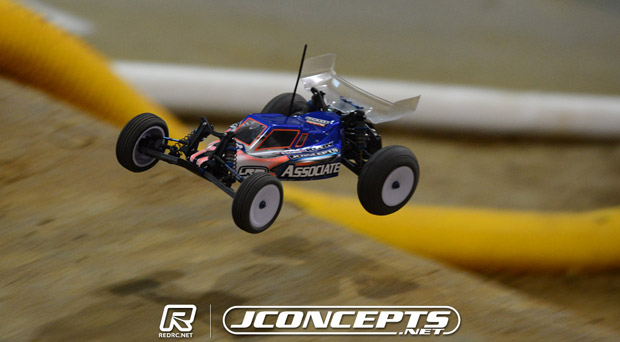 Defending JConcepts Clash Champion Ryan Maifield has TQ'd the second round of qualifying for 2WD Buggy becoming the first and so far only driver to record 14-laps around the Flowood Indoor RC Park in Mississippi. The Associated driver made best use of the high traction track conditions to set the pace ahead of the morning's Q1 top qualifier Dustin Evans, the TLR driver missing the 14-laps by just under 3/10th of a second.
Switching from the blue V2 Bar Code JConcept tyres he ran in the morning to V1 for the afternoon qualifier, Maifield described his run as 'pretty descent'.  Managing to run a fastest lap time that was a full 1-second faster than the best lap of Q1 set by Evans, Maifield plans to leave his Reedy powered B4.1 as is for the morning's Q3 but will try a wider foam insert in the front tyres to try make the front a little stiffer.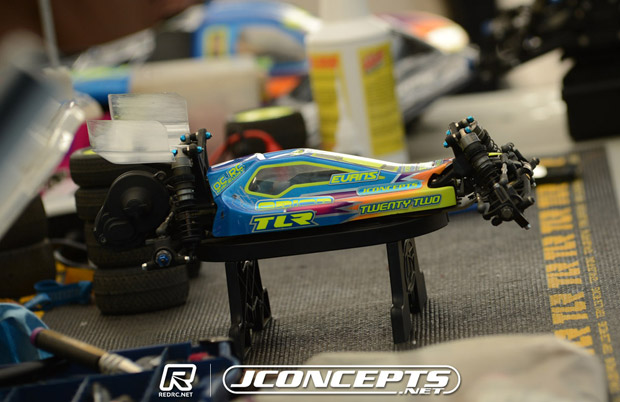 Evans said he thought about running a harder front spring on his TLR22 in anticipation of the track having more grip but didn't and this cost him the chance of a second TQ run.  With the track having 'a lot more grip' his buggy was very hard to drive especially as his tyres, the same set as he ran in Q1, warmed up.  Losi team-mate JR Mitch took third for the round and after messing up his opening lap declared himself happy with his recovery.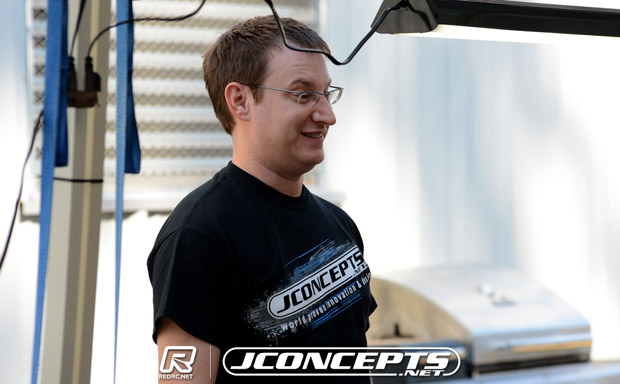 Jason Ruona took his Associated B4.1 to a strong 5th fastest time just ahead of Brent Thielke.  The JConcepts boss said the higher traction in Q2 suited both the buggy and the driver better than the morning and despite one small mistake he was happy with his performance.  Like his team drivers Ruona ran blue Bar Codes which he said suited the conditions perfectly but with the track set to be watered overnight and the penultimate 2WD Buggy Qualifier up early in the morning he thinks a softer compound will be better for that round.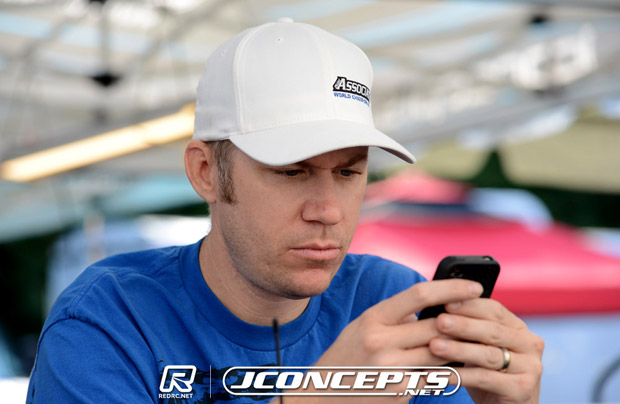 Running JConcepts Rips on the front of his B4.1, Thielke said while it made his buggy very easy to drive he will switch to Bar Codes all round for Q3.  The AE team-manager said while it will be more aggressive to drive it will give him more corner speed and if he wants to be in with a chance of a podium finish he is going to need that extra pace.  Behind Thielke was Tanner Denney but the 17-year-old had the pace to post a Top 3 time only to hit problems with traffic that resulted in two 27-second laps.
In 4WD Buggy it was Ruona, who hasn't raced 4WD since last year's Clash event, that took the TQ ahead of David Gibson after Denney again had traffic problems this time on his final lap while running a TQ time.  Setting the fastest lap of Q2 with a 21.630 lap, the incident resulted in a 31.3 second last lap for Denney dropping him to third for the round.
View our event image gallery here.
Saturday, September 22, 2012