November 15, 2014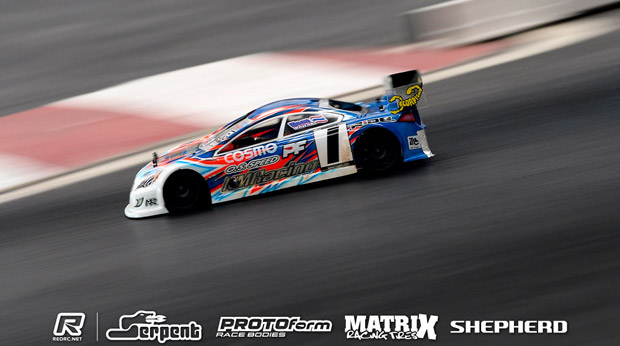 Defending World Champion Meen Vejrak is through to the Semi Finals at the 200mm World Championship but it would be a very tense closing minute & a half to the 1/4 Finals for the KM Racing driver.  Starting from pole position, due to a disastrous first day of qualifying, the Thai driver had control of the 20-minute encounter leading from man on a mission Peter Jovanovic but as the race reached the closing stages he would struggle to control his H-K1. A heavily loaded 10-car grid, Vejrak's car would suddenly become nervous to drive, it clear to see he was struggling to keep it on four wheels.  Suffering a roll that would lose him over 4-seconds, he would get unlapped by the 3rd place battling pair of Martin Hudy and Robert Pietsch with fastest man on the track Jovanovic going to the front.  Tentatively trying to bring the car home, Vejrak would just hold on to finish second ahead of Hudy & Pietsch who such as the World Champion's loss of pace managed to get the gap down to 2 seconds.  One more lap and the outcome could have been very different.  Afterwards a clearly relieved Vejrak would find out that the loss of a rear body clip had allowed the body to lift with the opposite side cutting into his rear tyre to cause his handling issues.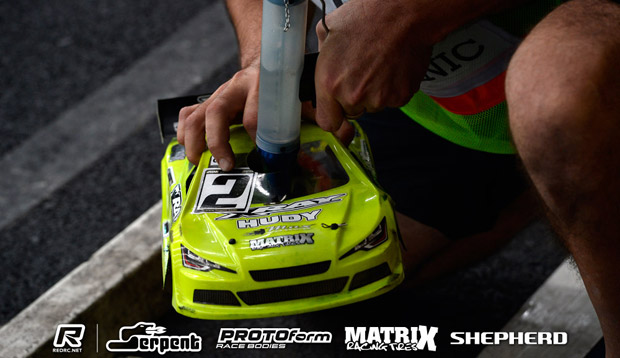 Behind Jovanovic, the Australian Capricorn driver looking stronger and stronger as he bumps up for a third time, and Vejrak, Hudy would benefit from a fast last pitstop to get ahead of 2010 Top Qualifier Robert Pietsch in the pitlane.  While the Mugen designer would come back at his Xray counterpart, unfortunately contact with Serpent's Toni Gruber would end the German's chances of getting a Top 3 to progress as he lost 2-seconds in the incident.  Despite a sterling effort to recover, it is 2008 podium finisher Hudy who goes  to the Semi, the separation at the finish just 1/10th of a second.  The encounter would see the demise of a number of big names including two former champions Keisuke Fukuda (2006) and HB's Adrien Bertin (2004).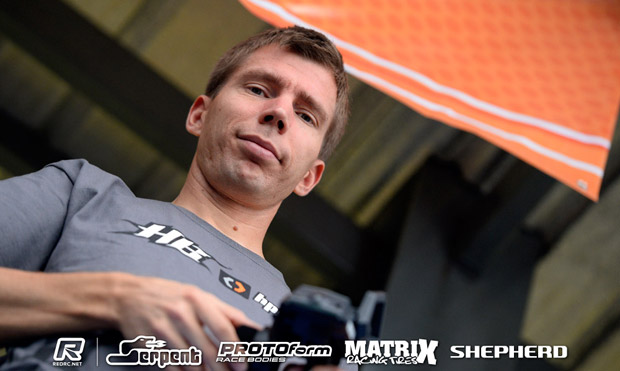 In the second of the 1/4 finals, 2012 Top Qualifier Teemu Leino would also come close to succumbing to tyre issues.  Top Qualifier of two rounds of qualifying but suffering run time issues in the final two qualifiers, the HB would start from pole and would lead from start to finish, but like Vejrak he would also struggle in the closing minutes.  Afterwards the Finn said both his rear tyres had come unglued make the car 'super difficult' to drive.  Leino would also have issues in his pitstop half way into the race when on releasing the R10 the roof collapsed forcing him to pit again on the next lap to have it fixed.  Despite this he never gave up the lead.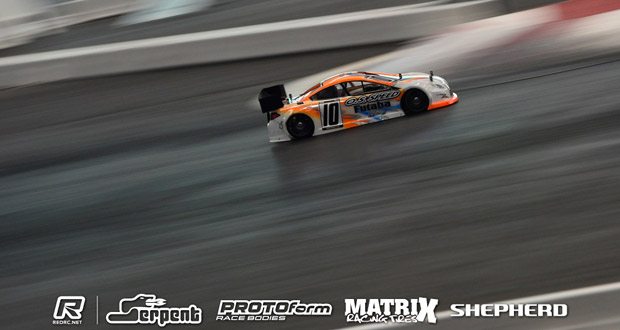 4.6 seconds behind Leino, 2010 Finalist Sinnosuke Yokoyama, having secured the final bump-up position of the 1/8 B Final to start 10th, would take his OS Speed powered Xray to second.   Thai 2012 Semi-Finalist Mongkolpan Lomrose would hang on to complete the Top 3 to again take his place in the Semis, his Maxima powered HB finishing 1.5 seconds ahead of 2010 finalist Takaaki Shimo.  Unfortunately for Capricorn driver Kyle Branson, a roll just after coming out from his final pitstop while holding third would see him suffer an engine cut and put an end to his chances of progressing, with him coming home sixth.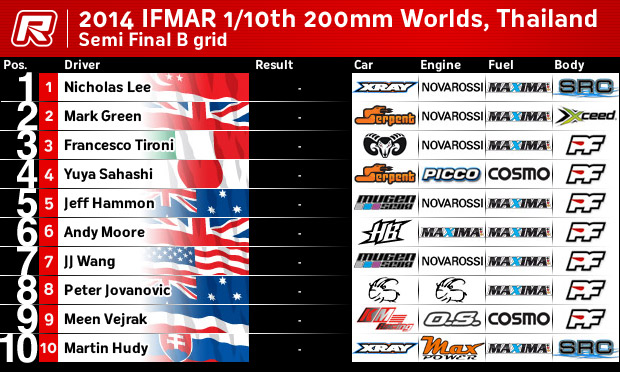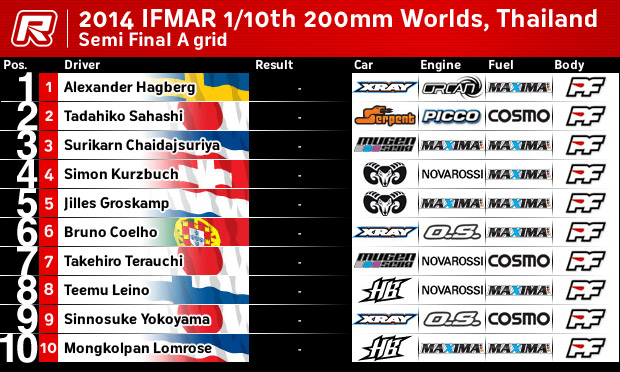 View the complete event results here.
View our event image gallery here.

---