July 11, 2009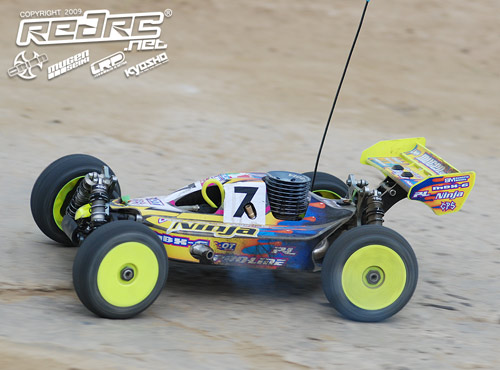 The first of the 1/4 finals has just been run and the four drivers progressing to the Semi are Mugen driver Fabio Boero, Sebastian Leonard along with British pairing Lee Martin and Elliot Boots.  Two big casualties in the race were former Champion Miguel Matias, who was right behind Boots at the end, and 2004 World Champion Guillaume Vray. There has been a big change in weather here following a glorius start to the day with very dark looking clouds closing in on the track. Other news is that 2004/2005 Champion Davide Tortorici will play no further part in the event after the factory Crono driver hit trouble and retired from the 1/8 B Final after just 4 laps.  The 1/4B Final is just about to go out on track now with LRP team driver Hupo Honigl starting on pole.
Semi Final A Lineup
1. SAVOYA Renaud (FR)
2. BATLLE Robert (ES)
3. BLOOMFIELD Darren (GB)
4. RECKWARD Daniel (DE)
5. RONNEFALK David (SE)
6. CRAGG Neil (GB)
7. LEINO Teemu (FI)
8. HERNANDEZ Borja (ES)
9. BOERO Fabio (IT)
10.LEONARD Sebastien (FR)
11.MARTIN Lee (GB)
12.BOOTS Elliot (GB)
View our event image gallery here.
---