November 14, 2008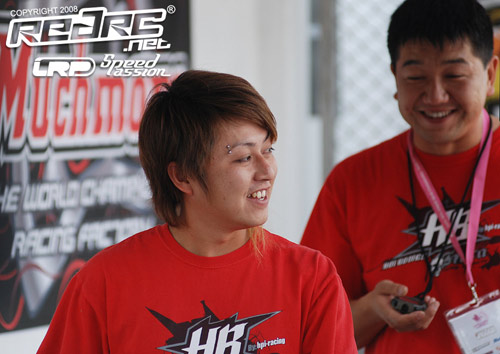 Atsushi Hara has TQ'd the opening round of qualifying for the 2008 Electric Touring Car Worlds.  Heading a trio of Hot Bodies at the top of the time sheets, the former Champion was the only driver to repeat a 19 lap run as higher temperatures made for slower track conditions.  Hara said his car was very stable and allowed him to run very consistent lap times but will make a few small changes for the second heat when conditions will be even hotter here at RCS.
Former European Champion Ronald Volker, who drives a Hot Bodies but is lead driver for LRP, was second fastest.  The German said his car was a little difficult to drive at the beginning but once the new set of tyres came in he was able to get a good rythm and at the end is pleased to start off with a second.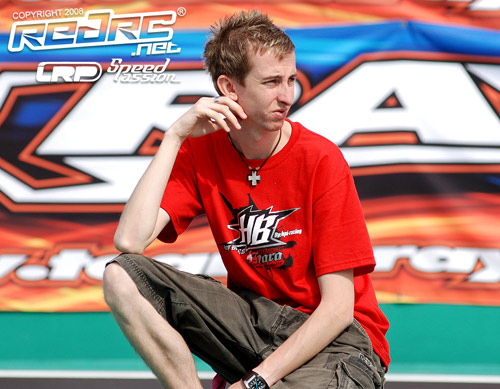 Defending Champion Andy Moore, who is running in the second fastest group, described his run to third for the round as 'safe'. 'Getting there slowly but surely' was the comment from the Englishman who is still struggling with understeer thats gets worse over the five minutes.
Masami Hirosaka said that nerves got the better of him in the opening heat but reported his Yokomo as working well.  The Japanese driver really wants to add the Touring Car title to his list of World Championship successes and is very focused on the job in hand.  With the early nerves now behind him he is confident of taking the challenge to his fellow countryman next time out.
Marc Rheinard was top Tamiya for the round with the fifth fastest time but could have been higher.  The 2004 World Champion got caught up with 2002 Champion Surikarn as he tried to pass the Thai driver who was running at a slower pace.  Rheinard said his car is working better today with track conditions now more like those when the Tamiya Racing Factory squad tested here.  Making it two TRF416 cars in the Top 10, Austrian Hupo Honigl set the 8th fastest time just ahead of current 2wd EP Buggy World Champion Hayato Matsuzaki.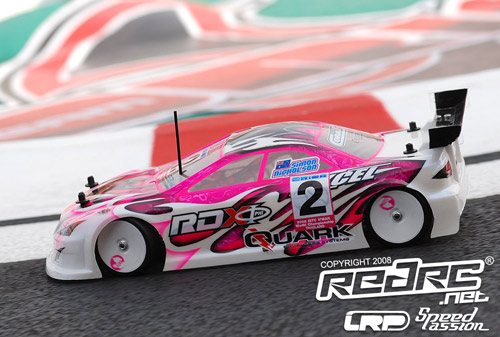 The biggest surprise of the first qualifier was Australian Champion Simon Nicholson.  The Corally driver, who is a running a Quark speedo and 07 Orion motor, says he is still getting there and feels he can get his RDX Phi to go even quicker. He will change dampers for Heat 2 to try make his car more stable.
Completing the Top 10 and heading the Xray challenge, Paul Lemieux said his run was clean but he expected it to be better.  The US National Champion had been struggling yesterday but after 'throwing everything' at his Trinity powered T2 009 he is starting to get it to his liking.
Two drivers that looked set for very fast runs only to come undone were Pre Worlds race winner Viktor Wilck and Kyosho's Shin Adachi.  Wilck's Tamiya was on for a 19 lap run when it suffered a spur gear failure while Adachi's car once again dumped costing him a Top 3 run time.  Top Associated for the round was Juho Levanen with the 18th fastest time.
Top 10 results after Qualifying Rd1
1. Atsushi Hara (HB) – 19 Lap 5:15.777
2. Ronald Volker (HB) – 18 Lap 5:00.719
3. Andy Moore (HB) – 18 Lap 5:01.139
4. Masami Hirosaka (Yokomo) – 18 Lap 5:01.335
5. Marc Rheinard (Tamiya) – 18 Lap 5:01.983
6. Jilles Groskamp (Tamiya) – 18 Lap 5:02.138
7. Simon Nicholson (Corally) – 18 Lap 5:02.375
8. Hupo Honigl (Tamiya) – 18 Lap 5:03.267
9. Hayato Matsuzaki (HB) – 18 Lap 5:03.319
10. Paul Lemieux (Xray) – 18 Lap 5:03.584
View our event image gallery here.
---