November 9, 2008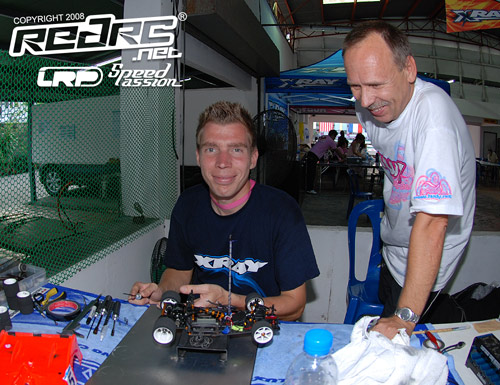 Teemu Leino has surprised his rivals in Thailand by recording the fastest time in controlled practice as day one of the 1:12 scale World Championships comes to a close.  The flying Finn is debuting Xray's new XII and was the only driver to record 39 laps over 8 minutes with his closest rival being Speed Passion driver Jilles Groskamp who just missed out on 39 laps recording 38 in a time of 8:00.644.
Commenting on his day's performance Leino, who took 1:12 victory at this year's Snowbirds, said he was really surprised himself at how the day had gone.  Asked what changes he had made to the car the Xray factory driver said other than changing the bodyshell earlier in the day, he had done little to the car saying the track conditions were coming to the car.  He feels it is not super fast but is very consistent over the entire run.  In terms of lap times Leino managed a best time of 12.227 which was the third fastest lap time of day so the package is proving itself to be a force to be reckoned with here in Bangkok.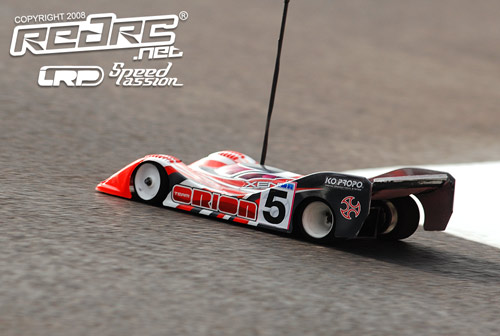 Marc Rheinard ends the day with the third fastest run despite breaking the rear motor pod on his Hot Bodies after jumping the chicane.  Behind the German ace are two more Hot Bodies with Shin Adachi pulling off a great final run for the day to go 4th fastest.  Adachi, who last raced a 1:12th scale six years ago, said both himself and the car were improving as the day progressed and he was happy with his Day 1 performance.  For Andy Moore the last run was a little better than earlier but the Englishman says the car is still not right. Very nervous to drive he unable to get in a good rythm.  Hupo Honigl rounded out the Top 6 with his LRP powered CRC Gen X Black Art edition.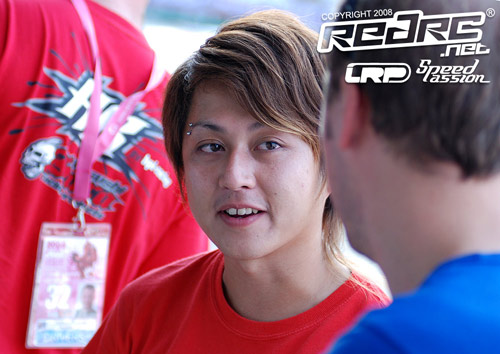 Atsushi Hara made radical changes to his Cyclone 12X for the second controlled practice to try and make the car smoother to drive but it had the opposite effect.  Although the 1:8 Off Road World Champion managed a new fastest lap for the event, setting a time of 12.136, for the final controllled practice tomorrow morning he will revert to his old set up.  One of the pre-event favourite for 1:12 honours, Hara admitted to being surprised by Leino's strong pace in 1:12 but believes tomorrow his Hot Bodies team mates, who have not enjoyed as much testing as him with the 1:12 scale will be a stronger force.  Sandwiched between Hara and Leino in terms of lap times is Yokomo hot property Naoto Matsukura, the 14-year-old clocking a 12:216 but the Japanese driver failed to finish the final practice.  Another driver to put in a quick lap time to make it four different manufacturers in the Top 4 of the official ranking issued by race officials, which is based on fastest lap times, is Team Associated's Juho Levanen.  Although the Finn suffered a problem with run time after trying a different motor set-up he was happier with the consistency of car and feels tomorrow will be better.
So Day 1 of the 2008 IFMAR Onroad World Championships has been completed here at the RCS in Bangkok and we have seen a number of surprise but its tomorrow when all the times really start to count as we have the first four of six qualifiers that will decide the starting positions for Tuesday's finals.  Our live coverage, which is supported by Speed Passion and LRP, continues tomorrow morning.
View our event image gallery here.
---