August 13, 2008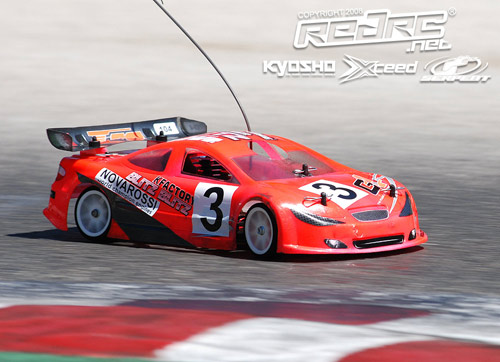 The second qualifier for the faster group of drivers has been run but it made little change to the top of the timesheets. Dario Balestri was biggest benefactor of Round 4 climbing four places in the overall qualification standings after producing the fifth fastest run. The Team Magic driver said he had the right tyres this time and his car felt really good although a slight error by his pit woman cost him a possible TQ run. Fastest for the round was Martin Lissau who produced an almost identical time to his current FTQ time from Heat 3 finishing just 3/1000th slower!!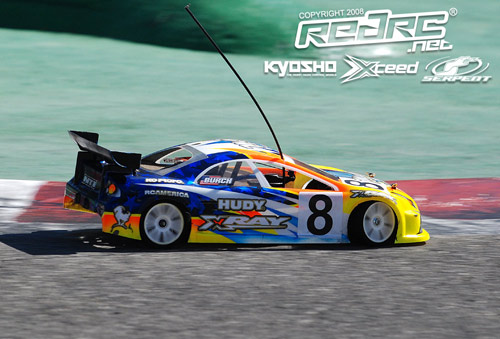 The other big movers from the fourth round where American pairing Ralph Burch and Paul Lemieux who move into 10th and 11th repectively. Burch has been fast, holding the current fastest lap time for qualifying, but the RC America driver has been short on luck however on this occassion he came close to a clean run. Just missing the finish line after running out of fuel, the Xray/Max driver just missed out on a 32 lap which could have put him in the Top 6 but he was still pleased to get a decent time saying afterwards 'At least we are in contention now'. Burch said his car was not perfect although the steering was better now but he needs to find a little more traction.
Lemieux was happy to finally finish a run. Changes made to his Xray for the heat weren't so good but other than that he described it as a good clean run and something to build on.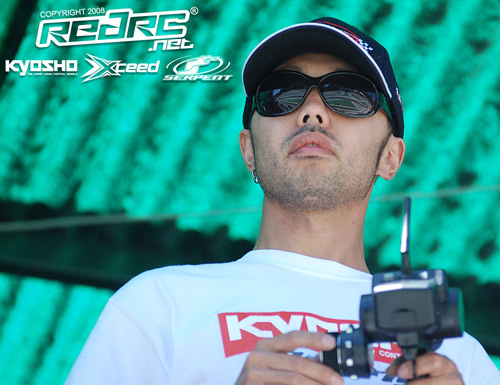 For current TQ holder Taakaki Shimo heat four didn't far well as he ran out of fuel before his pit stop. On set up the Japanese driver had the totally opposite problem to heat 3 with his car now nervous for the first half of the run and really good for the last part. The Kyosho driver will try to find a compromise set up to make the car more feel more consistent through the entire run.
Chris Tosolini reckoned he was on for taking back the TQ from Shimo but his engine was too rich and he ran out of fuel before his pit stop. Team mate Jilles Groskamp, who was the pace setter here in controlled practice, continued to have engine/fuel issues also running too rich, causing him too to run out of fuel. Adrien Bertin is complaining of the same fuel problems only his engine ran too lean causing a plug to go.
Peter Jovanovic's woes continued when 10 laps into his run the rear belt stripped on his Xray. For defending World Champion Keisuke Fukuda things are also not improving. The Japanese ace said, 'It was supposed to get better today but it didn't'. The Mugen/Ninja driver is happy with the set-up of his car but continues to struggle with his engine.
Unnofficial top 10 after 4 rounds
1. Takaaki Shimo (JPN) – 32 Laps in 10:16.393 [Kyosho/OS]
2. Martin Lissau (DNK) – 32 Laps in 10:16.700 [Xray/GRP]
3. Martin Christensen (DNK) – 32 Laps in 10:16.776 [Xray/Sirio]
4. Chris Tosolini (USA) – 32 Laps in 10:18.325 [Kyosho/Sirio]
5. Balestri Dario (IT) – 32 Laps in 10:18.473 [TM/NR]
6. Peter Jovanovic (AUS) – 32 Laps in 10:18.893 [Xray/NR]
7. Martin Hudy (SK) – 32 Laps in 10:19.360 [Xray/Max]
8. Adrien Bertin (LUX) – 32 Laps in 10:19.465 [Kyosho/Orion]
9. Mazzeo Alessio (IT) – 31 Laps in 09:58.271 [Serpent/Max]
10.Ralph Burch (USA) – 31 Laps in 09:59.355 [Xray/Max]
View our image gallery here.
---