November 16, 2008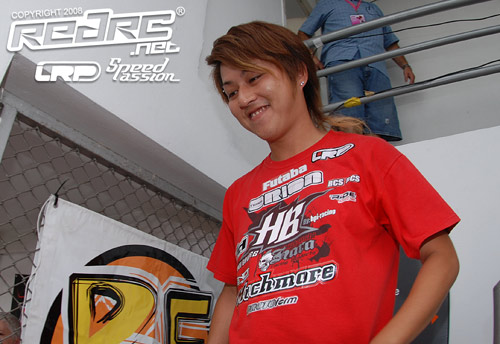 After the drama of the opening Leg, the second A-Main here at the RCS in Bangkok was a far more straight forward affair with Atsushi Hara taking a comfortable win over Marc Rheinard. The result means the outcome of the fifth Touring Car World Championships will go down to the third and final leg.
Based on the performance we have just seen Hara certainly looks on target to become the first driver to win the Touring Car world title twice with his main rival Rheinard almost admitting defeat saying if the opportunuity arises he will go for it but that he must also be careful so as to protect second spot as a mistake could cost him a podium.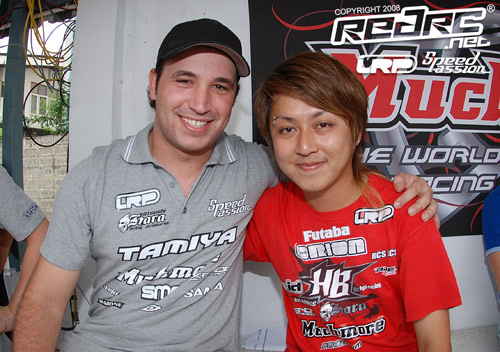 Third for the Leg was Ronald Volker, the German having to throw his LRP powered Cyclone TC across the line to fend of intense pressure from Leg 1 winner Masami. Andy Moore finished fifth ending his reign as World Champion while fellow countryman Elliot Harper completed the Top 6.
So five minutes of racing seperate us from finding out who will enjoy the rewards of holding the World title for the next two years but right now it looks as it is going to be the same guy that hold the same crown for 1:8 Off Road.
A-main leg 2 results
1. Atsushi Hara (HB/Team Orion) – 19 Lap 5:04.334
2. Marc Rheinard (Tamiya/SpeedPassion) – 19 Lap 5:05.719
3. Ronald Volker (HB/LRP) – 19 Lap 5:07.388
4. Masami Hirosaka (Yokomo/Nosram) – 19 Lap 5:07.562
5. Andy Moore (HB/Team Orion) – 19 Lap 5:08.427
6. Elliot Harper (Xray/Nosram) – 19 Lap 5:11.304
7. Hayato Matsuzaki (HB/LRP) – 19 Lap 5:14.178
8. Meen Vejrak (Xray/LRP) – 18 Lap 5:01.676
9. Jilles Groskamp (Tamiya/SpeedPassion) – 17 Lap 4:46.103
10. Viktor Wilck (Tamiya/SpeedPassion) – 10 Lap 2:46.960
View our event image gallery here.
---