August 16, 2008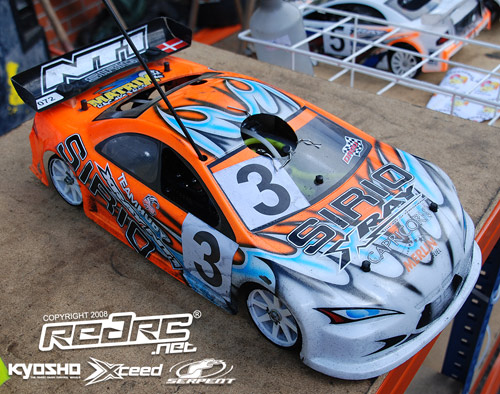 We have our grid for the one hour Main Final that will get underway in just under an hours time and determine who the new 2008 World Champion will be.
The Semi A was the last run before the big race and a superb drive by Martin Christensen saw the Dane lead home a class act with double European Champion Dario Balestri, from whom he took the race lead during the final pit stop, taking second and double World Champion Adrien Bertin taking the last of the bump up placings.
Starting from pole Balestri's Novarossi powered Team Magic lead the way but the very fast Christensen chased him down. Entering the pits at 25 minutes, right on the tail of Balestri, a superb stop by the pitman of the Xray/Sirio driver allowed him to get passed the Italian where he would stay until the end. Bertin, who only came up the order late in the race, was pushed hard to the end by Josh Cyrul but the America ran out of time finishing just under 4 seconds behind the Frenchman.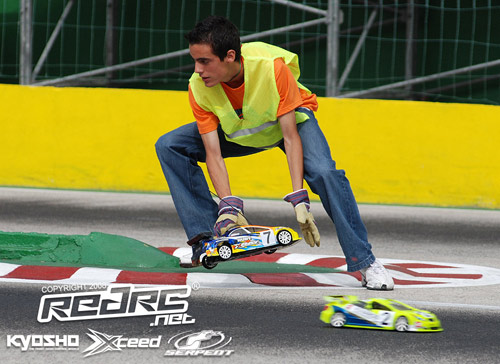 The race which was delayed twice, firstly after quick Aussie Peter Jovanovic called 10-minutes and then again when Walter Salemi had radio problems. Both got to start the race but unfortunately neither were to finish, Jovanovic lost steering due to fuel in his electrics while Salemi broke his Mugen early on. Fast German Robert Pietsch was holding a bump up position but retired just after the half way distant. Once again US Xray driver Ralph Burch was the fastest man on the track but he flamed just before his 2nd stop, ending all chances for him to bump up.
The main final is due to get underway at 18:10 GMT with driver presentations and 15 minutes after the race will begin. We will be bringing you live updates throughout the race on Red RC.
Update: There is currently a protest underway regarding the results of Semi Final B so until that is resolved we cant bring you the main final starting order.
View our image gallery here.
---