November 15, 2008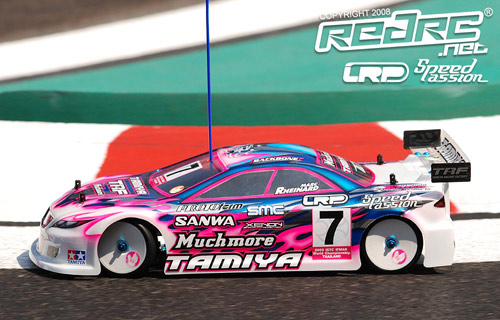 Day 1 of the World's was Masami day, yesterday was Hara day and right now it looks like today is going to be Rheinard day as the Tamiya ace notched up his second TQ. The 2004 Champion once again swapped times with his Japanese rival Hara, but over the final three laps the German had the advantage allowing him to pull out 6/10th and finish with the best time of 19 laps in 05:15.111.
Describing his Speed Passion powered TRF416 after the round as 'good', not something we hear often from the German who is always looking to get the very last from his car, Rheinard is looking very confident now and is determined to show Hara that he intends to take it to him tomorrow when it counts most. The current European Champion still has a fresh set of Sweep tyres for the last qualifier and even though today's warmer conditions mean Hara's fastest TQ time is safe, winning all three of today's heats would be an important psychological victory going into the last day of the championships.
Hara, who is very evenly matched with Rheinard for four of the five minutes, said his car is over heating the tyres and with three laps to go it starts to slide around a lot. The dominator yesterday, Hara thinks he has a set-up that will cure the problem and will try it in the final run.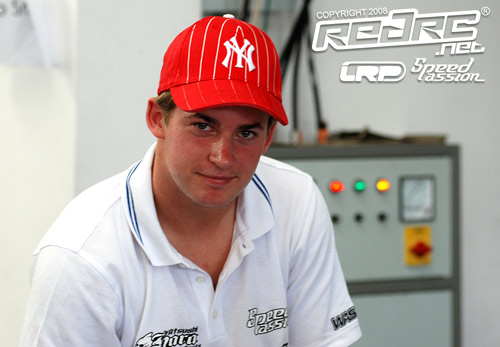 While Rheinard is the man of today his team-mate Viktor Wilck is also coming good now. Having finished a much need fifth fastest in Round 4, the Swede is getting his confidence back laying down the third fastest time. Wilck has been tipped for the title since winning the Pre World's back in April but yesterday he looked like he was not even going to make the grid for the A Main. With a place in the big race now secured the 21-year-old can relax, and when relaxed he is at his best.
Defending Champion Andy Moore was next up going fourth quickest. The Englishman said he ran safe to make sure and secure a Top 10 placing in the Qualification ranking. Still suffering from a small amount of understeer the Hot Bodies/Orion driver hopes he can get another good run and replace the 8th place finish that currently makes up his best three rounds.
Making it two UK drivers in the Top 6 for the round was World Championship debutant Elliot Harper. The 15-year-old is making a big impression here in Thailand and has shown up his more experienced Xray team-mates. The hot conditions are not suiting the T2 009 but Elliot is keeping it in title contention. US Champion Paul Lemieux was the second fastest Xray finishing 10th to claim his second Top 10 qualifying time.
Making it three Tamiyas in the Top 6 Hupo Honigl took his LRP powered example to sixth. The Austrian said he had two small slides but was happy with what has been his best run so far. The fourth member of the Tamiya factory team Jilles Groskamp failed to finish the round due to a problem with his diff.
Top 10 results from round 5
1. Marc Rheinard (Tamiya/SpeedPassion) – 19 Lap 5:15.111
2. Atsushi Hara (HB/Team Orion) – 19 Lap 5:15.743
3. Viktor Wilck (Tamiya/SpeedPassion) – 19 Lap 5:16.425
4. Andy Moore (HB/Team Orion) – 18 Lap 5:01.613
5. Elliot Harper (Xray/Nosram) – 18 Lap 5:01.836
6. Hupo Honigl (Tamiya/LRP) – 18 Lap 5:01.955
7. Masami Hirosaka (Yokomo/Nosram) – 18 Lap 5:02.186
8. Hayato Matsuzaki (HB/LRP) – 18 Lap 5:02.259
9. Ronald Volker (HB/LRP) – 18 Lap 5:02.921
10. Paul Lemieux (Xray/Trinity) – 18 Lap 5:03.257
View our event image gallery here.
---