October 13, 2007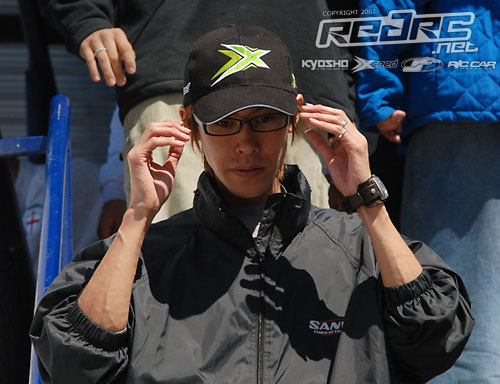 In an exciting quarter final odd, it was Yuya Sahashi that came through from mid pack to take the win. The Serpent driver was in 4th early in the race behind Tironi, Swauger and Tanaka, who was leading, but then the Japanese driver lost pace and was passed by Tironi and then when Yuya passed Swauger in the pits he then managed to get passed Tanaka, bringing Swauger with him. The race was essentially over for Jilles Groskamp at the very start, his car stopping and taking 2 laps to restart and rejoin, he did go on to record the fastest lap of the race at 17.943. The pairing of Sahashi and Swauger went after Tironi and managed to get passed after the Italian was given a stop go for bad refuelling. He rejoined in 3rd and had huge pressure from Morganti, who again started badly but had regained composure and was on it, but couldnt get passsed and came home 4th only 1 second behind.
1/4th Even final Top 3
1. Yuya Sahashi – 64 Laps 20:06.835
2. Mike Swauger – 64 Laps 20:07.706
3. Francesco Tironi – 64 Laps 20:16.401
Practice for top 4 qualifiers is now on.
---