July 23, 2008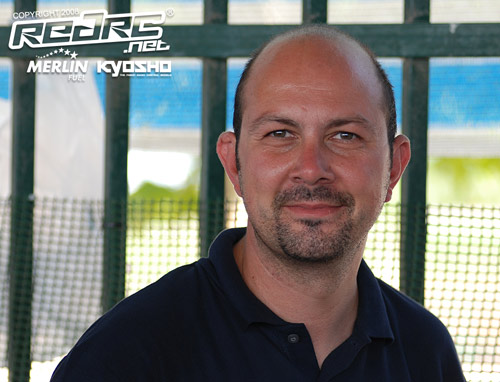 Former European Champion Fabio Domanin was the unofficial pace setter at Day 3 of the EFRA European Championships which are taking place at the Autet track here in Valencia, Spain. The Italian set an unofficial lap time of 17.204 with his team-mate Massimo Fantini next fastest in terms of lap times but both Serpent drivers have still to cure the problem of making a full 5 minute run.
Mark Green was one of the first of the leading drivers to make a full 5 minute run and so used his final runs to test body shells back to back. Running both the Xceed Zytek and Central Lola, the Serpent driver reported that the Central was faster over a single lap but the Zytek was quicker over five minutes as it was easier to drive.
Robert Pietsch is another who appears to have solved the run time problem, running two Novarossi engines today he was able to complete full runs with both units but the German says he must run Team Orion's CPD. Responsible for creating the Shepherd Volex, the German ran the steering servo saver in the forward position in his last run resulting in more steering. Tomorrow the EC Warm Up Race winner will try more engines and experiement with clutch settings.
Kyosho's two star drivers here appear to be struggling. Current World and European Champion Lamberto Collari appeared frustrated with his day, the Italian struggling to get his Evolva M3 to turn in. Adrien Bertin says he is improving all the time but unfortuately so is everyone else. The problem for the Frenchman is that his car is bitting on the curbs and this makes the car nervous to drive. The Team Orion engine development project leader says this is also effecting his run time as the engine is being forced to work harder.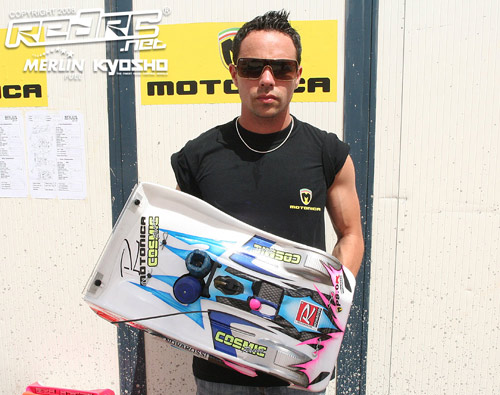 Motonica's top hope Dario Balestri is very happy with his car and the day in general but says he is still 5 seconds short on run time. Together with Novarossi, the Italian has a few things he will try in the morning which they believe can give them those vital seconds.
At the end of practice on the pit table of local hot shot Oscar Cabezas, Fabio Domanin's pitman was seen working on the front end of the Spanish Champions car. Running the same chassis as today's pace setter, Cabezas is hoping that running Domanin set-up will give him more steering for the first of tomorrow's timed practice runs.
View our image gallery here.
---