August 17, 2007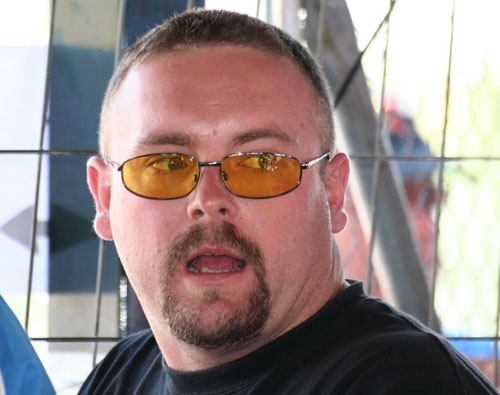 With the temperature rising for the second round of Euros qualifying in Madrid there was little change in the Top 10 as the track lost its grip with Adrien Bertin being the most significant mover. The Kyosho driver, who ran out of fuel during his first heat, recorded 18 laps in 5:12.706 to jump to 9th on the time sheets and bettered his fastest lap time from the mornings opening run.
With all of this mornings top 10 failing to improve their times it is Finland's Teemu Leino who remains in the provisional Top Qualifier position from Italian's Mazzeo and Tironi.
Other big names to improve in round 2 but still someway off the pace were Mugen's Guiseppe D'angelo and the Team Magic pairing of Dario Balestri and Darren Johnson. D'angleo improved by just under 3 seconds to move up two places to 19th overall while fellow countryman and reigning champion Balestri made 18 laps jumping 21 places to go 23rd fastest. Johnson ran his first full five minutes but could only manage 17 laps and is well down the order in 35th.
The fastest man in Madrid so far in terms of outright pace, Oscar Cabezas again had misfortune in Round 2 and failed to start after his car rolled in the warm-up causing damage to his Serpent. Similar bad luck struck team-mate Michael Salven whose engine dropped a plug at the start of the run.
Drivers have one last chance today to improve their times and with temperatures starting to fall the track should be fast again when the leading drivers go out. We will bring you a full update later.
Qualifying after Round 2 (Provisional)
1. Teemu Leino – Xray – 18 laps in 5:07.684
2. Alessio Mazzeo – Serpent – 18 laps in 5:09.569
3. Francesco Tironi – Kyosho – 18 laps in 5:11.911
4. Martin Hudy – Xray – 18 laps in 5:12.270
5. Niki Duina – Xray – 18 laps in 5:12.276
6. Helge Johannessen – Xray – 18 laps in 5:12.328
7. Jilles Groskamp – Xray – 18 laps in 5:12.680
8. Mark Gilliland – Xray – 18 laps in 5:12.697
9. Adrien Bertin – Kyosho – 18 laps in 5:12.706
10.Andreas Myrberg – Xray – 18 laps in 5:12.707
11.Rick Vrielijnck – Mugen – 18 laps in 5:13.701
12.Walti Beat – Xray – 18 laps in 5:13.720
13.Martin Christensen – Xray – 18 laps in 5:13.863
14.Basile Concialdi – Xray – 18 laps in 5:13.934
15.Teemu Saarinen – Mugen- 18 laps in 5:13.949
---