August 14, 2007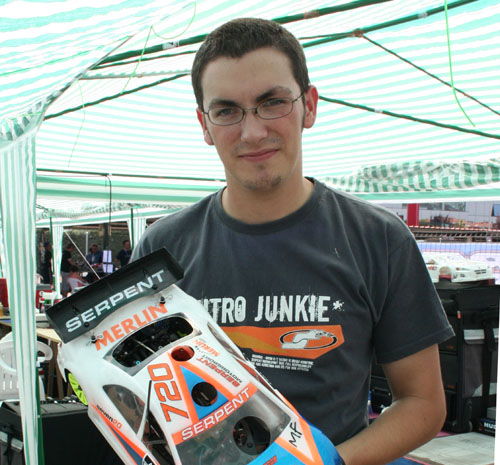 Local star and reigning Spanish 1:8th scale National Champion Oscar Cabezas is unofficially the fastest driver after three rounds of free practice on Day 2 of the EFRA 1:10 200mm European Championships. With a number of the leading drivers not running transponders it is hard to get a true indication of the current form however Serpent Driver Development team member was expected to be quick on a track he knows well.
The young Spaniard set a best lap time of 17.189 in the cooler morning run and is followed currently by Mugen driver Rick Vrielijnck on a 17.313 with French driver Nicolas Bougnoteau next up on 17. 319. Fourth fastest is another local racer Javier Alonso Tojo with Team Magic's Darren Johnson rounding out the top 5.
With track temperature now running at almost 50 degrees Celsius, the track has started to slow as cars start to slide around more in the very hot conditions.
2007 Euro B 1:10 200mm Champion Alessio Mazzeo is here and the young Italian says he like the design of the track but would like more grip, a sentiment reflected by fellow country man Francesco Tironi who is one of the leading Kyosho hopefuls for the championships.
The sports fastest female driver Sabrina Lechner described her opening practice runs as 'OK' but the talented German says she is confident of making improvements to her Mugen MTX4.
Top Finn Teemu Leino is pleased with the performance of his NT1 as is his team mate, German 1:8th scale Champion, Robert Pietsch.
One interesting entry to arrive today is Dutch driver Julius Kolff. Kolff was a development driver for Serpent on the 720 and did a number of days testing here during the creation of the car which he went on to win the Dutch GP with last year. Missing the first of today's session's he was happy with his first run and was looking forward to his second which unfortunately ended early when his 720 collected a stranded car and he was forced to retire.
Drivers have one final session today with a number of the leading drivers working on two set-ups for the event, one of the cool morning runs and one for the hot afternoon runs.
We will bring you a full update together with drivers views on today, later this evening.
View our image gallery here.
---