August 14, 2007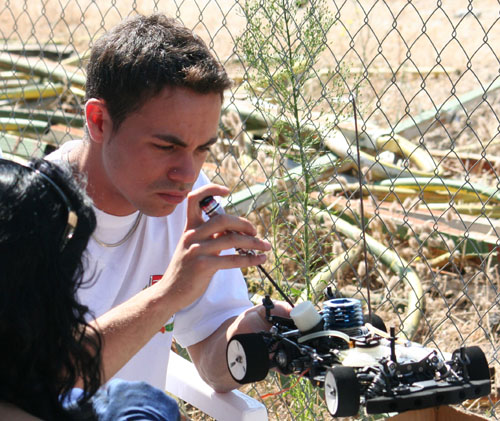 Day 2 of the EFRA 1:10 200mm Euros is underway and after the first round of four free practice sessions that drivers will get today the pace is quickening as the grip levels increase at the ARCA track.
With no official timing today and many drivers running without transponders, a true indication of who is doing what is hard to gauge, but the fastest lap time from round one was just 1/10th of a second shy of the Madrid track record.
All drivers are reporting that the tracks condition is improving but already Adrien Bertin is hinting at grip roll problems. Current Champion Dario Balestri who obviously likes to do his talking on the track commented, 'track better'. Team Magic team-mate Darren Johnson was a little more chatty and said he really pushed the car hard this morning and was pleased with how it went.
Leading Mugen driver Rick Vrielijnck was also happier with the track say it was more consistent however the Dutch driver suffered broken rear suspension during his run after being tipped into the side wall of the track. Fellow country man and arch rival Gilles Groskamp only managed 2 laps this morning with his NT1 due to a steering servo failure. The Team Xray driver was trying out a smaller servo which he normally uses in his electric Touring car.
Serpent continue to be happy with the performance of their 720 with Michael Salven pleased with his first run of the day. Mark Green was also happy with his car but was switching engines ahead of the second session in a search of more power.
View our image gallery here.
---