October 10, 2007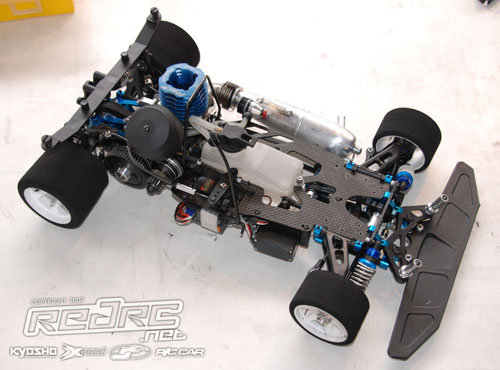 While the new Shepherd Velox has been tearing up the tracks in Europe, this is the first time we have come face to face with it and we talked to Patrick Schaefer from Team Shepherd about the new car. Essentially the same as the prototype that was first shown earlier this year in Nuernberg, the latest version features new aluminium parts anodised in blue on all the cars that are present here and some of the plastics are now final such as front wishbones and the lower rear wishbones.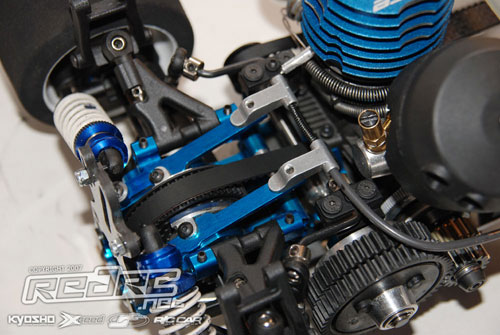 The main feature of this car that sets it apart from others in its class is the braking system, using a cable system it pulls levers on either side of the rear pulley which applies pressure to the mounted brake disk stopping the car, this system allows for more stable and later braking into a corner. Also on the rear end of the car, like on all the new generation 1/8th scales, the rear bodymount A-arms are mounted directly to the rear upright ensuring that the downforce from the body is transferred directly to the wheels.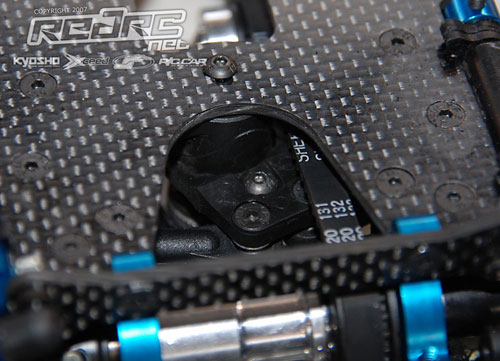 On the front end of the car, the servo saver features a rather innovative Ackermann adjustment, which is done through the use of one screw, which when loosened allows you to slide the steering rod mount 3 steps forward or back, when selected simply tighten it again. Also new on the servo saver is its mounting which uses a slot on both the chassis and the radio plate instead of a hole which allows you to move the position of the servo saver forward or backward to compensate when you adjust the cars wheelbase.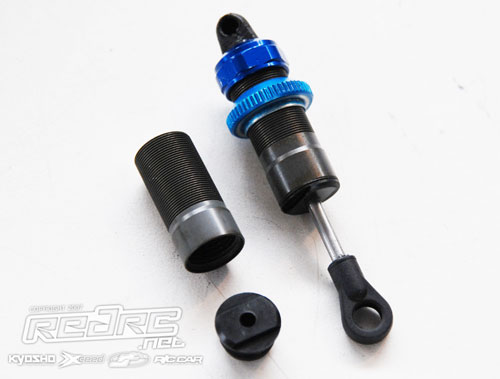 The new shock absorbers consist of an open ended shock body with an assembly mounted to the bottom that contains the o-rings and holds the shock shaft. This composite part, along with having a built in bleed system, has also got a few millimetres of material on the base of where the shaft exits the shock which helps keep the shaft straight. Inside the shock, there is no membrane and instead it uses a floating piston with a spring that takes up any expansion. The photo above does not show the final shock absorber as the blue parts will be silver and the upper shock mounting point will have an open ball joint, similar to the lower one.
Expect to see the car hit the market in December.
View larger and more images in the event gallery here.
---