July 31, 2008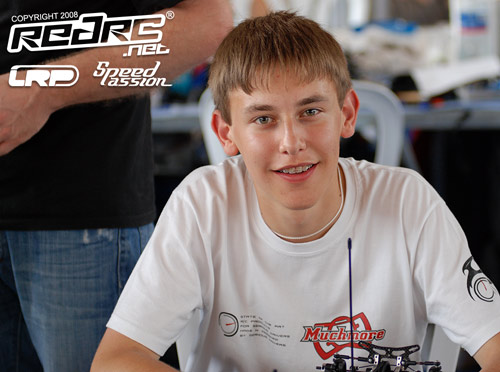 Second practice for the 2008 EFRA 1:10 EP Touring Euros has been run here in Vila Real but with no official timing the picture of who is doing what is still uncertain as drivers continuing to still settle themselves in.
Elliot Harper, winner of the Warm-Up Race back in June, says it is a lot hotter and as a result the track characteristics are very different now. The emerging UK talent, who just took his first British National win two weeks ago, says his Nosram powered Xray is working well but with the extra heat it is going off slightly at the end of the run. Harper will make a few changes to fine tune the car for the first of the two timed runs this afternoon.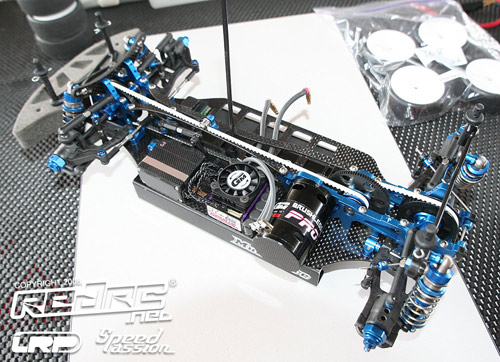 One of Harper's British Championship rivals Chris Grainger is having a rough start to his Euros. The current British Champion and Yokomo's best title chance here in Spain, is very ill with suspected food poisoning and is struggling to focus on his car with the heavy heat in the pit area not helping. Having completed both practice runs he is pleased with the car but would prefer if the track had better traction. Grainger tested at the track back in May buy believes this was too early in the year and that the drivers who came here two ago will have enjoyed more beneficial testing for the current conditions.
Corally ace Marc Fisher has a number of new steering parts on his RDX Phi and is reporting that the car has better traction and less roll. The German is also running GM's new Genius 120 speedo which he says gives a better feeling than the previous model.
Schumacher team manager Chris Ashton tells us that while they don't have the big name racers like some of the other manufacturers they are happy with their drivers who so far are putting in decent lap times. Unfortunately the British manufacturer is without their Swedish ace Jonas Andersson, who was unable to travel for personal reasons, but local team driver Marc Esbri and Ashton himself should put in a good showing with the new Mi 3.5.
Austrian Hupo Honigl, who scored a double podium at the recent 1:10 Buggy Euros in Italy, is reporting that his Tamiya is running pretty good but says that while the track looks easy some parts are tricky and if gotten wrong could cost you a lot of time. Hupo has made some tiny changes between P1 & 2 but will switch to a new car for the first timed run.
Practice Runs 3 & 4 will be timed and used to reseed the heats for tomorrow when drivers will have two more practice runs followed by the first two of the five qualifiers.
View our image gallery here.
---