July 27, 2008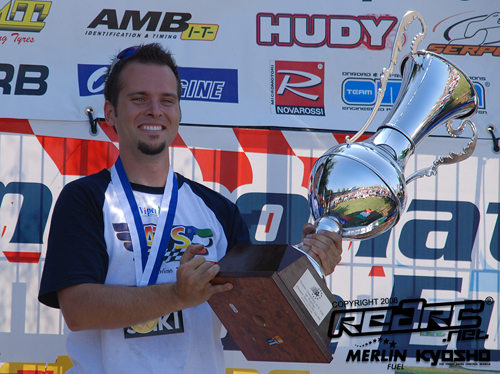 Jernej Vuga is the new 2008 EFRA 1:8 Onroad European Champion after a thrilling final lap of the championships here in Valencia, Spain. The former Euro B Champion took the victory in dying moments of the very last lap as a very unfortunate Daniele Ielasi, who lead for most of the race, went off on the third last corner due to a flat receiver battery.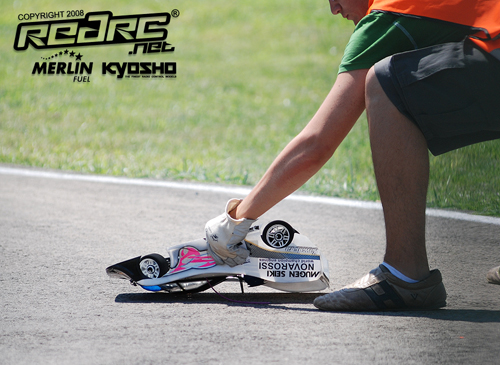 Italian ace Ielasi took up the lead of the race after early leader Andrea Pirani rolled out of the lead and then new leader Oscar Cabezas was collect in the pits by Robert Pietsch, after the Spaniard's pitman placed his car out in front of the German's Shepherd Velox. The incident ending both drivers chances of victory along with that of Top Qualifier Massimo Fantini who also got caught up in the incident.
Once out in front Ielasi's IDM powered Shepherd took control of the race with the former Champion stretching his lead to a full lap over the chasing group of Vuga, Cristiani and a hard charging Dario Balestri. The sole Motonica representative in the final and the current 1:10 200mm European Champion, making a great recovery having missed the start of race after his back pressure pipe came off.
With Ielasi clear in front, getting himself a lap up on the entire field, the big battle looked to be on for the final two placings on the podium with Vuga, Cristiani, Balestri and Salemi all in the hunt at one point but how it was to unfold could only have been written by Hollywood.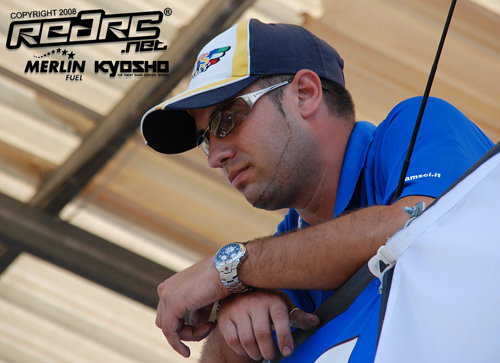 Two laps from home Ielasi was in trouble, his car struggling to get around the Autet track. Balestri was the first man to pass the limping Shepherd but he too was to hit trouble, his Novarossi engine stopped caused by a broken fuel line. Back in the lead with just half a lap to go Ielasi was desperately trying to nurse his car home as Vuga, Salemi and Cristiani charged down on him. Unfortunately his receiver batteries had no more and at the end of the straight the Italian went off the track allowing Vuga through to take a dramatic victory by less than 2 seconds from Salemi with Cristiani only a further 4/10th behind.
Failing to make the finish a devastated Ielasi was classified 4th ahead of Balestri who too failed to make the full 45 minutes with Serpent's Michael Salven completing the Top 6 after a difficult race.
After the race a delighted Vuga said, 'This is a very special moment for me. I had a steady pace but I was not the fastest but all the time I was in a podium position. I saw Daniele go off at the end of the straight but thought he had already finished as he had been a lap up on me. I crossed the finish line delighted to be on the podium but I had no idea I won until my mechanic saw it the result come up on the timing screen and started shouting to me. I am so happy.'
Second placed Salemi was also delighted with his result which saw the Mugen MRX4 secure the top two placings. 'I am very happy to have this result. My car was fantastic and really easy to drive. My only incident was running out of fuel one time but I am really happy to be on the podium.'
Cristiani took the final podium placing for Serpent but the Italian said he feels he could have won the race if he didn't suffer a number of pit incidents, 'I lost a tyre during my pitstop for new tyres which cost me a lot of time and my engine cut during one of my fuel stops. Without these problems I think for sure I could have won.'
So, seven days of action have come to an end in the most dramatic way possible with a new name entering the EFRA history books for being European Champion. A very well organised and run event, Red RC would like to thank all the race officials and the entire Autet club for making us feel so welcome and for their kind hospitality. We would also like to thank our sponsors Kyosho and Merlin Fuel for supporting our live race coverage.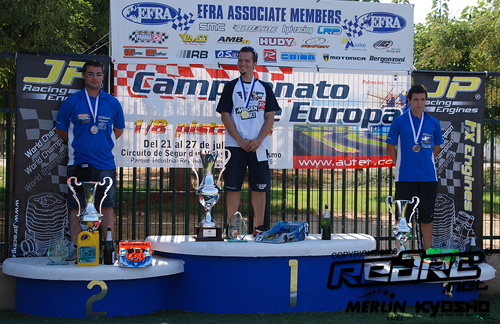 Final Standings
1. Jernej Vuga (SI) – 145 Laps in 00:45:16.628
2. Walter Salemi (IT) – 145 Laps in 00:45:18.210
3. Andrea Cristiani (IT) – 145 Laps in 00:45:18.612
4. Daniele Ielasi (IT) – 144 Laps in 00:44:53.799
5. Dario Balestri (IT) – 144 Laps in 00:44:54.794
6. Michael Salven (DE) – 142 Laps in 00:45:15.307
7. Robert Pietsch (DE) – 135 Laps in 00:45:18.116
8. Andrea Pirani (IT) – 134 Laps in 00:45:03.198
9. Massimo Fantini (IT) – 118 Laps in 00:39:37.360
10. Oscar Cabezas (ES) – 115 Laps in 00:45:09.736
Full results can be found on the official timing site here.
View our image gallery here.
---