November 11, 2008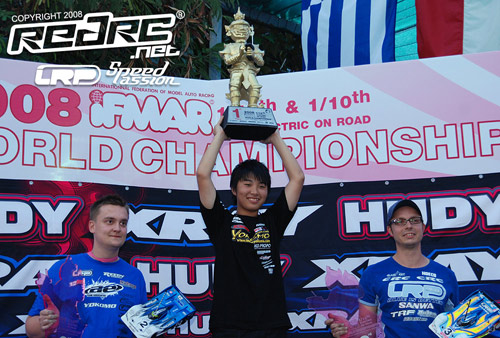 Three years ago he was taken under wings of one of rc racing's greats Masami Hirosaka and today aged just 15-years-old Naoto Matsukura has become the youngest ever IFMAR World Champion after a dominant performance at the 1:12 Onroad Worlds in Bangkok, Thailand. The Japanese driver came here with an already impressive CV with back to back titles in his National Championship but faced with the best in the world, including all four Touring Car World Champions, he rose impressively to the challenge.
Hot property of Japanese manufacturer Team Yokomo, Matsukura was running Associated's RC12R5 and from the first practice his laps times were impressive. That pace was converted into overall TQ honours after he claimed the fastest time in four the six qualifiers, his only opposition coming from Associated team-mate Juho Levanen. Leading Leg 1 of the A Main, an incident while lapping cost him the win but the impressive youngster didn't let the misfortune get to him and came right back with two superb drives in the second and third Mains to claim a very popular and historic win.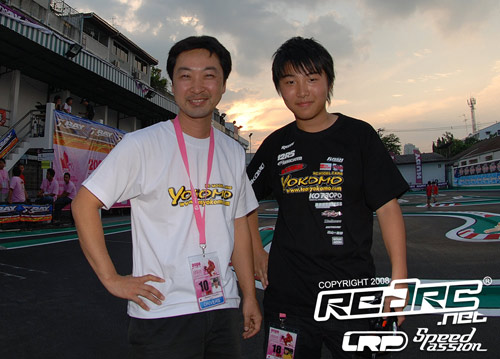 For mentor Hirosaka, himself a five times 1:12 World Champion, it was a very proud moment but one which he always believed would come for his young protege. Opting not to race himself in the 14th 1:12 scale Worlds, so as to focus fully on the Touring Car title which has so far alluded him, Hirosaka said from the first time he witnessed Matsukura at the controls of an rc car he knew this kid was special.
For Matsukura he descibed his first World title as being 'like a dream' and for sure it is going to take a few days for the reality of what he has just achieved to sink in. A true professional he is already thinking about the Touring Car Worlds which get underway on Thursday but said his win has given him a great boost for the event. Asked if he can challenge his mentor when the pair will lead Yokomo's touring car hopes, he said it would be very difficult but he will trying.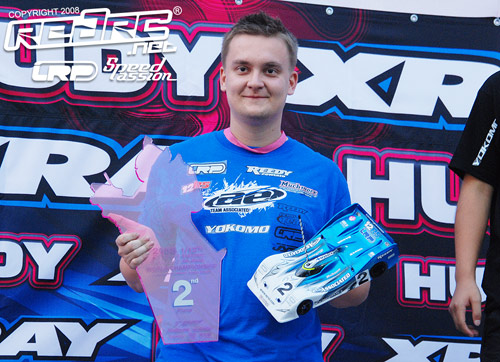 While Matsukura was the star of the show Finland's Juho Levanen's performance was also impressive. Working closely with the new World Champion throughout the event, the factory Associated driver was really pleased with the runners up spot which was far greater than his expectations coming out to Thailand. The 23-year-old was equally happy to lose out to his younger team-mate on what was a great day for the RC12R5.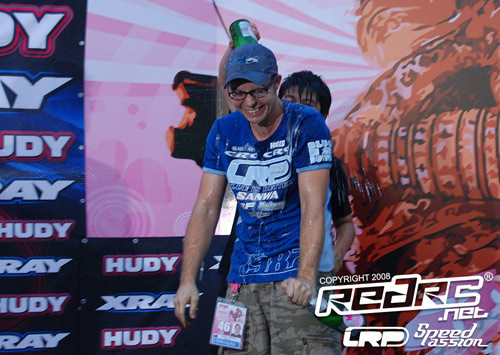 With the Matsukura & Levanen domination from the start, the rest of the field were always battling for the final podium place and that honour fell to CRC team driver Hupo Honigl. The Austrian had set himself the target of making the A Main coming here and despite finishing a lap down to his rivals was very happy to take third overall. After practice the IIC Champion looked far from making it into the A Final but come qualifying he turned things around to secure third on the grid. Leg 1 ended almost as soon as it started but two good runs, which saw him fend of serious attention from Marc Rheinard in Leg 2 and his CRC team Jilles Groskamp in Leg 3, helped him claim a well deserved place on the overall podium.
So the dust has settled on a historic 1:12 World Championship. One of the main talking points of the 1:12 World's return to asphalt will be how critical tyres & additive were and that seems to have been reflected in the small 49 car entry. Hopefully lessons have been learned and in the interest of this great class measures will be put in place for 2 years time to make for a more level playing field. That said the 2008 Worlds will be best remembered as the moment the sport unearthed an exciting new talent. Enjoy the celebrations Naoto.
Final official results
1. Naoto Matsukura – 20pts (9,10,10)
2. Juho Levanen – 19pts (10,9,9)
3. Hupo Honigl – 16pts (1,8,8)
4. Marc Rheinard – 14pts (7,7,1)
5. Hideo Kitizawa – 12pts (8,4,4)
6. Jilles Groskamp – 11pts (4,3,7)
7. Simo Ahoniemi – 11pts (6,5,3)
8. Andy Moore – 11pts (5,6,5)
9. Teemu Leino – 9pts (3,2,6)
10. Dasiuke Yoshioka – 4pts (2,1,2)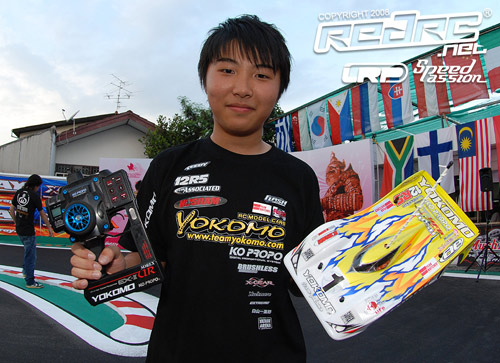 View our event image gallery here.

---