January 10, 2010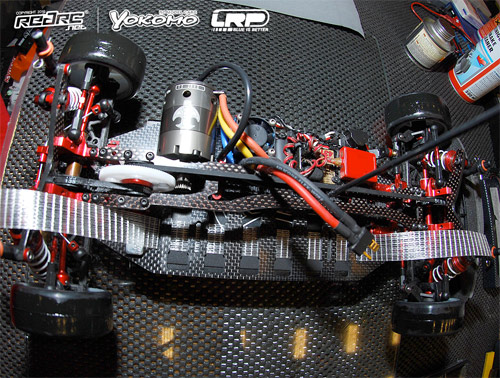 Seen for the first time in International competition, this pre-production version of the all new Kyosho Touring car is being raced at this year's DHI Cup by European Championship finalist Christopher Krapp, who tells us that the new car is much better balanced for use with LiPos. Developed by Shin Adachi, it features bigger bore shocks, which are also longer, new shock towers front and rear, new rear hubs, new stabilizer points front and rear and a higher top deck for accommodating LiPo packs, such as the latest Team Orion version installed in his car. The motor mount is also new and brings the motor 1mm closer to the centre line for better weight distribution.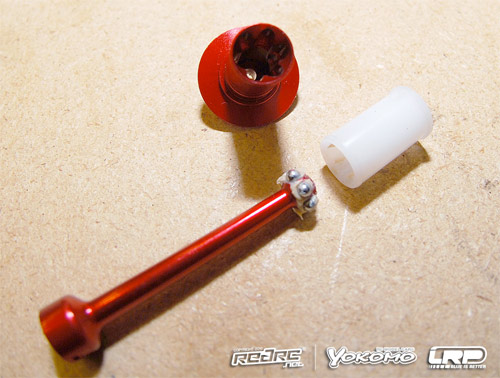 A creative feature of this new car is the drive shaft system, which utilises a cluster of balls to connect the diff or spool to the CVD drive shaft. Due to grooves in the spool or diff drive cup, power delivery remains the same, however it's when the suspension is under load that this system comes into its own. Conventional drive pin systems have a tendency to bind the suspension and so oil or grease is used, but it never provides truly smooth shaft travel. Thanks to the use of balls, this system glides in and out, even when under load, meaning no binding and better suspension operation.
Christopher tells us that the belt configuration of the new car is still being tested and that he uses the tradition belt layout, but that in Japan they are still doing back to back tests with the belts switched from left to right which allows the electrics to be mounted closer to the centre line of the car.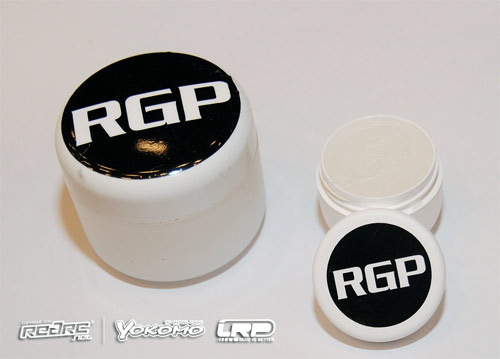 After extensive testing by former European Champion Jonas Kaerup, local company RGP have released a new diff grease here at the DHI Cup. The high quality silicone grease, which is extremely resistant to heat, is being used by a number of the top drivers here including Marc Rheinard, Viktor Wilck, Yannic Prumper and Steen Graversen because of it makes for a very smooth differential action. Available in 11 or 30 gram tubs.
View our event image gallery here.
---