June 30, 2010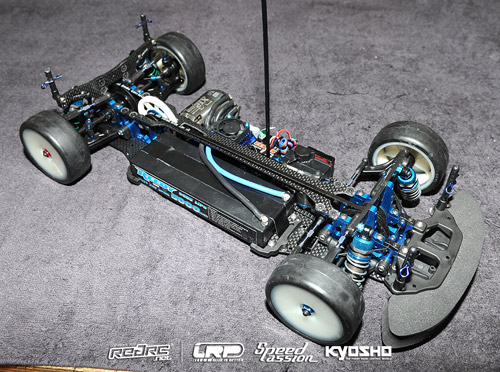 With the 1/12th Worlds now over, focus has now switched to touring car and on today's preparation day we sat down with Team Associated who gave us the scoop on their new TC6 chassis, that is making its international debut at this race. Retaining the same lower front and rear wishbones, C-hubs and rear uprights from the TC5, the rest of the car is different. A focus on LiPo and brushless the most noticeable change is to the chassis which is very narrow and no longer sports battery slots. Mounted on top of the chassis is new bulkheads, which set closer together allow the track width to be made narrower. The spur gear has been set lower and the motor is now positioned 13mm closer to the centre line, which in turns means the LiPo sits further to the outside which means that the car is perfectly balanced down the centre line straight out of the box.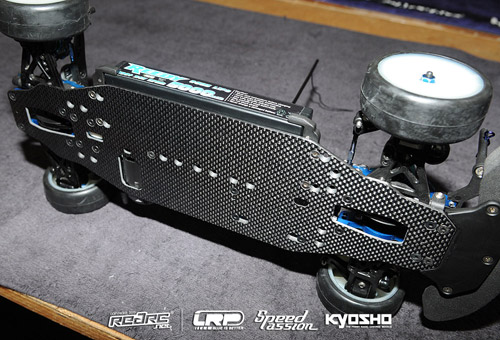 The new top deck is now longer and narrower but stays at the same height as on the TC5. It acts as the top mount for the steering bell crank, which sports an adjustable bell crank arm which can be swapped out for a 2nd version which gives the driver 6 positions of Ackermann, which when then combined with the 2 mounting points on the steering arm and the second mounting position for the centre pivot of the bell crank give a huge number of Ackermann adjustments. The input lever on the bell crank has also been updated, giving it more linear and therefore slightly slower reacting steering.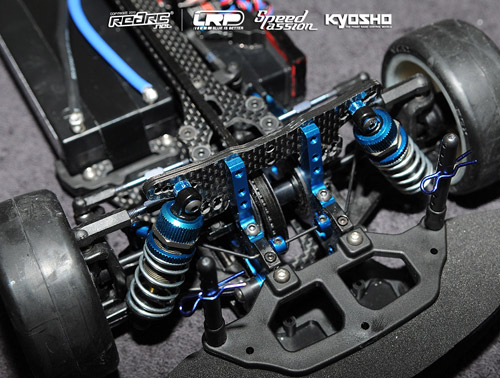 Other changes include extra positions on the shock towers giving you 6 options on the front and 7 on the rear. And although not seen on this car as it wasn't ready in time, there will be all new shock absorbers that feature a bottom mounted assembly with increased stroke length, which gives 2mm more up travel at the wheel. The front bumper has also been updated, lowering the entire construction something they believe gives the car more steering by reducing the air flow under the car and it also now integrates a transponder mount. Revised lower suspension arm mount screw positions allow you to get at the screws easily as the head is now positioned on the outside. A neat feature is the use of universal parts on the car, meaning that all 4 front and rear bulkheads are interchangeable meaning you can cut down on the amount of spare parts needed for the car. These prototype TC6 cars are only in use by team drivers for now, but we are told to expect an October release.
View our event image gallery here.
---